Entertainment
Miles Gaston Villanueva Is Way Past His Age On Matters Of Heart! Has A Dating Affair That Is No Less Than A Married One
As they say, until you fall in love, you won't believe in it and remain to be skeptical about this very emotion. While witnessing the love between Actor Miles Gaston Villanueva and his girlfriend, you might as well want to believe that true love exists.
Their dating bond is so intense that the outsiders could easily be mistaken in perceiving their bond to be that of a married one. Don't you want to take a closer look at there their smitten love life?
Hinted On Soon-To-Be Married Life; Rapid Girlfriend Talks Stopped
Miles Gaston Villanueva and his girlfriend Sabina Zúñiga Varela first met while they starred in a theatre production called, "Water By The Spoonful" at Theater Works of Palo Alto, California. Love initiated between Miles and Sabina while working in the theater production, which eventually blossomed into a beautiful relationship.
See Also:- Barbara Niven, Young and Restless Actress, About Lesbian Character in 'Perfect Ending'
While talking about his character Luca Santori from The Young And Restless in an interview in March 2016, Miles mentioned about his girlfriend where he said,
Before I booked the role, I was telling my girlfriend and some other people, "I want to play a charming, dangerous, sexy antihero, where you hate to love him, love to hate him," and then this popped up, and that's kind of what it's been. And they keep bringing more colors to him, and it's like, "Wow, I got what I was craving." So it's the greatest gift to be working on Luca with The Young and the Restless.
Miles further expressed his love and gratitude towards his girlfriend, Sabina, as they celebrated their first Thanksgiving together, back on November 2016. Moreover, back in April 2016, Miles shared a picture with his girlfriend Sabina, where they can be observed enjoying their Friday night.
Don't Miss:- Camryn Grimes Bio Reveals: Married, Lesbian & Personal Life On & Off Screen To Net Worth Details
Miles even shared his pride and happiness in Sabina's endeavors via Instagram and even requested his fans and followers to support and love her.
I am at a loss for words, but so full of feeling for this woman. ?? Words cannot describe how proud I am of her, how grateful I am for her, how inspired I am by her courageous journey up north, to Ashland, Oregon, and the Oregon Shakespeare Festival, for her next incarnation of the award winning MOJADA.
She is a warrior, a goddess, a poet-athlete-philosopher-scholar, a divine artist. She is letting go of what is comfortable, and daring to live, daring to live with purpose: to dream big; to tell powerful, colorful, crucial, truthful stories; to share so generously her profound artist mind, heart, and soul with people who need to know them. And she is doing it, all of it, and I am so in awe.
Bon voyage, mi amor. Fly high. Shine. Be a fool. ?????????? "Here's to the fools who dream..." Please wish her well on her next adventure into the unknown. Tomorrow is Day 1 of a magical, challenging, and epic journey for her. She deserves the love. ??
The relationship is usually balanced by both the involved party's effort. Miles' girlfriend Sabina has her own distinct share in their relationship! Taking time out from her busy schedule, Sabina went to watch her beau in a play, "God Looked Away."
Miles, in return, loved her gesture and thanked her for being there in the audience. After all, it made him feel loved; which was also a perfect gift a few days ahead of his birthday.
Their adoration doesn't stop anywhere soon, as Miles went on a vacation with Sabina back in April 2017. He even gave his fans a glimpse of the trip by sharing a picture, where the couple looks happy to be in each other's embrace.
In the now-deleted Miles' Instagram post, the caption
was enough to bring back all the beautiful memories of the vacation and Sabina's response on the Instagram post speaks volumes about their relationship.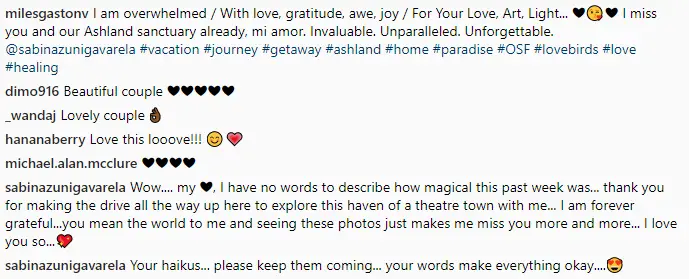 The conversation of Miles Gaston Villanueva and his girlfriend Sabina Zúñiga Varela which gives insight into their relationship (Photo: Miles Gaston's Instagram)
By the looks of their love life, their followers guessed Miles and Sabina would end up living a married life as a husband and wife soon.
You May Also Like:- Openly Gay Thom Bierdz On Boyfriend & Getting Married - Happening Soon?
But the actor--aged 29, deleted all the picture which featured his girlfriend. With his certain change into Miles' behavior, it hints that they probably parted their ways. But in July 2018, the SoapHub stated that the actor is still dating his longtime girlfriend Sabina Zuniga Varela.
Gay Supporter; Being Say Is A Choice
Shifting a bit from these lovebirds' romantic life- Miles takes the social media platform to share his view about other things as well. Judging by Mile's tweet back in March 2015, he seems to be a loyal supporter of the LGBTQ community.

Miles Gaston Villanueva supports being gay is a choice (Photo: Miles Gaston Villanueva's Twitter)
As he mentioned earlier, being gay is one's choice, but so is the decision to determine the level of privacy they desire regarding their personal information, don't you think so?