Entertainment
MSNBC's Kasie Hunt Engaged? Married? Had a Boyfriend? Closer Look on Her Personal Life
Katie Hunt is an award-winning reporter, currently applying her trades as NBC's Capitol Hill Correspondent... Her list of accolades run long and therefore, is a subject of a spotlight to many. No wonder, her personal life gets overlooked all the time...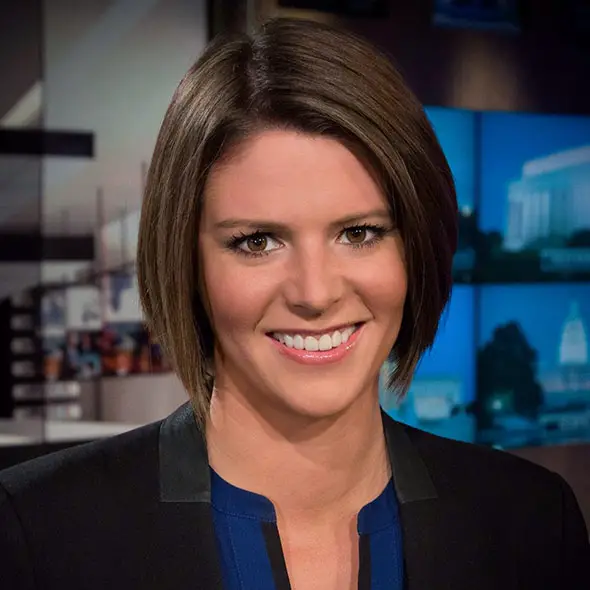 Quick Information
Sister/s

Carly Hunt

LinkedIn

linkedin.com/in/kasiehunt

YouTube

youtube.com/user/kasiehunt

Instagram

instagram.com/kasie

Twitter

twitter.com/kasie

Hair

Short

Height/ How Tall? 5 Feet 7 Inches (1.73 Meters)
College

University of Cambridge, The George Washington University

Salary

$105,353 (Approx.)

Wedding Date

6 May 2017

Divorce/Split

Not Yet

Nationality

American

Mother

Krista Hunt

Father

Bruce Hunt

Ethnicity/Race

White

Religion

Christainity

Birth Place

Wayne, Pennsylvania, United States

Date of Birth May 24, 1985
Husband/Spouse

Matthew Mario Rivera

Relationship Status

Married

Profession

Journalist
Katie Hunt is an award-winning reporter, currently applying her trades as NBC's Capitol Hill Correspondent.
Her list of accolades run long and therefore, is a subject of a spotlight to many. No wonder, her married life with her boyfriend-turned-husband gets overlooked all the time.
Meet Kasie Hunt's Husband; Married In 2017
Her husband is no other than Matt Rivera, who has been working as a producer for NBC since 2010. Currently, he functions as the Senior Digital Producer for NBC's Meet the Press (presented by Chuck Todd).
A graduate of New York University, Matt is the son of Loraine V. Vetter and Daniel O. Rivera.
Katie and her husband met for the first time on the NBC network after joining NBC in 2012 from Associated Press leaving behind her duty of national political reporter.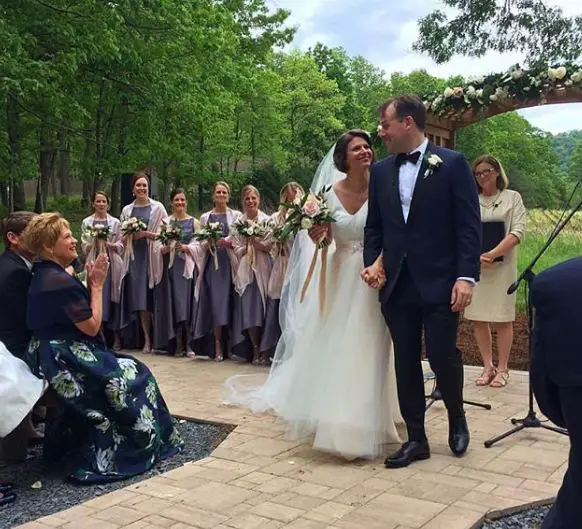 Kasie Hunt walking down the aisle with her husband Matt Rivera during their 2017 wedding (Photo:- Kasie Hunt's Instagram)
After five years of dating, on 6th May 2017, the duo got married at Shenandoah Woods -- a retreat and lodge in Stanley, Va. Katie's family friend and Baptist minister, Marian Sieke officiated the wedding.
How She & Her Boyfriend-Turned-Fiance Got Engaged?
Kasie got engaged with her then-boyfriend-turned-fiancee Matt in Big Sur in front of the Santa Lucia Mountains in August 2016. The undeveloped scenic stretch, Big Sur, located in California often gets referred to as the " greatest meeting of land and water in the world." How Romantic!
Kasie with her then-fiancee even posed for pictures on Jade Clove, a small bay rich in nephrite jade located in Big Sur region on the California Coast.
NBC's Morning Joe's co-host (alongside Joe Scarborough) Mika Brzezinski was the one who broke the news and congratulated the couple first.
She revealed that Matt was the one who proposed Kasie, getting down on his one knee, touring the silent but beautiful place called Jade Clove. After hearing the fable from Mika, Morning Joe panel then went on to express their happy feelings.
Spills Beans About Boyfriend
Before the engagement, she had managed to keep her love life so low profiled that there was no news available anywhere about her past relationships (if she had) nor were there any rumors about the beautiful correspondent's fling with any man.
However, in an interview with the 'The Hill' in March 2016, the proud mug lover included her boyfriend in a love rectangle involving herself, her love for coffee, the 50 mugs, and her boyfriend. She claimed:-
"I'm obsessed — I couldn't even tell you how much coffee I drink in a day. I hope I haven't spent more than $1,000 on mugs. Hopefully, my boyfriend will put up with them living in the cabinets... I'll pull them down off the shelf and be like, 'Oh yeah, that time I was in South Carolina. I'm glad that election cycle's over!'"
In retrospect, perhaps, she didn't want to name drop her then-boyfriend's name and jinx it.
Kasie Hunt's Professional Life
Having acquired the position of the political correspondent for MSNBC, she was in charge of covering the current 2016 presidential campaign all across MSNBC's platforms.
Kasie was one of the NBC's women power covering the 2016 election including Kristen Welker, Hallie Jackson, Andrea Mitchell, Chris Jansing, Kelly O'Donnell, Katy Tur, and Kasie Hunt.
Despite having a busy schedule with most of her time spent on the road with candidates, Kasie Hunt also reports for NBC Nightly News and all of the other shows and programs across the MSNBC cable. 
She also frequently appears on "Morning Joe" which airs on MSNBC from 6:00-9: 00 am. She also authors for MSNBC.com.
Work As The Capitol Hill Correspondent
Kasie Hunt got named the Capitol Hill Correspondent for MSNBC while Hallie Jackson got dubbed the White House correspondent. It was first officially stated in a note by D.C. bureau chief Ken Strickland,
Kasie Hunt returns to her familiar stomping grounds further down Pennsylvania Avenue, now as the NBC News Capitol Hill correspondent. Kasie hustled throughout the campaign season – first covering the Republican field, then the Sanders campaign, and then joining our Clinton team – and now she will leverage her experience on the Hill to report on the new Congress for all network broadcasts.
Considering all the political drama with the wake of Donald Trump as the 45th President of the United States, Kasie - to this day - is yet to compromise her journalistic integrity.
For her dedication to oust the rampant misogyny in The Capitol Hill, she and her NBC News-Capital Hill Bureau team got awarded the Joan Shorenstein Barone Award for its reporting on sexual harassment allegations in November 2018.
Over the years, the beautiful and young correspondent has inspired lots of people wishing to kick off their journalism career.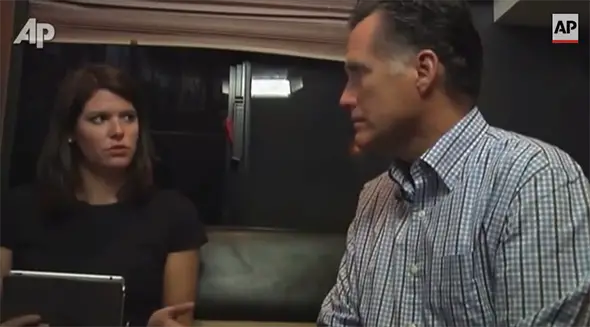 Kasie Hunt interviewing Mitt Romney in the 2012 presidential campaign (Source: kasiehunt.com)
Previously, she covered Mitt Romney's 2012 presidential campaign for the Associated Press. Before that in 2010, she wrote about and covered the 2010 midterm elections for POLITICO.
Personal Life -- Hobby & Passion
Kasie Hunt is the eldest daughter of Bruce Hunt and Krista Hunt. She has a sister whose name is Carly Hunt and is a former golfer for the Georgetown Hoyas and Maryland Terrapins women's golf teams.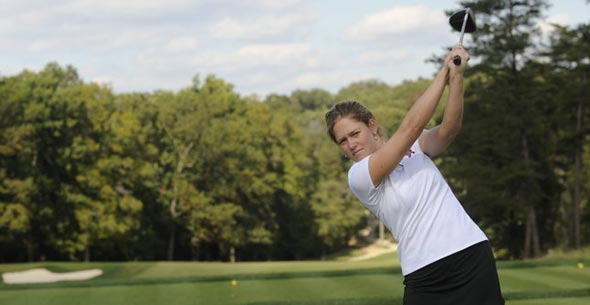 Kasie Hunt's younger sister, Carly Hunt (Source: cstv.com)
As passionate as Kasie appears in front of the camera, her personal comprises of quirky hobbies.
An avid dog lover, the veteran reporter is also an aspiring photographer. She also maintains a close bond with her grandfather.
Kasie Hunt's Mini Wiki-Like Bio
Kasie Hunt was born on May 24, 1985, Wayne, Pennsylvania, U.S. She is a Daughter of Bruce Hunt and Krista Hunt. Kasie Graduated from Conestoga High School in 2003.
Later in 2006, she received her bachelor's in international affairs from George Washington University and finally, she got her master's in sociology from St John's College, Cambridge. She started her career in the political unit of NBC news as an intern. In November of 2014, she was named the political correspondent on MSNBC.