Mustafa Shakir joined the...claimed that the street of Harlem...does he have a girlfriend in real life is a...updates about his relations create a...based on all these history and children, he is...Bushmaster posted the picture with his two...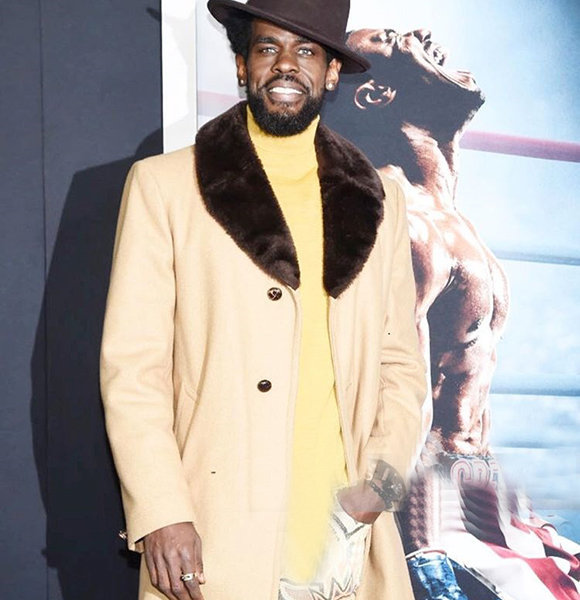 Mustafa Shakir joined the season 2 of Marvel's Luke Cage as John Mclver, a.k.a. Bushmaster. He portrayed the Gang leader, who uses folk magic to gain powers almost equal to the lead character Luke. 
Apart from the hit series, Mustafa also auditioned for the first season's antagonist Cottonmouth as the actor is a huge comic book fan. However, he could not play the admired part due to his commitment to another show, Quarry.
But, Mustafa's characteristic similarities such as the brain and brawn with Bushmaster urged him to play the character in the final episode of the series.
Further, the North Carolina native played the role of Dominic in The Grounds and appeared in an episode of American Gods as Baron Samedi.
Besides acting, Mustafa is also a rapper, writer, and well-respected musician who goes by the alias, Mustafa Effortless.
Parents And Background
Mustafa was born on 21st August 1976 in North Carolina to a Nigerian father. But, he was raised in Harlem, New York, where the streets of his neighborhood toughened him up.
You Should Know:- Lea DeLaria Wife, Partner, Weight Loss, Family
While both of the actor's parents have passed away now, his mother was an inspiration to Mustafa. After his mom died in April 2017, he expressed his sincere gratitude towards her, with the words,
"She is my truest hero who showed me what being a soldier and a lover is really about. I miss you, but more than that, I am grateful you existed at all."
As for Mustafa, he did some odd jobs before making it as an actor. Before getting recognized by the role of Ronald Taylor in New York Undercover, he worked as a barber.
The artist's height of 6 feet 1 inch (1.87 m) has further helped him to fit in any role, ranging from a gangster to a macho man. Mustafa's beauty has also been elevated by his bluish-gray eyes, which add distinct features to his body.
Is Mustafa Married Or Gay?
Does he have a girlfriend in real life is a question of interest for the macho's fans. However, Mustafa has not disclosed any information regarding his personal interest. His social media also suggests that he is currently busy with his children and career.
Further, Mustafa was married once but hasn't much updated about his relationship with wife - which creates a dilemma if the two are still together. Besides, Mustafa and his wife were still with each other until November 2013 when he shared a photo of his wife, son, and mother via Instagram.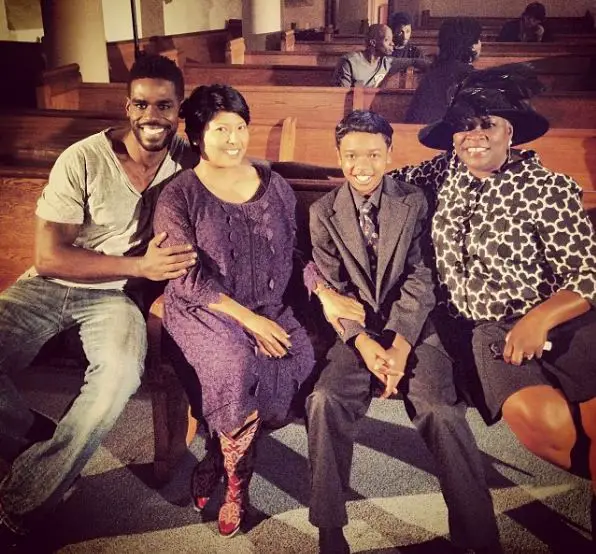 Mustafa Shakir with his wife ( middle), son and his mother (left) on 16th November 2013 (Photo: Mustafa Shakir's Instagram)
Besides his son, Mustafa has two daughters. The oldest daughter is Shay Shakir, a 23-year-old. She is into the arts and studied at The Art Institute. The youngest daughter is only 11 years old and is ready to step into her teenage. 
Hardworking Actress:- Lorraine Toussaint Husband, Children, Net Worth
Based on his history with a wife and children, all the gay rumors surrounding Mustafa can be thrown out of the window.
Net Worth Info
Always tricky to find out the net worth of a person who wants to keep personal life far from media and the people. Mustafa is just that.
However, by calculating his income based on online sources, Mustafa Shakir's estimated net worth is $6 Million. The source of income is primarily from television and film actings.