Entertainment
Nancy Lieberman Lesbian Rumors Has Some Weight To It; Partner & Family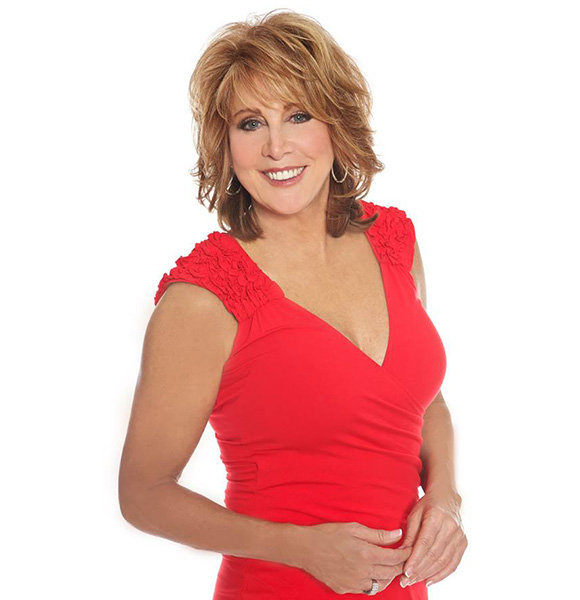 In March 2018, Ice Cube's BIG3 league announced that the Hall of Famer & Basketball legend Nancy Lieberman would be taking over the helm as team Power's head coach; making her the first woman in the league's history.
In addition to garnering reverence for her history-defying career, both as a player and a coach, the former WNBA coach, age 60, is equally renowned for her alleged romance with her openly lesbian tennis star Martina Navratilova in the '80s.
Her sexuality went through a rigorous questioning following the collapse of her marriage with Tim Cline, with whom she shares a son. So a question begs: does the lesbian rumor surrounding her have any weight?
Married Her Husband Despite Being A Lesbian?; "Guess I'm Bi(sexual)"
To many homophobic people in the '80s, Nancy and her rumored lesbian partner Martina's romance represented nothing short of blasphemy!
Interesting:- Lady Leshurr Dating; Plenty Partner Talks Suggests Boyfriend, Revealed?
Initially hired to train the then-world champion, Martina, the New York native moved in with her trainee shortly after. The pair's decision to be in living together elicited an outcry from a particular sect of America; so much so that Nancy had to defend their decision.
In a July 1981 interview with Dallas Morning News, the former Dallas Diamond's player tackled the matter head first when she interrogated:-
'If two gays live together, nobody thinks anything. If two guys live together, they don't either... We have one gay and one straight -- what's the big deal?'
She then delved into her and Martina's blossoming mentor-protege relationship and their decision to move in together. She explained:-
"I like men -- I guess I'm bi(sexual). I like both. I just have a better time with women, straight or gay, basically because I don't have to go to bed with them."
Even to this day, Nancy maintains that she and her trainee, Martina, who is married to Julia Lemigova, were "good friends" as opposed to - as suggested by rumors - lesbian partners.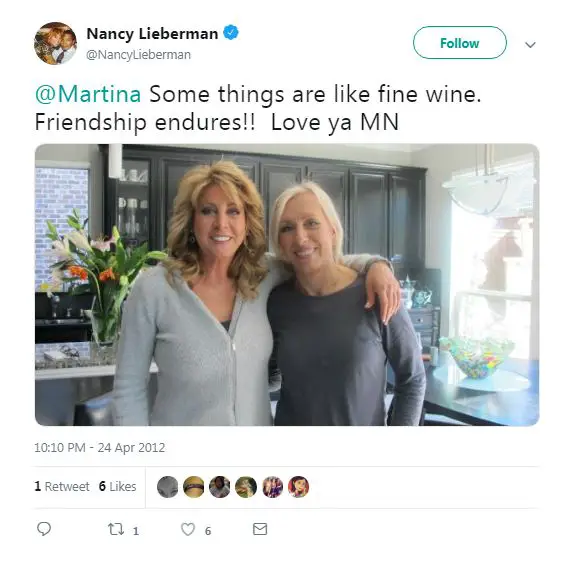 Nancy still insists on calling Martina "a friend" (Photo:- Nancy Lieberman's Twitter)
Don't Miss:- Real Madrid Ex-Coach Zinedine Zidane Age 46 Shocking Salary & Net Worth!
However, it would take the Olympic medalist marrying her husband Tim Cline in 1988 to quash the lesbian rumor once and for all.
Thirteen years of blissful married life later, Nancy and Tim - who had first met while playing for Washington Generals - decided to part ways. Despite their marriage ending in divorce, she and her ex-husband remain in good terms as they continue to support their athlete son.
Nancy Didn't Have Family Backing; Her Son Shall
An apple doesn't fall that far from its tree, or does it?
Nancy's only son T.J. Cline currently applies his trades, playing for Hapoel Holon at Israel Premier League. The Hall of Famer, for her part, couldn't be more proud of how her son had taken up the sports of basketball. In a 2015 interview with USA Today, she expressed:-
"It just warms my heart to see the things he's been able to do. We are so blessed to have had this amazing life through sports, and now T.J. is carving his own identity. ... And I'll be applauding every step of the way."
Nicknamed Lady Magic by fans, the 60-year-old New Yorker is all too familiar with the need to have your family's backing while pursuing a career in sports.
Growing up in a single parent household, Nancy - whose net worth is estimated be a little under seven-figure mark - recieved very little support from her family while pursuing her dreams of becoming a basketball star.
Discover:- How Much Is Jarrod Schulz Age 41 Net Worth? Loving Family & Wife | Bio
In 2015 The Players Tribune interview, she spoke about the lack of a support system in her early career days by saying:-
"My family would tell me things like…'Girls don't play sports. Why are you playing in the schoolyard with all the black kids? Why are you embarrassing us? What are the neighbors going to think?'"
 Lesbian or straight, one thing is for sure, Nancy is a mother first!