Entertainment
Natalie Imbruglia Left Her Married Life In The Past! Is Blissfully Dating Right Now
Natalie Imbruglia Left Her Married Life In The Past! Is Blissfully Dating Right Now The Australian singer, songwriter, model and actress Natalie Imbruglia knows well that she can't control her heart, feelings, and emotions. Moreover, Natalie, who was once blissfully married experienced a solitary life but is now finally dating happily.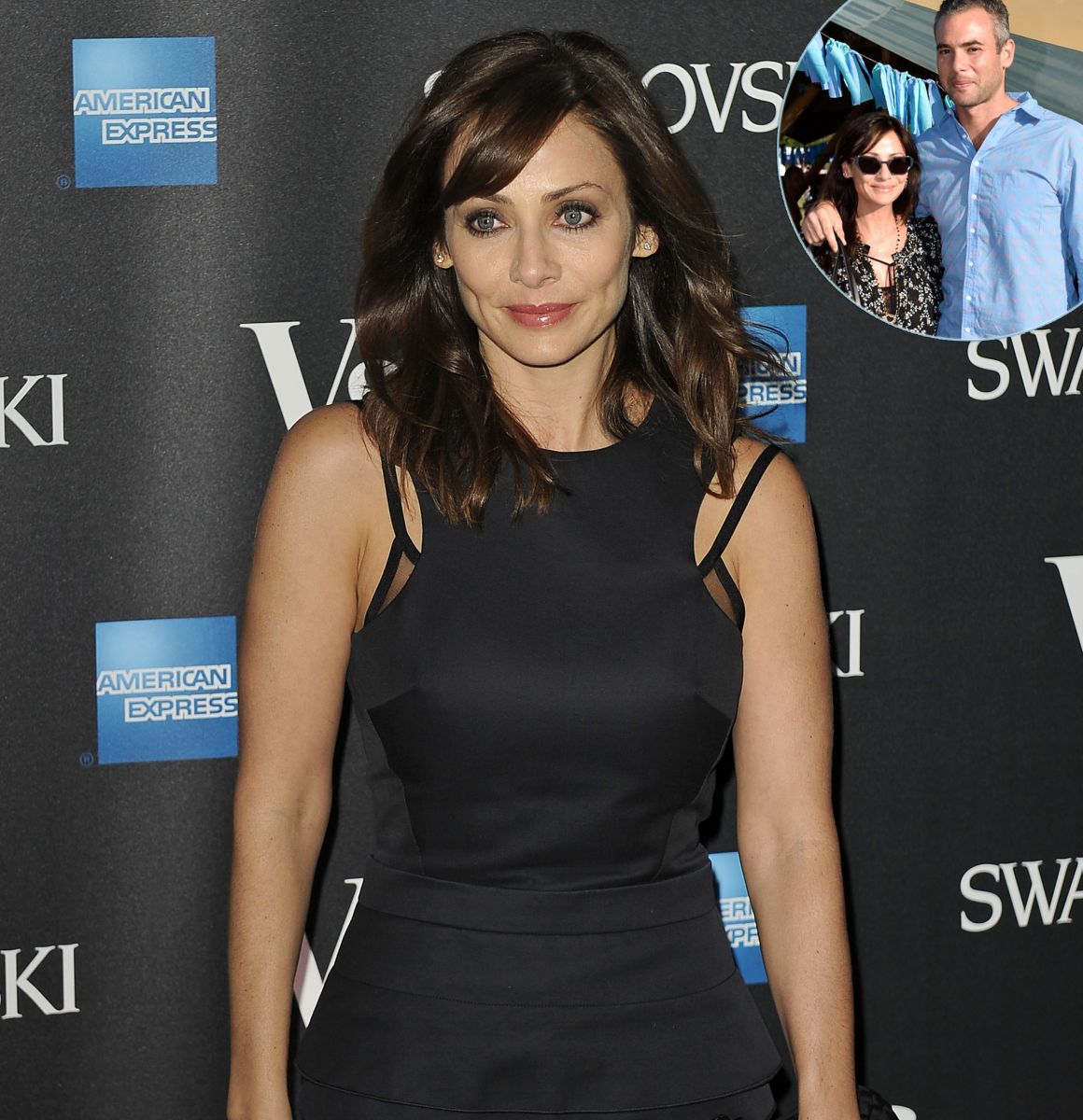 Love sometimes takes a person to the ninth cloud while it sometimes shatters the heart into pieces. A person whom you think perfect for you today might not be ideal after all. But you can still find love and a partner, who can see perfection in your every flaw.
Sharing a similar story is the Australian singer, songwriter, model, and actress Natalie Imbruglia, who knows well that she can't control her heart, feelings, and emotions. Natalie, who was once blissfully married, experienced a solitary life after she realized the person she thought perfect was not excellent after all.
However, Natalie has found love again and has been dating blissfully for some time now. But who's the man lucky enough to grasp Natalie's heart? Let's take a peek into Natalie's life to find that out!
Unsuccessful Marriage, Ex-Husband
Natalie fell in love with Daniel Johns, lead singer of the Australian rock band Silverchair after they met for the first time at an awards show in 1999. The pair announced their engagement four years after the first meeting, i.e., in January 2003.
The pair tied the knot on New Year's Eve 2003 in a wedding ceremony held on the beach in Queensland.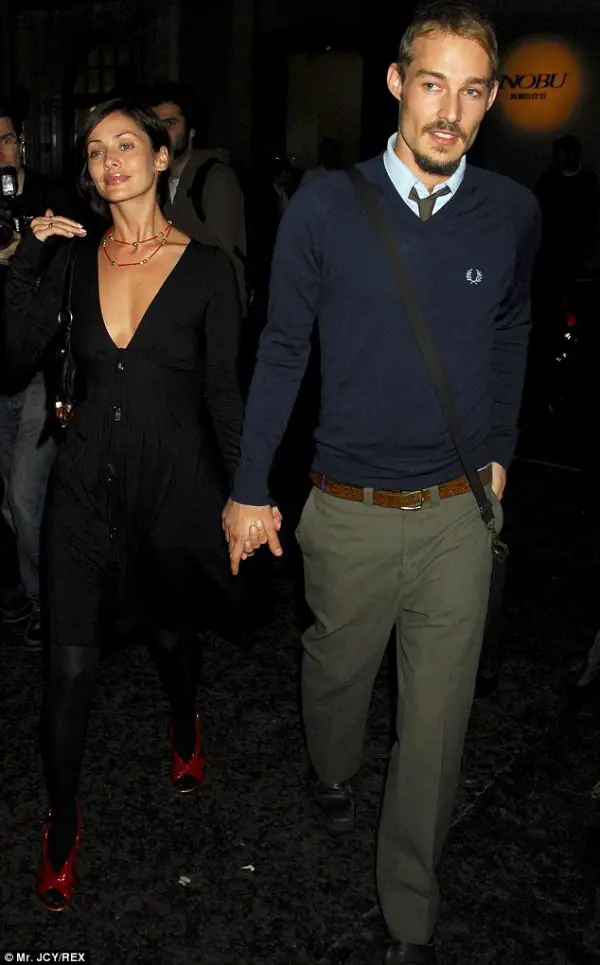 Natalie Imbruglia and her ex-husband Daniel Johns pictured together at London's Nobu restaurant in 2006 (Photo: Dailymail)
The couple, who used to be spotted in public giggling like teenagers, experienced sourness in their relationship as time passed. As Natalie spent the latter years of her marriage in London and her husband Johns remained in Sydney and Newcastle, they were not able to spend enough time together.
Fabulous Talent:- Emily Wickersham Husband, Divorce, Dating, Net Worth
With the increasing break-up rumors, the couple officially announced their divorce in January of 2008 through a joint statement that read,
"While we are very sad that our marriage has ended, we want to make it clear that our parting is amicable and we remain friends. This mutual decision has not been taken lightly or quickly."
The statement continued,
"However, our career demands and our lives in different parts of the world have brought us to the point where unfortunately this difficult decision was necessary for both of us."
Later in October 2014 on the Kyle and Jackie O' radio show, Natalie revealed that she was no more in contact with her ex-husband, with whom she ended their marital relationship in a joint statement seven years ago.
Likewise, in an interview with Red magazine in 2015, Natalie revealed that she wanted to move on from her failed marriage, fall in love again, and enjoy family life with her children. She explained,
"I definitely want children. Would I have one on my own? I would. I am not at that point yet but I am not opposed to the idea. I've got time."
Natalie's wish to fall in love still seems granted, as she now enjoys an affair that only a few get to experience.
Welcomes New Baby!
The second half of the year of 2019 has turned out to be a blessing for the Torn singer, Natalie. Following her pregnancy announcement in July, the single mother is proud to become a mother to a son named Max Valentine Imbruglia.
Despite going through a series of unsuccessful relationships, it seemed as though the singer would not cherish parenthood. But, a merely failed marriage was not going to ruin her chances of becoming a mother. With the help of a donor and of In vitro fertilization Natalie was pregnant and ready to become a mother.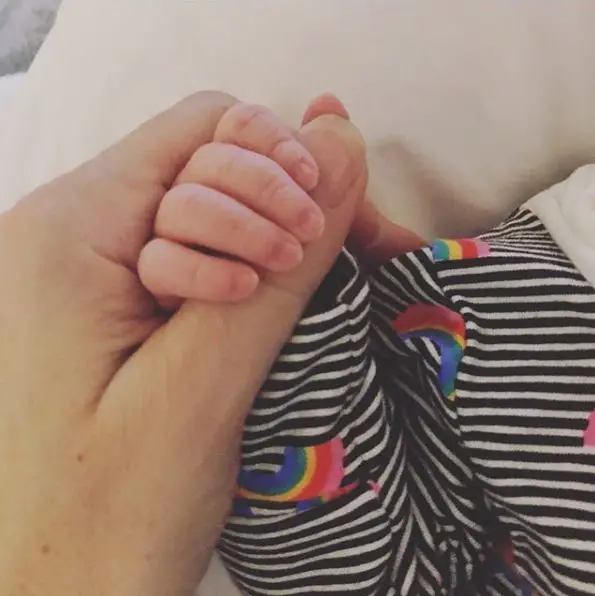 Natalie Imbruglia shares a picture of her newborn son Max holding his hand on 9 October 2019 (Photo: Natalie Imbruglia's Instagram)
After a long wait, the moment finally arrived on 9 October 2019 when she gave birth to a healthy son and uploaded a picture of the newborn via her Instagram. Though she did not reveal the face of the baby, she notified the child's name to her fans.
Popular Name:- Lyrica Okano Dating, Parents, Family, Net Worth
Now, with an added responsibility of parenthood, it will be interesting to see how she manages the sudden change in her life.
Natalie Imbruglia Dating Blissfully After a Failed Married Life!
The gorgeous Natalie has been linked to some famous men, which include Prince Harry, Robbie Williams, and Harry Styles. However, she was not enjoying a romantic relationship with any of her rumored boyfriends.
The Grammy-nominated singer, who says that her divorce was unfortunate, has finally moved on from her past relationship.
Earlier this year in July, Natalie confirmed a new romance with photographer Matt Field through her official Instagram, after they were initially spotted together in London back in March.
Natalie shared a sweet selfie of the couple with a heart emoji, which initially hinted at their affair.
Not only Natalie but Matt too shared a picture from their vacation in the romantic destination of Panarea. He shared a beautiful image of Natalie, captioning it-
Since then, Natalie had been sharing photographs with Matt, which proved how smitten she was.
On 9 September 2017, Matt also shared an image of Natalie via Instagram.
Despite a failed marriage in the past, Natalie was blessed with a splendid affair. And, by the looks of it, the two could have escalated their relationship sooner than expected.