Entertainment
Natasha Negovanlis Not Lesbian But Down For Girlfriend; Relationship Contour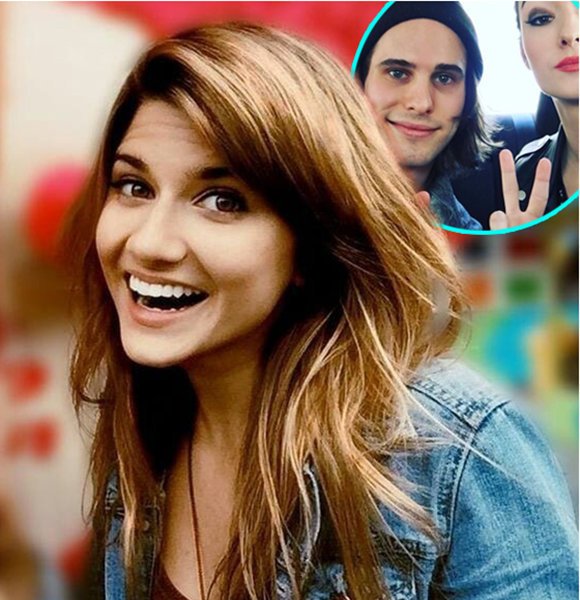 Canada-based-TV actress Natasha Negovanlis has gained fame for her portrayal of a queer in the Canadian Screen Award-winning digital series and feature film Carmilla.
The Toronto native, who has been labeled for her bisexual habits, dreams of a perfect relationship where there is love as much as respect towards each other.
Her Stance On sexuality: Lesbian? Gay? Pansexual?
Natasha Negovanlis' one of the most talked about aspect in her short career has been her sexuality. Her convincing and real-like portrayal of a lesbian vampire Carmilla, in the web series Carmilla, has been cherished by her fans. 
The electric chemistry she shared with her co-star Elise Bauman not only in the web series but also in the 2016 movie, Almost Adults, has gained her not only fame but also the tag of one of the most loved lesbian characters.
See Also:- Ryan DeBolt Married Status After Wife Sara Turns Queer! Bio Talks of 37 y.o
Bauman has mostly played non-straight roles in her career, and her real-life somewhat resonates with her on-screen characters.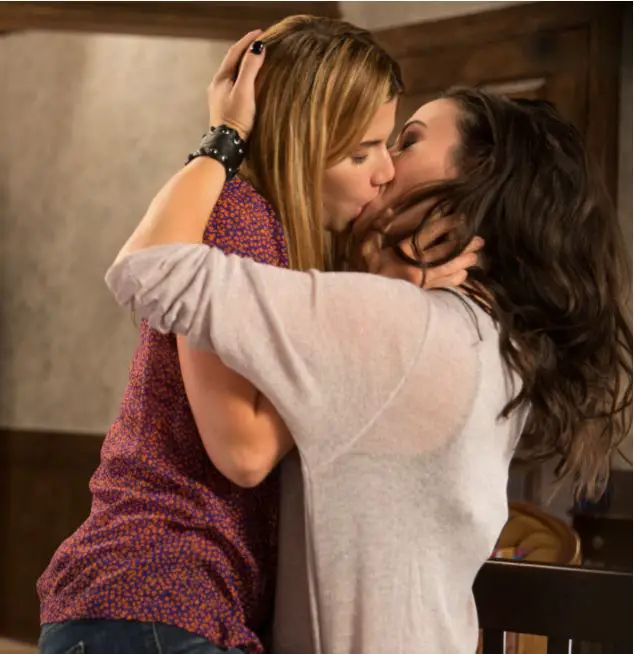 Natasha Negovanlis shares an intimate moment with an on-screen girlfriend, Elise Bauman (Photo: Womenwriteaboutcomics.com)
Growing up in the uber town of Toronto, the actress had the freedom of being who she wanted to be.
And from a very young age, she started having affections towards both the sexes, which led her family to believe that she was not straight. They mistook her affections towards both the sexes and encouraged her to be who she was. The term sexual fluidity was an unusual one even to the natives of Toronto. She had to live with a tag of lesbian. 
Her friends were equally not helping to the matter. Her affection towards both the sexes led her to have relationships with both men and women, earning her another tag of a 's***.' Not that she was one, but was only being misunderstood.
Don't Miss:- 'Queer Eye' William Mahnken Married In Sunset Beach Wedding! Wife No 2 In Frame
All her life had been a lie; the actress told accepting the People's Choice Award in the Canadian Screen Awards 2017. She had spent her life pretending to be what she wasn't and living up to the labels she had been forced down to wear. She added that all her family and friends who encouraged her to out herself as a lesbian had their times wasted. The actress announced that she was 'Pansexual,' a term used to describe people who have affections towards all human beings irrespective of the sexes. 
However, the actress was quick to acknowledge that it was the support of the queer community which helped her bag the award. She admitted that she was proud to have been a role model for millions who have a troubled life because of their sexuality. She ended her speech by saying:
"It has been an honor and a privilege to provide for more positive on-screen representation for the queer community – for my community. This is for my fans who feel like they don't belong, or who feel like an outsider – I'm still very much the little girl who used to get shoved into lockers – so this one is for all of you."
Hearing the inspiration speech, the whole auditorium rose to their feet to acknowledge the actress.
Seeks Respect In Relationship: Perfect Relationship By Strong Feminist
It is not unusual for gay or lesbian celebrities to attract interest in their love life. And that is the same with the 28-year-old actress Natasha, whose love life is something fans are always wondering. 
Natasha, who once described relationship like a hot shower until shampoos started getting into the eyes, has always maintained privacy regarding her relationship. But what has not remained hidden from the public eyes is the type of relationship she wants. 
The actress in 2015 tweeted about not getting in a relationship with someone who was not comfortable with her natural self. Similarly, in 2015 the active feminist added another facade to her relationship goals and tweeted about never wanting to be known as somebody's wife or girlfriend.  

Natasha Negovanlis tweets about not getting identified as someone's wife or girlfriend (Photo: Natasha Negovanlis' Twitter)
The actress as of May 2018 is reportedly single and seems like she has not found her perfect relationship.
Unsupportive Family; Attends Queer Events
Since Natasha is an open pansexual actress, she came with the shocking revelation that her family member shares an opposing view about her sexuality.
Some of her favorite family relatives are conservative homophobes and do not allow her to be real her. She also claimed that, in such a situation, she described that it can be really difficult to not get upset and take things personally.
You May Also Like:- Queer Eye Chef Antoni Porowski Not Gay But Loyal To Boyfriend As Family
When she was suffering from the identity crisis, her friend Caroline Belle came with the sage advice which helped her overcome the painful moments. Caroline advice:
"Let yourself feel pain and rejection, knowing you are strong enough to get through it. Remember your strength and value to this world."
So, she took to Instagram on 20 July 2018 sharing the pictures written: "Keep Going." She also tried to encourage other LGBTQ people, who are not supported by the family members. She stated that
"I want to remind my fellow #LGBTQQIA folks that chosen family is a thing and there's a community of people who will love and support you."
Also, she revealed that her grandmother who does not have any idea of queerness, accepted her so there is hope that other members would obviously understand her. With the hope that one day every family would accept her queerness, she is moving forward to her career.
On August 2018, she appeared as a guest in the largest multi-fandom event for queer women, ClexaCon in London with the hope to empower the queer women and also wished Happy Pride to all the LGBTQ people via her Instagram post of June 2018
Also, she expressed her gratitude to the Sundance organization for supporting gender equality in the film via a tweet on August 2018.