Entertainment
NFL Network's Nate Burleson & Wife, Inside Their Enduring Married Life
Every day started and ended with Football for the Detroit Lions star Nate Burleson. After his successful career in the NFL, the Detroit Lions player made a fortune out of his talent and perseverance.
And the football runs all over him even after his retirement for Nate couldn't bid farewell to football. Instead, he made his way to the NFL network to host Good Morning Football.
But what is more beautiful than his NFL career is the love life that has always pushed him forward to do better in every field he works for!
NFL Star Nate On Getting Married With Wife: A Romantic Tie For Eternity!
Nate Burleson has had a glorious life.
From entering into the NFL with the Minnesota Vikings, then switching to the Seattle Seahawks and finally finding his team with the Detroit Lions, the 37-year-old football player has not missed a single chance in dedicating his whole life for this sports.
More NFL Stars: Michael Sam, Retired Gay NFL Star Boyfriend Rift - Health Issue Fueled?
But during all these years on the field, running and sweating hard work to be a legendary footballer, the athlete had one person in his life, who never gave on him as he did to his dreams, his wife Atoya Burleson.
Even though not many details are revealed by the low-key couple about their first meeting to their big day of the wedding, but one thing that the player never misses to tell to his fans is how much he loves her.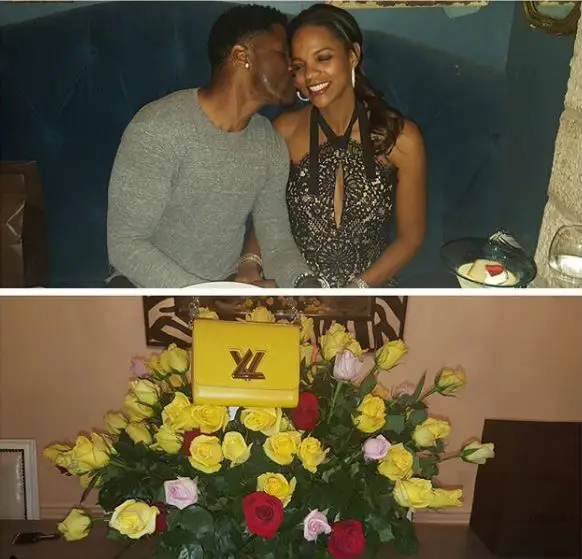 Nate celebrates his 13 year marriage anniversary by gifting his wife a yellow Louis Vitton that matches the flowers (Photo: Nate Burleson's Instagram)
The so-in-love couple lives together in their Ridgewood home together with their three children, Nathaniel II, Nehemiah, and Mia Pearl.
With a bloodline from the history of the sport, Nate, who belonged to a family of sports guru from his own father to his own siblings might as well raise passion in his own kids to make their living out of sports.
Similar Article: Ryan Nassib, NFL Quarterback Stats, Salary & New Contract
Currently, working for the NFL Network after leaving his own legacy in the field, rather than catching, passing and scoring, the football how hosts two TV jobs, runs his own clothing line called "Lionblood" and helps his wife with their kids.
The duo currently celebrated their 15 years anniversary and are more than elated to enjoy their 19 years of togetherness. Much love and support roam around the pair as they happily live each day with their family.
Nate's Experience With The NFL!
Nate Burleson, unlike his father and brothers, wasn't into football from the start. It was after he started playing the sports he found love in what he did and planned to extend his career in the same.
From then, he got into the Minnesota Vikings and incepted his career in the NFL. The NFL footballer earned a draft of being the 71st overall by the Minnesota Vikings in the year 2003.
Discover More: NFL Reporter Kay Adams Dating? Her Tweets Hint Yes!
After his Minnesota team, Nate was signed in by the Seattle Seahawks in 2006, with a seven-year, $49 million deal.
Only after his transaction to the Seattle Seahawk, Nate found his true support in the Detroit Lions team. After joining the Lions in 2010, Nate became #2 receiver behind the elite NFL wideout Calvin Johnson in the team.
His career stats for the whole NFL journey is: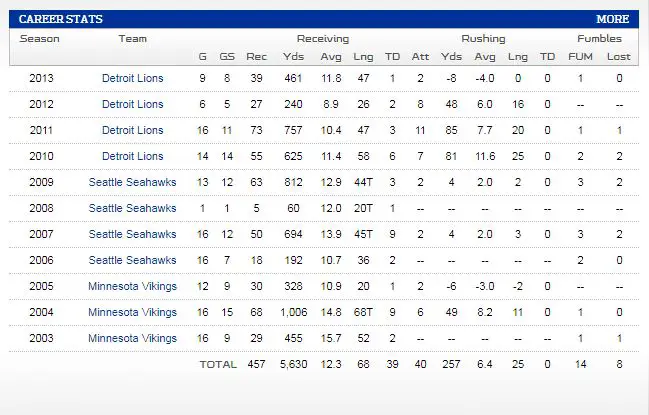 Career Stats of Nate Burleson (Photo: nfl.com)
But after leaving the sports behind, the ex-Lions now works for The NFL Today, as an analyst.
The Detroit Lion star who played 11 seasons in the NFL, currently hosts the NFL Network's Good Morning Football. His average salary as an analyst range to $75k while he accumulated the net worth both as an NFL player and an analyst.