Entertainment
Naveen Andrews Son With Older Married Woman, Dating The Other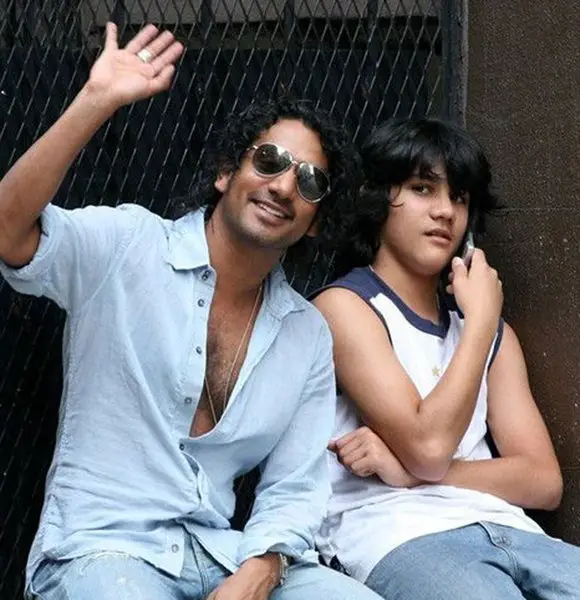 Naveen Andrews Son With Older Married Woman, Dating The Other
Entertainment
British-American actor Naveen Andrews rose to prominence as the ex-Iraqi soldier, Sayid in the ABC show, Lost. His portrayal of the troubled Asian man in the states depicted the difficulties foreigners face living their life in the West.
The role earned him adulations from the audience and also numerous awards nominations including the Emmys.
However, it was not only his brilliant acting skill that attracted news columns to his name. His complicated personal life and love affairs with older girlfriends earned him a fair share of controversies.
Dating Affair With Math Teacher Girlfriend; Husband Accuses Of Infidelity  
Naveen Andrews was born to a strict family and bereft of love in his childhood. He was always keen to pursue love elsewhere.
He found love with his mathematics teacher, Geraldine Feakins, a married woman who was 14 years older.
After being invited to live in together with Feakins' family, he got close to his maths teacher and started a physical relationship with her. But to the lovebird's dismay, Mr. Feakins found out about his wife dating her student and sought a divorce, blaming Geraldine of infidelity.
You May Find Interesting:- Israel Houghton Rejoices Wedding; New Wife Amid Ex-Wife's Infidelity Claims
In 1985, Naveen moved in with Geraldine after the completion of her divorce with Mr. Feakins. They remained together for seven years and welcomed a son, Jaisal.
Naveen and Geraldine parted their ways in 1992, but he still remembered her in a 2005 interview.
Naveen, talking to Dailymail, recalled his ex-girlfriend Geraldine and said he had been dazzled by the presence of the mature beauty in his life. He also praised their son in the interview. Mail online, in 2005, quoted him saying,
 "I feel fortunate that I met someone older than me at that time - and we have a great son."
It was after his separation with Geraldine; he rose to prominence starring as Karim Amir in Hanif Quereshi's novel-turned-TV series, The Buddha of Suburbia, in 1993. His portrayal of a troubled gay person in the series earned him both: plenty of admirers in the industry and numerous job possibilities.
However, his dabbles with drugs and alcohol meant that his reputation had worsened in the UK. His plummeting reputation stature left him with no options but to relocate to the States. And in 1999, during the shoot of American indie movie, Drowning On Dry Land, he met the new love of his life.
Love With One, Son With Another
On the sets of Drowning on Dry Land, he met acclaimed actress Barbara Hershey, who was 21 years his senior. Despite their age difference, they instantly clicked together and began dating. 
See Also:- Victoria Justice Fashionably Dating Singer Boyfriend Despite The Age Gap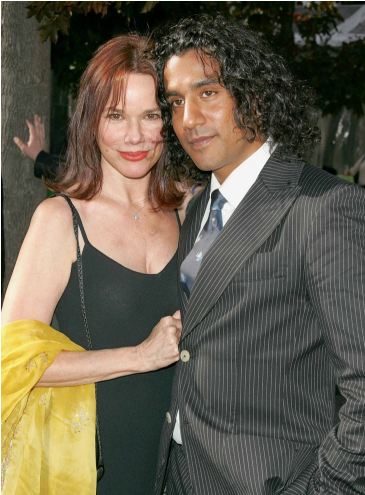 Naveen Andrews with his ex-girlfriend Barbara Hershey (Photo:superiorpics.com)
Recalling about her first meeting with Naveen, the veteran actress, in 2005, said to Dailymail that she fell in love with him at first sight.
"Yes, it was love at first sight. I felt that after all these years, I have finally found my soul mate."
However, as it had always been the case with the Asian origin actor, controversy followed him even during his lovely relation with her, possibly because of their age difference. The couple who started dating in 1999, briefly separated in 2005.
More From LiveRamp Up:- Jay Mohr & Wife Divorce Settlement | Married Life Ends After Second Attempt
Furthermore, during their brief separation, the actor bedded Czech actress Elena Eustache and impregnated her with his son, Naveen Joshua Andrews. Later, he reconciled with Barbara and got involved in a bitter lawsuit with Elena for his son's custody.
The actor accused Elena of violating their initial custody agreements and taking their son out of LA with the father's consent. Further, Naveen's attorney also requested a psychiatric evaluation of Elena after The Informant actress accused Barbara of practicing witchcraft. He won the court battle in 2007.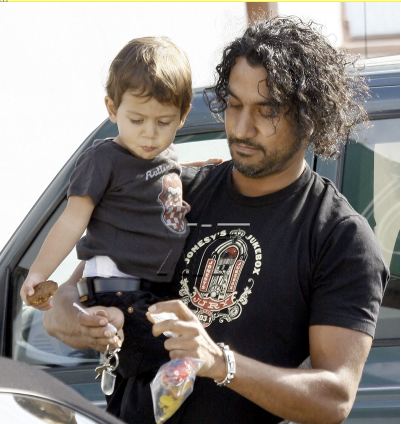 Naveen Andrews with his son from Czech actress Elena Eustache (Photo: celebritybabies.people.com)
Three years after winning the legal battle with former girlfriend Elena, the Sense8 star separated with Barbara in 2010. He remained friends with Barbara after their separation, according to one of his interviews with Independent magazine in 2012.
Similarly, in the very interview, he disclosed that he was in a relationship with a mysterious woman. He also added that he had matured then and the only thing he wanted to be was a good father to his two kids.   
As of now, Naveen is reportedly single and focused on raising his son. Further, he also appeared in the 2018 first season of Netflix's series Sense8. The series became equally successful among critics and viewers, and fans are hoping for a second season where Naveen might reprise his role.