Entertainment
Who Is Ella Purnell Dating? This Beauty Reveals Boyfriend Amid Rumored Affairs
Ella Purnell is the latest beauty added to the list of Hollywood heartthrob, and with her dashing looks and glowing youth, she has captured the hearts of thousands of fans. Ella, who started her acting career playing younger versions of several actresses, has now turned into a bonafide actress, landing lead roles on various movies and tv shows.
Further, Ella who had been linked to a couple of celebrities in the past, recently revealed that she is involved in a committed relationship. Know all about the personal life of Ella along with the past link ups!
Past Relation, Rumors, Present Boyfriend
Back in 2014, Ella had mentioned in an interview with i-d.vice.com that she was in a four-months-old relationship. Although Ella didn't reveal the name of her boyfriend, she explained that her love interest was a French guy who's fluent in English. Ella went on to admit that though the two started on the wrong foot, she later realized that he wasn't that bad after all. However, much is not known about the affair and the details of the relationship remains a mystery to this day.
In 2017, the Kick-Ass 2 actress was rumored to be dating Spiderman: Homecoming actor, Tom Holland. The speculation aroused after Tom invited Ella to a private party after the 2017 BAFTA awards. A source told The Sun,
"Tom and Ella were very close inside the Weinstein party and it looked really obvious that he was taken by her.
The source further revealed that the duo returned to the Dorchester Hotel where Tom had rented a room. However, after the event, the couple was not spotted together, and their alleged affair was thought to be a fling of the moment.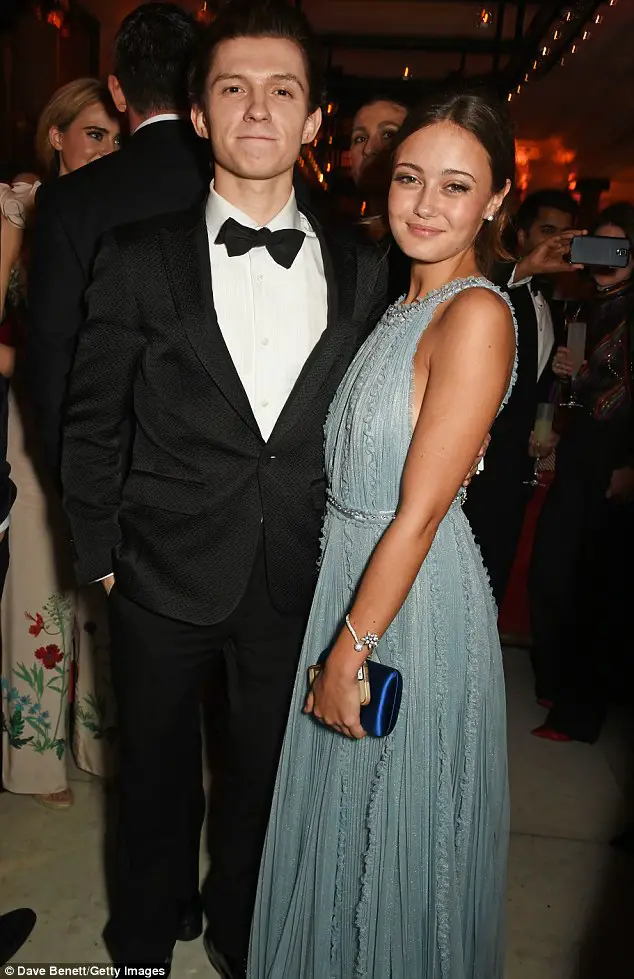 Ella with Tom at Sunday night's BAFTA Awards (Photo: Dave Benett/ Getty Images)
After the rumored relationship, Ella, who played the younger version of Angelina Jolie in the 2014 movie Maleficent, was linked to Jolie's ex-husband, Brad Pitt. A source close to Ella revealed to the Mirror that Brad first saw her in the 2016 movie Miss Peregrine's Home for Peculiar Children, where Ella played the character of Emma.
Reportedly, Brad who is 32 years older than Ella, was "enchanted" by the actress and went out of his way to cast her in his upcoming Starz's series Sweetbitter.
The source went on to mention that Ella was flattered by all the attention from her No.1 Celebrity Crush but disproved any claims of dating. The source told the Mirror on October 2017,
"It's completely made up. They're not dating."
Ella is currently in a relationship with singer James Coate.
In an interview with Standard in April 2018, she mentioned that the couple first met after Ella was introduced to James at a party in London, by her friends whom she had met while traveling to New Zealand and Australia, however, the date of the couple's first encounter is not disclosed.
Elia, who is of unknown ethnicity, further revealed that the lovers have been dating for more than a year, although it was only on 25 December 2017, that Ella announced about having a boyfriend.
On that day, she posted a picture on her Instagram where the lovers could be seen together along with a portrait of Ella drawn by James.
Moreover, in the interview with Standard, Ella confessed that she had a weird thing for public display of affection. Maybe, the 21-year old didn't want to disclose her relationship in the first place but was forced to do so after she was rumored to be dating a couple of Hollywood celebrities.
On the occasion of Valentine's Day 2018, James shared a photo of the couple celebrating the event together.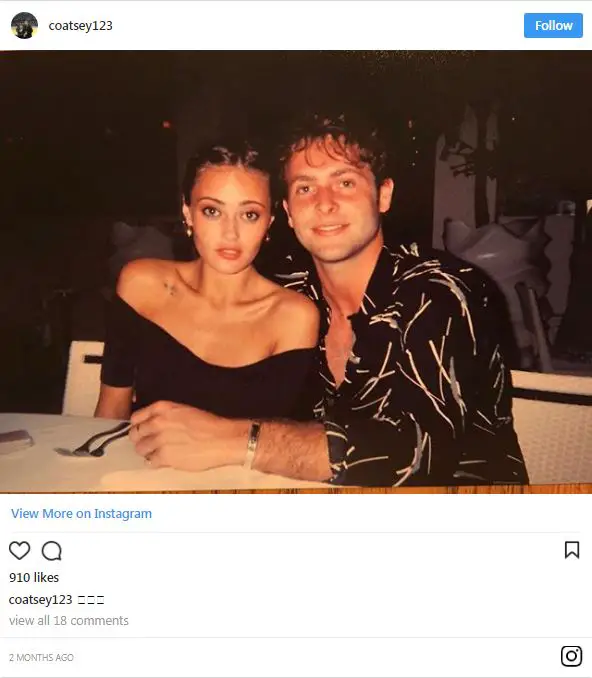 Ella celebrates Valentine's Day with boyfriend James (Photo: James Coates' Instagram)
Ella and James are currently leading a long-distance romance and haven't posted much about their relationship on social media in recent days.
Ella grew up in East London with her mother after the split of her parents who separated soon after her birth. Ella lives her mother lives and stepfather, who run a gym together near Canary Wharf. Further, her father, a Scottish businessman, lives with his wife in Fulham along Ella's three step-brothers.