Entertainment
Nesta Cooper Blissfully Dating Her Boyfriend at Young Age! They Are Amusingly Cute
When you're in love, everything else starts to feel secondary, even if it may include factors like age.
Similarly, the young actress, Nesta Cooper is happily indulging in the spark of young love with her boyfriend, and their romance is deemed as #RelationshipGoals!
Well, doesn't that sound just too cute? So, let's explore a bit more about the cutesy romance that Nesta shares with her boyfriend.
Nesta Cooper's Blissful Romance:
At just the age of 25, actress Nesta Cooper is a successful lady cherishing her affluent career as well as her romantic relationship with Peter Van Auker.
As per Nesta's Instagram, the cute actress has been dating Peter since November 22 of the year 2016, as she shared a beautiful picture on the occasion of their first anniversary on 22 November 2017.
Is This Actor Dating?:- Dacre Montgomery Age, Dating, Girlfriend, Net Worth
Since then, they have been sharing their romantic moments together, and the fans find them too adorable to handle. On May 31, 2017, Nesta uploaded a picture with Peter on the day of his birthday giving him the title of the king of all boyfriends.
Again on December 17 of 2017, Nesta shared a cute picture of them having a good time in the pool. No wonder they are #Goals!
Pete - who identifies himself as a medieval art performer - has not disclosed much about his professional career; however, his personal life with moments of joy shared with his girlfriend.
The couple, after celebrating their second dating anniversary in November 2018, celebrated different auspicious occasions together. The duo was spotted together enjoying Nesta's 25th birthday on 11 December 2018 and also the New Year on 1 January 2019.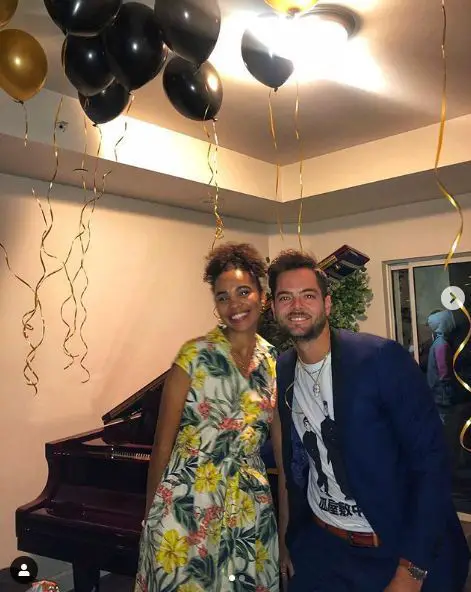 Nesta Cooper celebrates New Year 2019 with boyfriend Pete Van Auker on 1st January 2019 (Photo: Pete Van Auker's Instagram)
While the couple has made no plans on getting married, they could be on the way to getting engaged and a beautiful wedding soon after that.
A Bit More About Nesta Cooper:
The beautiful actress Nesta Cooper was born on December 11, 1993, in Toronto, Canada and belongs to African-Canadian ethnicity. Nesta grew up alongside her older sister, Elisha, and although there aren't many details about her parents, she keeps showering her mum and dad with love.
Young Actress' Parents:- Lily Mo Sheen Boyfriend, Lesbian, Parents, Nationality
On July 16, 2015, Nesta uploaded a picture of her mother on her Twitter.
Likewise, on October 17 of 2017, Nesta shared a sweet picture with her father via Instagram.
When it comes to the initiation of her career, some sources state that she resided in British Columbia since the age of seven years old and involved herself in the world of art whenever she could.
After she completed her high school, she later moved to Vancouver, Canada and got into the acting field with her debut on-screen with the role of Young Sakelik in the TV series, Cult in the year 2013. Similarly, Diablo marked her film debut in 2015.
Movies & TV Shows:- Mary Jo Catlett Still Entertaining with Movies and TV Shows At 79!
She also appeared alongside the actress and singer Hailee Steinfeld in the movie, The Edge of Seventeen. Likewise, she was also starred as Carly Shannon on the joint Netflix and Showcase production, Travelers. In an interview with TV, EH? Nesta said she does a lot of her stunts in the series,
" We've had the same stunt team for both seasons. In Season 1, I was a twiggy and very weak. [Laughs.] I'm still weak but I work out a lot more now. The stunt team has seen how I fight and carry myself and I'm lucky because the writing has taken this physically strong person and put her into the body of a weak, single mom. Carly is able to grow with me as I've learned to carry myself. This season I'm able to do a lot of my own stunts, like when I flip people and when I punch people."
However, Nesta who has a height of 5' 8", is most famous for her role as Dani in the 2017 Netflix movie, #Reality High which rotates around high-school drama.
Indeed, much more is on the way for the young actress, Nesta Cooper as she is set to appear in Apple's upcoming series, See. The show features a cast starring several famous actors & actresses including Jason Momoa, Alfre Woodard, Christian Camargo, Hera Hilmarsdóttir, and Sylvia Hoeks.