Entertainment
Nick Crompton: A 22-Year-Old Gay Man; Who Is His Boyfriend?
YouTube has been a spectacular platform for people to showcase their talent while garnering fame and wealth simultaneously. 
Moreover, it is also creating many jobs. The social media has invented a career for people that help keep track of a YouTuber's business.
One of such names who got fame for his association with the famous web group, Team 10 founded by YouTuber Jake Paul, is its chief operating officer, Nick Crompton. Fans of  'Jake Pauler,' sure know who Nick Crompton is, but lack of them are aware of his love life.
Read to find out more!
Nick Crompton's Relationship With His Boyfriend:
The world is getting more open-minded. It is starting to accept same-sex love/marriage, which makes the people once skeptical about opening up about their sexuality now, comparatively, more confident to come out, being comfortable in their own skin. 
For instance, the singer Ricky Martin celebrated love by marrying his boyfriend Jwan Yosef earlier this year in January.
Similarly, Nick Crompton, the COO of Team 10 and co-founder of Social Chain, does not shy away from letting the world know he is attracted to men. The social media personality openly addressed his relationship with his boyfriend, Levy Erskine from North Carolina.
More Gay Stories: Openly Gay James Charles, Exceptional Makeup Artist Boyfriend | Dating?
Nick, 23 years in age and 5 feet 10 inches in height, formally introduced his boyfriend to his fans through Jake Paul's YouTube video in November of 2017. Levy is a rising internet personality who has recently ventured into video making, publishing his content on his YouTube channel. 
Nick first met Levy on Tinder, and it was Instagram which brought them closer. Moreover, after officially dating, Nick took his boyfriend on a movie date. 
Caption: Nick Crompton introduces his boyfriend, Levy, to his fans via Jake Pauls' YouTube video (Published on Nov 28, 2017)
However, neither of them gave away their relationship timeline, leaving us to wonder when they started dating.
Also, though Nick didn't come out as a gay man earlier, he used to talk about guys often. Nick even posted a picture with Ericka Costel, Jake paul's girlfriend-turned-wife, on Instagram and captioned it "If she was a dude."
Nick Crompton Split With Boyfriend!
The YouTube sensations were enjoying their relation, spending time and posting pictures of each other, when the 18 February 2018 video posted by Levi, came as a shocker to their fans. 
More About Other Media Stars: Twitch Starr Troydan Age 31 Banned React Channel | Bio Unveils Girlfriend
In the video, Levi casually discussed his breakup with Nick through a Question/Answer round. Through the video, Levi discussed that the major reason for their split was that, things weren't working so good with each other.
The duo, who had started their relationship with social media chat, called it quits without any hard feelings.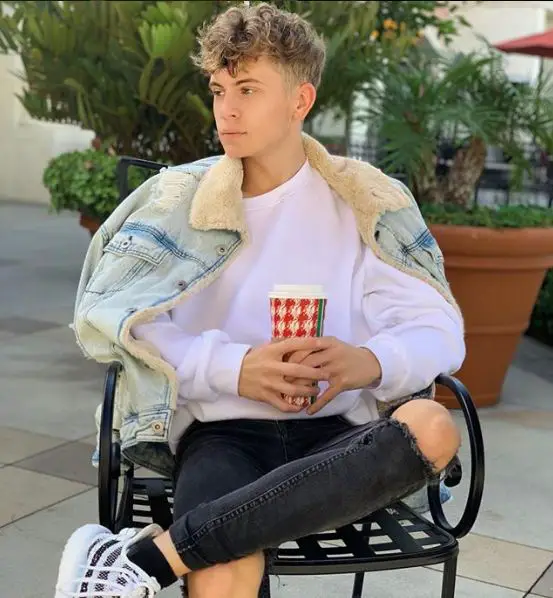 Nick Crompton's ex-lover Levi Erskine posts a picture of himself posing casually in his Instagram (Photo: Levi Erskine's Instagram)
Levi didn't miss the chance to tell his viewers that even after the break, he is still a close friend to Nick, and they haven't stopped talking and caring for each other.
Don't Miss: Piper Rockelle Age 10 Shocks With Boyfriend Video! YouTuber's Family Involved
Like many relationships that weren't meant to last long and just end with brief sweet memories, Nick and Levi shared a similar tale. In the video, Levi was specific when he said he didn't have any grudge against Nick when he said,
"It's ok for a relationship to not work out and not to hate that person, but you can't force a relationship and make it work"
Staying single currently, Nick's ex-lover reported that he wasn't ready for a relationship any time soon, and when he starts dating he might end up with another guy and may even a girl.
While on the other side, the entrepreneur of Social Chain, Nick Crompton has been busy with his own schedules, having no time to start another relationship after his split with his ex-lover.