Entertainment
Micky Flanagan Wife & Son | A Family Influenced By Drug Filled Past
What Chance Change? presenter Micky Flanagan...Micky got married to his wife Cathy when he was...As for as Micky's concerned, he's not the right person to lecture his son, Max who turned...the BBC Radio 4 personality, now age...doesn't hold back when it comes to using his family's somewhat...Today, Micky is one of the most successful comedians in Britian with the estimated net worth of...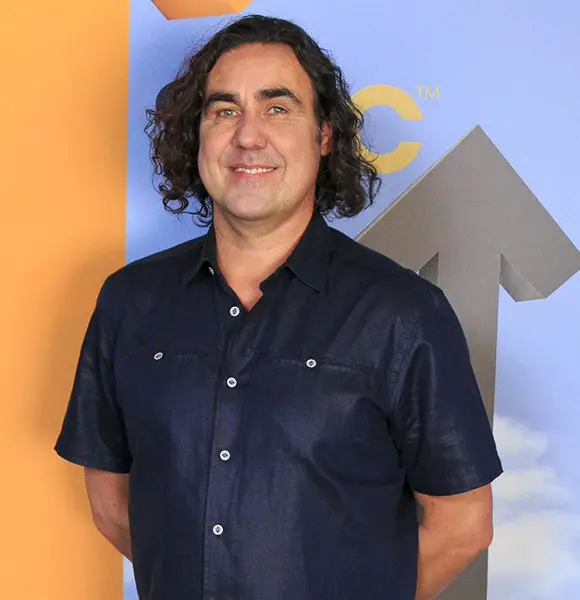 Quick Information
Relationship Status

Married

Eye Color

Light Brown

Hair Color

Black

Hair

Long

Weight

N/A

Height/ How Tall? N/A
College

City, University of London

High School

Mulberry Academy Shoreditch

Career

1997-present

Net Worth

Not Disclosed

Dating/Affair

No

Gay

No

Divorce/Split

Not Yet

Wife/Spouse

Catherine Flanagan

Date of Birth Oct 01, 1962
Son/s

Max Flanagan

Sister/s

Patricia Flanagan, Lisa Flanagan

Brother/s

Terry Flanagan

Mother

Sylvie Flanagan

Father

Jim Flanagan

Ethnicity/Race

N/A

Religion

N/A

Zodiac Sign

Libra

Birth Name

Michael John Flanagan

Profession

Comedian

Birth Place

Whitechapel, London, United Kingdom

Nationality

British
What Chance Change? presenter Micky Flanagan epitomizes the phrase "late bloomer." In 2007 - at the age of 42 - the British comedian became the oldest comic to be listed for the Best Newcomer Award in Edinburgh.
By the East London native's admission, his wife has been instrumental in his success, both as a staunch supporter and an inspiration behind his stand-up materials. The birth of their son in 2005 meant that Mickey would continue the tradition of marveling over his interaction with his family while performing on-stage.
In a similar vein, the BBC Radio 4 personality, now age 58, doesn't hold back when it comes to using his family's somewhat sketchy past as his bits or in interviews.
Family Dirty Laundry: Criminal Father (Jim Flanagan) & Addict Mother (Sylvie Flanagan)
Suffice to say, Mickey didn't grow up in normal circumstances.
Fellow British Comedian:- Karl Pilkington's Girlfriend Suzanne Whiston Declares 'Proud Wife' | Married?
The '70s was a tough period; the fact that Micky's father, Jim Flanagan, had four children to provide for didn't necessarily help. Like many of "the men who came from an East London, Bermondsey background," Jim too found himself involved in low-level crime.
In 2015, the 58-year-old comedian sat down with Andrew Pettie of the Telegraph for an interview to discuss a plethora of topics, including his father's criminal past. He said:
"A number of things came along in Del Boy fashion. He took his chances, was unfortunate to get caught and ended up in prison."
Micky, however, was very reluctant to label his father "a criminal." He explained by saying:
 "He was an opportunist, I suppose. When you've got four kids and someone offers the opportunity to get an easy buck you might just take it."
The East London coppers arrested and threw Jim in prison. For better or worse, it did wonders for him. According to Micky, the prison sentence "smarted and shaped up" his father.
Meanwhile, there was a different time of "crime" brewing at home. The toll of looking after four children on her own proved too much for his mother, Sylvie Flanagan, who got addicted to valium following his father's arrest -- an experience Micky has shared during his stand-up routines.
Read Also:- Andrea Savage Is Married! Compares Real Life and On-Screen Husband And They Are Kind Of Same
When asked about her mom's addiction by James Rodger of Birmingham Mail in 2017, the East London native merely said:
"I think for so many women of that generation, tranquilizers were part of everyday life. It wasn't uncommon for certainly East End women to talk half a valium on a stressful day."
Surprisingly, Micky doesn't hold his mother's past obsession with her. He even credits his father and mother for shaping his care-free attitude. Thus, the Back In The Game Live star wishes to impart similar liberal views about the dos and don'ts of drug consumption onto his son.
Micky Flanagan Son, Max Flanagan
By no means, What Chance Change? presenter considers himself a role model for his teenage son, Max Flanagan.
As far as Micky's concerned, he's not the right person to lecture his son, Max, who turned 15 this year, on the evils of drugs. In 2013, talking to Steve Myall of Mirror, then 58-year-old comedian explained:
"My policy towards these things when talking to my son in the future will be that these are the things that will be placed in front of you and if I can genuinely say yes or no that you should do these things then I am a liar...if you want to use me as an example as to what will happen if you stay up until 5 am then you are probably using the wrong example."
Earlier in the interview, he had delved into his hedonistic past by claiming that his peers had an elongated "party hood" because, unlike his son's generation, they weren't eager to get married so early.
Discover:- Young Greatness Shot & Killed; US Rapper's Cause Of Death
Is Micky Flanagan Still Married To Wife Catherine Flanagan? 
It's not a surprise to learn that Micky got married to his wife Catherine Flanagan when he was in his mid-30's. Their wedding was held in 1996; however, their exact date of marriage remains unknown. 
After almost a decade, the couple welcomed their son Max Flanagan in 2005. Max, along with his wife, Cathy, and son Max, lives in East Dulwich, South East London.  
How Much Is Micky Flanagan Net Worth?
By the time Micky and his wife had tied the knot, the stand-up comedian was already beginning to make a name for himself as a comedian in the British stand-up scene.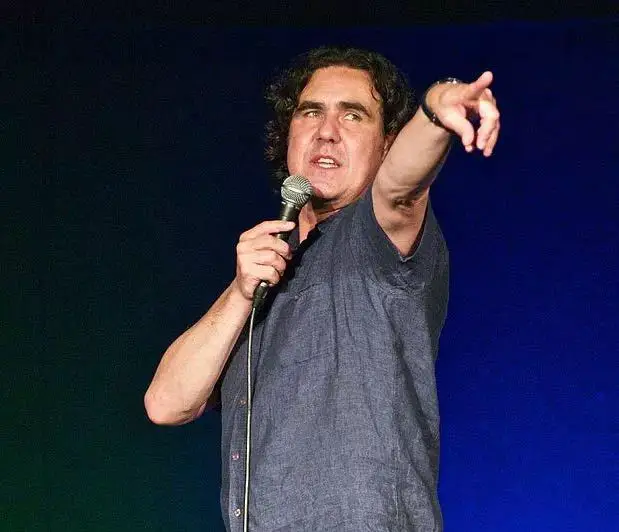 Micky performs his stand-up routine (Photo:- thesun.co.uk)
Despite the success, the married couple's relationship hasn't changed at all. In the 2014 Mirror interview, he revealed by saying:
"Fortunately my relationship with my wife has not changed one iota since she used to come to gigs with me when I got £30. She treats me exactly the same when I am about to do my seventh night at the O2 as she did back then."
Today, Micky is one of the most successful comedians in Britain, with an estimated net worth of $7.6(£6) million to his name.
Initially, Micky thought of pursuing a career as a teacher. He even took training from the Postgraduate Certificate in Education. But later, he dropped the idea saying it was the unhappiest year of his life.
In 1996, he attended a comedy course at Jacksons Lane and became a professional comedian. He performed at the Edinburgh Fringe in the Big Value Comedy Show in 2001. 
His first full-length solo show named What Chance Change? came in the year 2006. After a year, he was nominated for the Best Newcomer at Edinburgh Comedy Awards.
He was a regular performer on Radio 2's Out to Lunch in 2008. Micky's agent filed a complaint to the Advertising Standards Authority (ASA), claiming a TV commercial for 118 118 used his catchphrase and skit 'out out.' ASA acknowledged the matter and said it was far from the remit to take action.
He was also a panelist on the BBC1 show, Epic Win, broadcasted in August & September 2011. Then, he starred on the Channel 4 comedy panel program The Mad Bad Ad Show alongside Mark Watson and host Mark Dolan in 2012.  
His sell-out tour 'An Another Fing..' in 2017 became the biggest comedy event playing to over 600K people across Ireland and the UK.   
Break For Mental Health
Micky is a celebrated comedian, but it can be overwhelming for a creative person to keep himself out there.
In 2015, he famously took a year off from comedy to concentrate on his mental health. The comedian revealed that he liked to take time out whenever things became too much, or he stopped enjoying his comedy. Being a solo performer, he dealt with a lot of pressure in delivering his craft; thus, it was fitting he took time off.
People were thrilled and termed him as a hero for talking about the mental health issue. Being a celebrated comedian, he helped a lot of individuals by speaking the truth.
Alan Carr will host the six-part program The Sky One show will also feature Hollywood star Michael Sheen. Other esteemed celebrities, including Lily Collins, Matthew Broderick, and Jennifer Saunders, will grace the show.