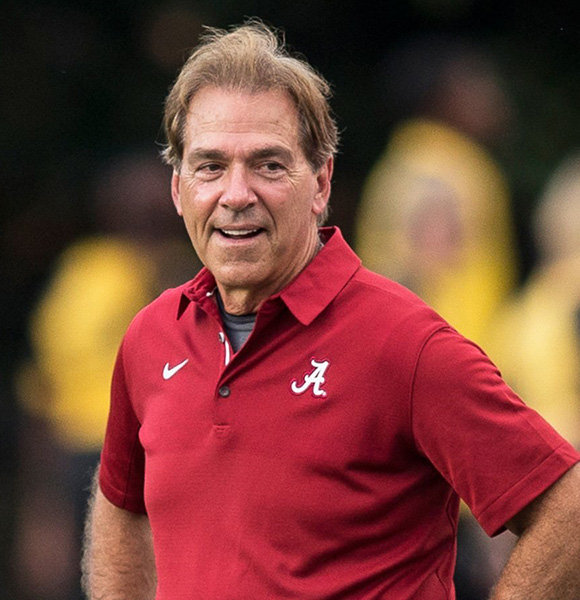 Behind the success of any great team, there is always the hand of a skillful coach. As a football coach, Nick Saban has won National Championships with two different colleges; Louisiana State University and the University of Alabama.
He led the Louisiana State University (LSU) Tigers to National Championships victory in 2003 and again completed the feat with Alabama in 2009, 2011, 2012, 2015 and 2017. With a glowing coaching resume, Nick became the second-highest-paid coach in 2016.
Net Worth & New Contract
Nick Saban was the recipient of the AP Coach of the Year Award in 2003 and 2008 for his unparallel contribution in the college football tier.
Since then, the 67-year-old revolutionized the coaching scenario with practical communications skills and new tactical strategies.
 Women's Soccer Coach:- Jill Ellis Net Worth, Wife, Daughter, Family
In 2016, he brought in a salary up to $7 million, which made him the second-highest-paid coach that year. But, that sum drastically scaled to an annual $11.5 million in the past few years. The contract and extensions were due to his glowing performance as the Alabama head coach.
Furthermore, Nick played minor roles in movies like Nick Saban: Gamechanger, The NFL on CBS and The Blind Side, which also contributed to his massive net worth of $45 million.
As of 2019, the record-breaking coach is eyeing another National Championship for the Alabama Crimson Tide football team.
Interestingly, he has received a new contract worth $8.3 million, which will be extended until 2025. The lucrative deal will see him bag a total of $74 million at the end of his contract. He may become the highest-paid coach in the history of college football after the deal comes through.
Coaching Career
Born in a small city of Fairmount, West Virginia, Nick Saban came a long way to become one of the record-breaking coaches in the college football history.
Staring as an underling to Cleveland Browns head coach Bill Belichick, Nick learned the ropes of coaching. Then, he debuted as a coach in Toledo High School.
Further, he shifted to Michigan State and served there for five years.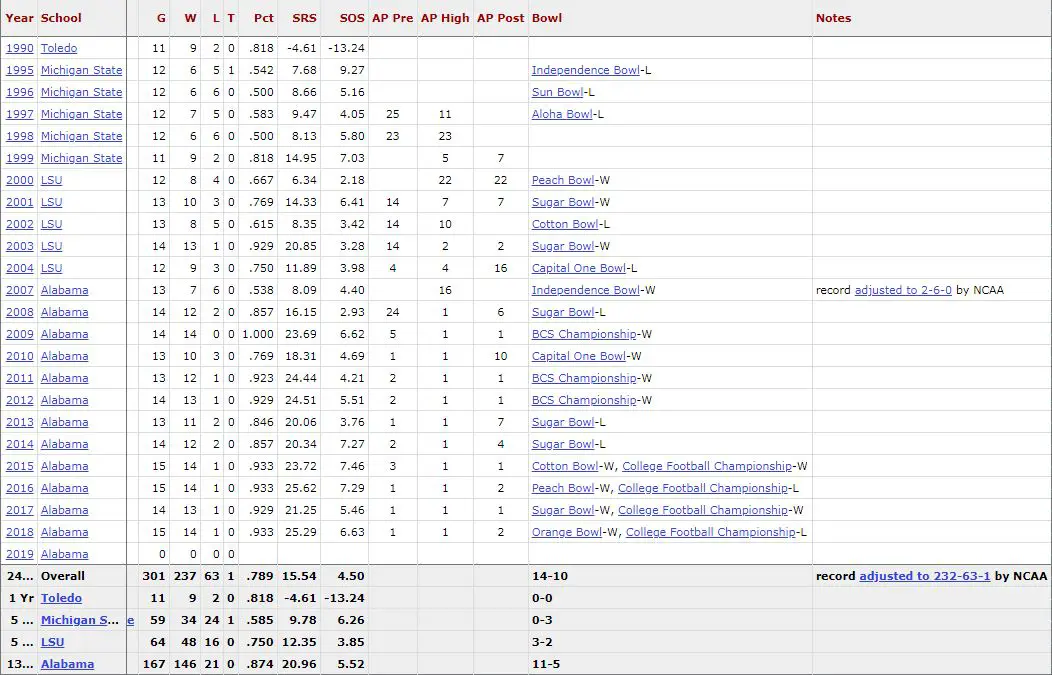 Nick Sadan overall coaching stats in college football (Photo: sports-reference.com)
Learning the do's and don't of the game, the head coach slowly caught up to the pace and made a name for himself in the LSU. In the fourth year of his coaching, he won 13 out of his 14 games and lifted the National Championship.
Explore About:- Dan Dakich Show, Wife, Son, Net Worth, Family
Continuing his outstanding run, the champion coach yet again clinched the national title with Alabama Crimson Tides in 2009 winning all the games in the season.