Entertainment
Is Noelle Robinson Escalating Romance? Gaping College, Closer To Boyfriend
The up and coming beautiful model has a colorful love life. The 18-year-old's account is engraved with philosophical quotes about her boyfriend and the relationship Noelle enjoys with him. After a brief hiatus following that tweet, the model again started posting cryptic tweets hinting turmoils in her love life.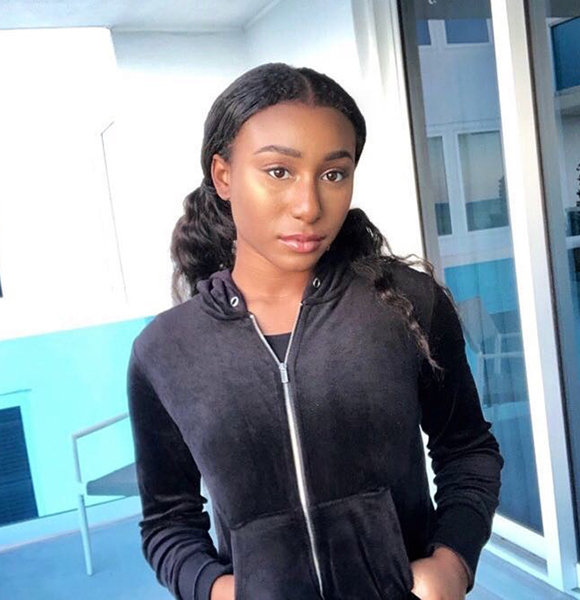 Noelle Robinson, daughter of reality show star Cynthia Bailey, is the newest hottie in the town. Blessed with the good looks genes of her mother, the diva is creating the buzz in the modeling industry and following the footsteps of her mother. 
The similar buzz about the aspiring model has been created due to her romantic life. The young high school pass-out has a burgeoning love, which even led her to leave school and relocate her home.  
Thriving Love: Not Full of Roses Though
The up and coming beautiful model has a colorful love life as evidenced by her Twitter account. The 18-year-old's twitter account is engraved with philosophical tweets about her boyfriend and the relationship Noelle enjoys with him. 
In January 2016, Noelle hinted about her relationship on Twitter sharing a philosophical quote about what mature relationship should be like. However, eight months after suggesting about the start of the relationship, the famous sibling hinted at a glitch in her relationship when she accused her boyfriend of lying to her.
Shortly after the minor hiccup, however, she tweeted about her affection towards the mysterious hunk who loved her as the person who she was. 
Dive In:- Is Willy Cartier Gay Or Dating A Girl? Bio Reveals - Sexuality, Age, Net Worth
After a brief hiatus following that tweet, the model again started posting cryptic tweets hinting turmoils in her love life. On 18 May 2017, she tweeted about how her love had fallen below her expectations and added she had never imagined having a love life as she had.
A day later, she said about how every relationship had their own expiry time, with some lasting a lifetime and some lasting just for a few days.

Noelle Robinson talks about a relationship (Photo: Noelle Robinson's Twitter)
Later on 26 May 2017, she even claimed that her love life set the tones to how her other relationships fared.
Previously, in February the same year, she had tweeted about remaining friends with her mysterious boyfriend even if they were to part. These tweets not only hinted at her complicated affair but also about her relationship in turmoils, hinting breakup. 
However, in a swift turn of events, Noelle moved from her family home in Atlanta to her boyfriends in Charlotte after her graduation from high school in June 2017, and her mother confirmed the model's relocation stating it was to be closer with her boyfriend.
The gorgeous model's mother, Cynthia, even added that her teenage daughter had been moving to and fro to balance her love life with her family life.  What's more, she also took a year gap from her college to juggle her relationship in a better way. 
Discover:- Inside Thylane Blondeau Modeling Career Now & Detailed Info Of Parents
Well, that seems to have worked wonders for Noelle, as her relationship has strengthened, and her romance with the mysterious guy is in full force. Furthermore, she is also part of a blessed family and reveling as a loved-up daughter and loving girlfriend.
After a year of college gap, in July 2018, she announced that she has joined the Howard University and announced that she has officially become the Howard Bison.
Following Noelle's announcement, her happiest mother, Cynthia Bailey reposted Noelle's post and expressed she wasn't sure if her daughter was going to Howard or Paris.
Similarly, since she has embarked into the student life once again, on the 2019's New Year eve she expressed in the tweet that the year 2018 taught her not to rush over the things. Also, she hinted about her single life as she stated she has no interest in dating life.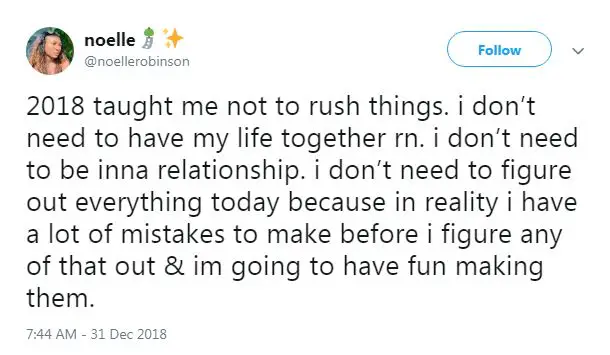 Noelle Robinson tweets on her relationship status (Photo: Noelle Robinson's Twitter)
Well, the young model, who is also known as the duplicate face of her popular mother, seems to be leading a single life as she hasn't yet sparked any hints on dating life.
Supportive Mother, Loving Dad, And Modelling 
The Atlanta native is notoriously close to her dad Leon Robinson, as evidenced by her Instagram posts where the father-daughter pair is snapped regularly sharing happy family moments.
Her dad, the singer of the band Leon & The Peoples, spoke to the Root.com where he claimed that parenthood changed him entirely for good. He further added they share a beautiful bond with each other, despite his separation from her mother, Cynthia.
Read Also:- Inside Model Genevieve Gallen Age 45 & Verne Troyer Surprising Relationship
Photogenic Noelle, not only had beauty genes transferred to her through her mother, she even bears all those genes that are required to have a successful career in front of the camera.
Noelle started modeling since a very young age, but the real clamor about her began after she posed as the face of her mother's Luxury luggage line, Cargo. Noelle, then aged just 17, sent ripples throughout the industry due to her work with Cargo.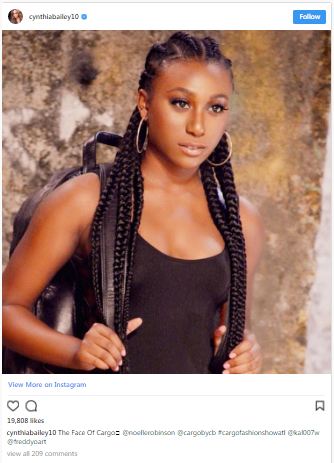 Noelle Robinson posing in front of the lens for luxury luggage line, Cargo (Photo: Noelle Robinson's Instagram) 
Recommended:- Model Sjana Earp Age 24 Bio Reveals Height & Dating Status Of Yoga Expert
Apart from that, Noelle also has Masters (2018) and The Pepper Diaries: Backstage with Sissy Sheridan (2017) movies added to her resume.
However, the beauty seems to have had a change of heart after her latest career choice. As revealed by Cynthia on an episode of Real Housewives of Atlanta aired on 25 March 2018, Noelle had taken up an intern position as a prosthodontist.
Before leaving for her college life at Howard University, Noelle signed with the popular Major Models in New York and also made her debut walk at the New York Summer Fashion Explosion in June 2018.
Since she has also entered into the modeling industry like her mother, she is often mistaken for her model mom by her Instagram followers.
Keep Visiting for the emerging updates on the life of Noelle Robinson!