Entertainment
Inside Model Genevieve Gallen Age 45 & Verne Troyer Surprising Relationship
Genevieve Gallen, a former Playboy model, shared a marital relationship with...who is a...they crossed path back in...during...birthday at...they shared stormy off again on again relationship for years and had their first split in...did not take the heartbreak easily. It has been reported that... almost drank himself to death as he could hardly handle the split. They later got back together and was engaged in...the couple decided to exchange the wedding vows in...however they annulled their marriage in...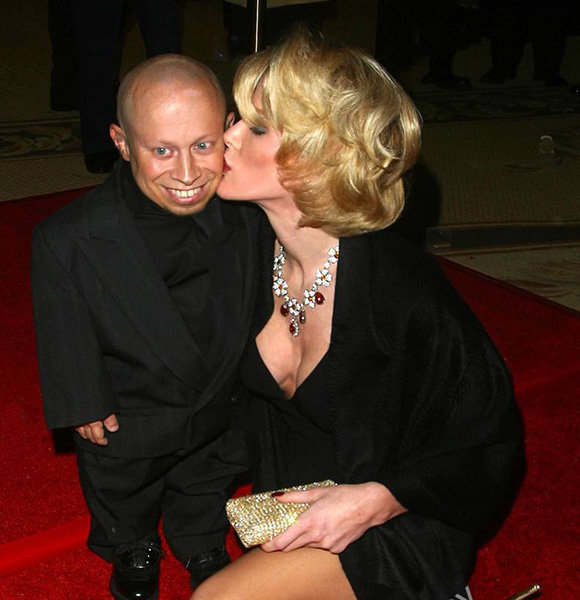 Former Playboy model Genevieve Gallen is also a private yoga instructor. But unlike many Genevieve did not come to spotlight due to her career but instead made headlines while revealing about her relationship with Verne Troyer, the 2 feet 8 inches tall stunt performer known for his role in Mini-Me in the Austin Powers film series.
Turns out she once shared the marital bond with Verne but the pair never had a lasting relationship. Despite exchanging the wedding vows, the relationship between the two ended in a blink of an eye.
Wondering what might have happened? Dive in as we share insights on their surprising relationship. 
Relationship With Former Husband Verne Troyer, Insights On Married Life
Genevieve Gallen, who is also a raw organic vegan activist, shared the marital relationship with one of the shortest men in the world Verne Troyer. Even though they remained married for a short period of time, they had actually known each other for a while before tying the nuptial knot.
Don't Miss: Hunter McGrady Boyfriend Turned Husband Embraces Her Measurements To Inch
Genevieve and Verne crossed path back in 1st January 2000 during Verne's birthday. They first met at Hugh Hefner's Playboy Mansion in Los Angeles and soon sparked the romance.
They shared a stormy off again on again relationship for years. The pair had their first split in 2002 and according to some sources, Verne did not take the heartbreak easily. It has been reported that Verne, whose net worth is $3million, almost drank himself to death as he could hardly handle the split.
However, they later got back together and when they did, they ended being engaged. Verne presented Genevieve with an engagement ring during the summer of 2003. 
Soon after, the couple decided to exchange the wedding vows. In January of 2004, Genevive and Verne were pronounced husband and wife in the courtroom of Los Angeles Superior Court. They even planned a bigger ceremony for their friends and family on Valentines Day.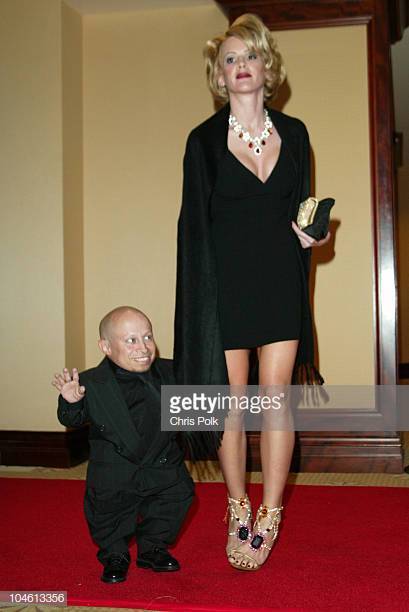 Genevieve Gallen with former husband Verne Troyer.  (Photo: gettyimages.com)
But before they could celebrate their wedding, Genevieve and Verne annulled their marriage. After less than two months of getting married, the pair was looking for ways to end the things between them.
Interesting: Paige Price Engaged To Actor Frankie Muniz; Officially Getting Married Now
Some sources revealed that Genevieve ran off with a male stripper leading to the annulment in order to avoid a costly divorce. On the other hand, some outlets even reported that Verne got cold feet leading to them parting ways. Verne had filed the annulment citing "unsound mind" and "fraud" on 23 February 2004.
After the annulled marriage, Verne was seen sharing romance with other women. As for Genevive, her love life remained at the bay for her admirers as she hardly made any public appearance with another man.
Ex-Husband's Death; Current Status Now
Despite the end of marriage, Genevieve still shared some part of her with Verne. After Verne took his last breath at the age of 49 back in April 2018, Genevieve was really heartbroken to lose him for forever.
She grieved his death via an Instagram post reminiscing the day they first crossed path. Through the caption of the post, she even embraced the moments she got to spend with him.
Adding to it, she even revealed that he was more of a husband than she ever wished to have in her life. Likewise, she even expressed that she never wanted to part ways but blamed someone else for the separation. 
You may also like:Model Sjana Earp Age 24 Bio Reveals Height & Dating Status Of Yoga Expert
In the end, she hashtagged writing #istillloveyou revealing her love for him. Well, seems like she still has some part of her loving Verne deeply even though their relationship came to an end surprisingly.