Entertainment
Normani Kordei Hinting a Dating Affair? Meet Her Possible Boyfriend
Normani Kordei Hinting a Dating Affair? Meet Her Possible Boyfriend A pretty face with a beautiful voice, the singer of Fifth Harmony band, Normani Kordei is in the pursuit of love as well. Her relationship status has been the matter of concern for her fans, but she has maintained suspense over it. Nevertheless, she has been romantically linked with few, so without further ado let's dig in!
One needs to give love a chance; because its existence seems unreal until experienced!  
The singer of Fifth Harmony band, Normani Kordei seems to have given a thought to that as well, as she too is in the pursuit of love. Her relationship status has been the matter of concern for her fans, with her maintaining suspense over it.
So today, we take a stroll past Normani's love life and find out if she has found love in somebody!
Normani Kordei and her Romantic Connection:
Of all the member of the Fifth Harmony, Normani Kordei has been most stable when it comes to a relationship.
Don't Miss: Danielle Busby, Age 34 Bio Reveals Father, Job, Net Worth & Quintuplets Story
Reportedly, Normani Kordei and Kendrick Sampson were getting flirty at Variety's "Power of Young Hollywood" party in LA held back on August 8, 2017. Normani's reported boyfriend Kendrick Sampson is an actor, best known for playing "Caleb Hapstall" in "How to Get Away with Murder." 
The two were caught flirting, and they even exchanged numbers. An insider to Hollywood Life in the party shared,
"Normani was flirting with Kendrick at the party and though they left separately, they exchanged phone numbers. He was extremely smitten with her!"  
A second onlooker at the LA outing revealed, 
"They were with each other the entire time at the party and seemed to only have eyes for each other. They hit it off for sure," 
However, their romance after that party has not surfaced the media yet.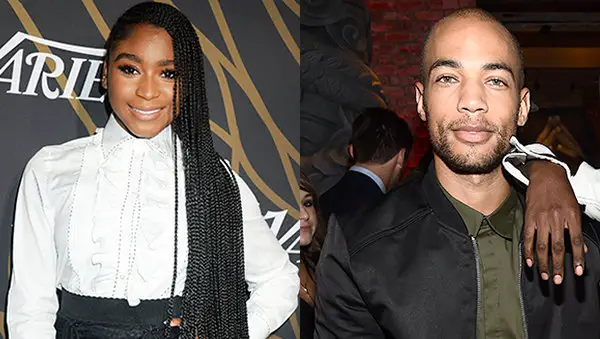 Normani Kordei and her rumored boyfriend, Kendrick Sampson. (Photo: hollywoodlife.com)
Normani has kept her love life under the veil, and her silence further fueled her dating rumors. When she was a participant in the show "Dancing With the Stars," she was tagged with her dancing partner, Val Chmerkovskiy.
On the show "Dancing With the Stars," Normani had sizzling chemistry with Val Chmerkovskiy, both on stage and during the rehearsals. On the show, Kordei did say playfully that Val is not her type and she is not into him. 
Normani does think highly of Val as well, as apparent in her statement,
"He's dope. I have to say he's a cool guy. Like inside and outside of rehearsal, he's helped me in so many ways. Like even at the first one, I overthink a lot — and, ultimately, when we watch our videos after every live show, we are super proud because we know how hard we worked. He pushes me to the limit. 
Normani, who now signs a new modeling contract with Wilhelmina where she joins as a part of agency's celebrity roster, showed her love and support to Val via Twitter back in December 2017, but just as a bro.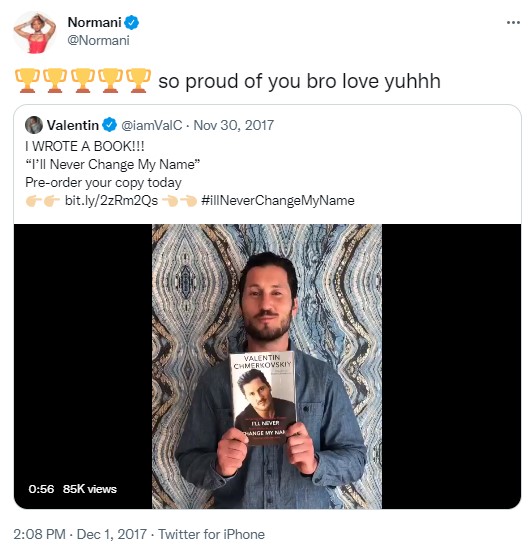 Later, the reports of Normani crushing over her then-fellow contestant on "Dancing With the Stars" started to float when she gushed that Booner is her ideal southern gentleman.
Booner Bolton happens to be a professional bull rider and when Booner, Live on camera, asked Normani to go on a date; she responded to the date offer with a 'Yes.'
"Yes! I will go out with you! I'll definitely go out with you."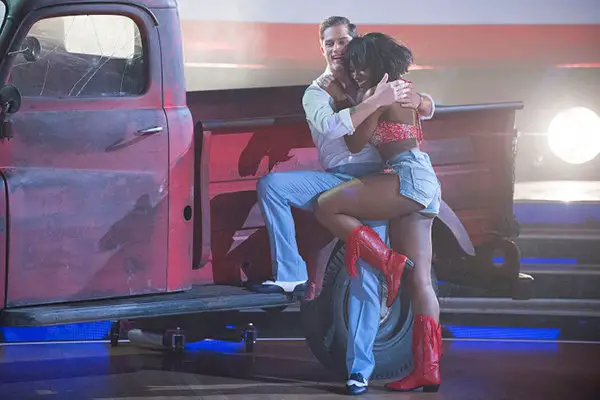 Normani Kordei and her ideal southern gentleman, Bonner Bolten. (Photo: Gettyimages.com)
Val Chmerkovskiy did try to disrupt Bonner and Normani's date plans saying,
"Wait, wait, wait! Not this week because we got things to do this week, but maybe a week after that. I need an address, where you're going on a date, what kind of menu there's going to be. There's no drinking involved because she's not even 21 yet."
As for Normani and Bonner, they did confess having a crush on each other. Although Bonner looked forward to taking Normani on a date, that is yet to happen. Normani divulged,
"No, we haven't been on the date yet but when I'm in Texas, I think he's in Texas right now, I don't know. We'll have to link up," 
She added,
"I miss my old friend. Yeah, I do. And we're Texas buddies, too, you know. We gotta stick together."
Moreover, Normani, who now excels as a solo artist after the breakup of her girl band in March, was rumored to be dating Arin Ray, her fellow X-factor contestant during the second season of X-Factor, but neither Normani nor Arin recognized their relationship beyond friendship.
You may also like: Larry Hernandez Father To Four Kids, Who Is 'El Ardido' Singer's Wife?
Normani Kordei with her rumored boyfriend, Arin Ray. (Photo: Hollywoodlife.com)
Likewise, after parting ways with Arin, Normani was also rumored to be dating Fifth Harmony bandmate, Thomas Hansen, who is also Dinah Jane Hansen's cousin. 
Similarly, Normani also had her name linked with Khalid after they started working together. Turns out Khalid has been open about the great chemistry that he has been sharing with Normani. While talking with MTV news, he divulged about their relationship saying,
 "Every time we're around each other we always have so much fun. She's such a cool girl, she's so nice, and she's such a sweetheart."
Well, Normani sure is a sweetheart and has been able to grab many hearts among which it seems like Cordell Broadus, Snoop Dogg's son and a former UCLA football player shares secret crush over Normani.
See Also: Dom Irrera & Word "Married" | Unknowingly Dating Someone's Wife & Family​​​​​​​
Even though Normani, who turned 21 on her birthday on May 31, has been romantically linked with many, but she has not acknowledged anyone as her boyfriend, yet.
Keep visiting for the emerging updates on the love life of Normani Kordei!