Novak Djokovic is one of the best tennis players in the world...The Tennis great and his wife, Jelena Ristic are high school sweethearts...Novak's excellent performance at the tennis court has earned his a massive net worth off the field...
Novak Djokovic is one of the best tennis players in the world. With a record seven Australian Open and a total of 16 Grand Slams to his name, Novak has wowed the world. 
The Serbian descended to the top when he won three Grand Slam titles in a year and became #1 ranked tennis player for the first time in 2011. 
High School Girlfriend Turns Wife 
The tennis star and his wife, Jelena Ristic, are high school sweethearts. The pair met when both of them were involved in the tennis program at the Sport High School in 2005. 
While Novak's girlfriend chose to let go of her tennis aspirations, she remained by her partner's side. The pair maintained their romance even when Jelena had gone to Italy for her higher studies.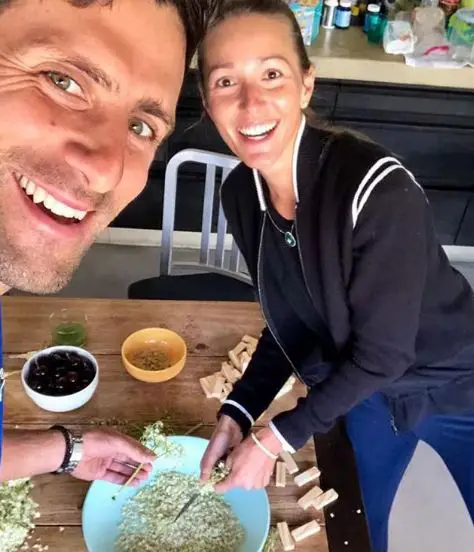 Novak Djokovic enjoys romantic time with wife Jelena Ristic in May 2019 (Photo: Novak Djokovic's Instagram)
As the distance couldn't come in the way of their dating life, the tennis champ and his girlfriend Jelena took their relationship to the next level. The pair got engaged in 2013.
Happiness started following the happy couple, and Novak got married to the love of his life in July 2015. Three months after the joyous day, the couple welcomed their first child, Stefan.
Alleged Affair, Kids
Novak's marriage got hit by cheating allegations in 2017. It was reported that the Australian Open winner and his wife had significant differences. 
Things got worse when his alleged infidelity got compared to Tiger Woods' infamous cheating scandal. Also, his supposed ex-girlfriend Natasa Bekvalac talked about his potential romance with Bollywood superstar, Deepika Padukone. 
Athlete Gets Arrested:- Professional Golfer Tiger Woods Arrested for the Alleged DUI Charges!
Sadly, when these allegations surfaced, Novak's wife was pregnant with their second child. 
But, things worked out in the end as the 32-year-old athlete and Jelena welcomed their second child, Tara, in 2017. They are a happy family with two kids by their side. 
With his family's support, Novak continues to rise in his career. He beat fellow tennis champ Roger Federer and won Wimbledon in July 2019. 
On the other hand, Novak's wife Jelena serves as the national director of the tennis pro's foundation titled Novak Djokovic Foundation. The organization aims to help disadvantaged Serbian children with their education. 
Net Worth Details & Age
Novak's excellent performance at the tennis court has earned him a massive net worth off the field. He boasts a net worth of $220 million. 
The income comes from his Grand Slam wins and endorsements. After his 2019 Wimbledon victory, his tennis earning reached to a record $133 million. The athlete of height 6 feet one inch (1.85m) also has his family's support in his income.
Decorated Olympian:- Breaux Greer Net Worth, Wife, Parents
His brood helps him run coffee shops titled Novak Cafe in his home country. Also, the pro athlete is involved in commodities trading and real estate.
It is safe to say, Novak - weight 80kgs - leads a lavish life off the court.