Entertainment
Olivia Culpo & Boyfriend Ended Two Years Of Dating - Split Didn't Last Long
The model and former Miss Universe 2012, Olivia Culpo is the dream girl for many people and her intimate relationship with NFL Player was not a secret. The pair has shared plenty of happy memories together. But their togetherness couldn't last for more than two years, and eventually, they have opted to go separate ways. Well, what caused their separation? Keen to know the details; read through!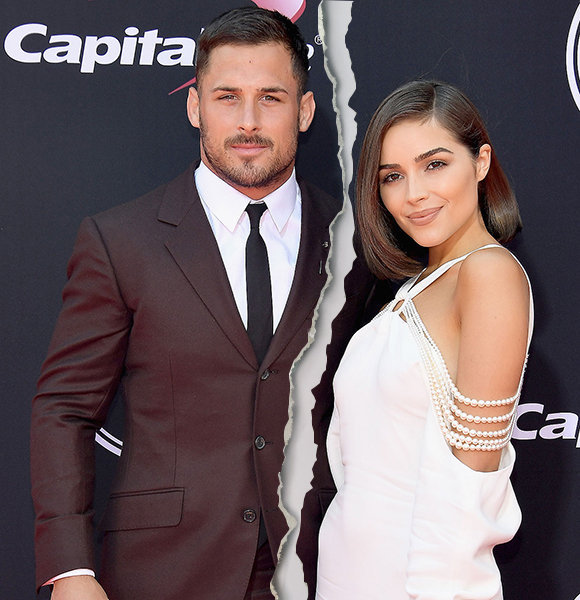 The model and former Miss Universe 2012, Olivia Culpo is the dream girl for many and her intimate relationship with NFL Player is not a secret.
The pair has shared plenty of happy memories together. The couple stood strong beyond many thrones and faced multiple separation and reconciliation.
Well, let's take a tour into their on Olivia's dating life!
Olivia Culpo Split After Two Years Of Relationship
Olivia Culpo had started dating the NFL player, Danny Amendola back in 2016 and made their relationship Instagram official in February 2016. But after more than two years of their romantic relationship, they have decided to part their way.
See Also:- Camila Nakagawa Bio: Father & Ethnicity Detailed - Personal Life Facts
Their differences were first speculated by their fans last week when Danny unfollowed the beauty queen on Instagram. 
Further, Olivia broke her silence and talked about the relationship issue with Access Hollywood on Wednesday, confirming that she and Danny have broken up and are no more a couple.
"We are broken up and it's just so fresh for me. I don't feel comfortable talking about it."
Additionally, when asked if she has had any contact with Amendola since the split, she furiously responded that,
"Everyone goes through breakups in life. Everybody has their own way of handling it and it's something that I am definitely not going to get into at this moment. But I am sure everyone can relate to heartbreak."
Although she has admitted her break up with boyfriend, the reason behind the separation is still a mystery. But Olivia's former boyfriend Danny has maintained silence over the split, and he is expected to comment on the separation.
Notably, a reliable source told E! News on Monday, that things were not good between them because,
"[the player ] couldn't handle Olivia's demanding lifestyle and wasn't pleased with certain choices she was making," 
The source added,
"The constant travel was also causing a rift."
Olivia, who has Irish and Italian ethnicity, still has photos with Danny including a post on her Instagram account from March this year, in which the former couple was enjoying a tropical vacation together.
Don't Miss:- Who Is Joseline Hernandez Baby Father? 'Parents' Tag Goes To This Musician
In January, Olivia cheered Danny during the AFC Championship game and even embraced her former boyfriend publically as his team New England Patriots won Super Bowl 2018.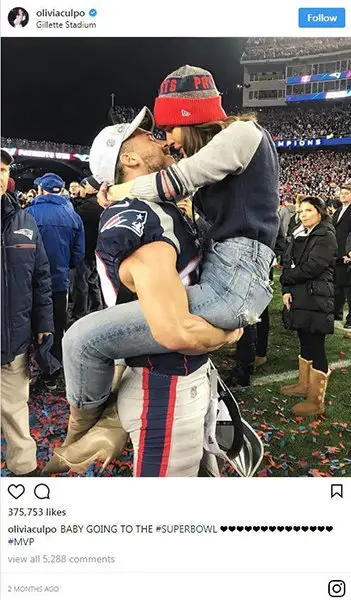 (Photo: Olivia Culpo's Instagram)
Earlier in 2018, Danny gushed about his girlfriend, Olivia at a press conference by referring to her as a "great girl" and claimed himself to be lucky to be with her.
Since making their relationship official through Instagram back in February 2016, the "Miss Universe pageant winner" and "New England Patriots wide receiver" were spotted enjoying each other's company, and at the same time, they were given a title of "power couple."
Danny opened up on how they first met and shared how cray was their first meeting as,
"I met her on the corner of Hollywood and Vine, just walking down the street and we bumped into one another. It's crazy,"
Only the pair knows what went wrong which compelled them to walk on different paths!
Moreover, she also dated the Miss World 2000 Priyanka Chopra's boyfriend turned husband, Nick Jonas in 2014. While Nick Jonas was making waves during his performance on the 2014's Miss Universe pageant, the former Disney star had stepped off the stage and knelt in front of his then-girlfriend Olivia who was sitting in the first row.
However, the couple ended their relationship in 2015 citing long distance relationship.
Rekindled Romance
After ending the relationship in early 2018, the former couple rekindled their romance in July 2018. After Olivia had confirmed they were heading to the different direction, a source reported E! News that they were officially on for now.
You May Also Like:-  Jeff Leatham Wiki: Rekindled Romance, Mid-Age Wedding Bond Still Strong?
The insider revealed the couple just needed space in their relationship.
"Olivia and Danny are exclusively back together and are in a great place since splitting. They really needed space and to figure things out, but their paths led them to reconnect again and they're really happy." 
The couple was on their romantic getaway to Ibiza where the sources revealed that they were inseparable throughout the getaway. After their romantic vacation, the couple seemed to be closer than before.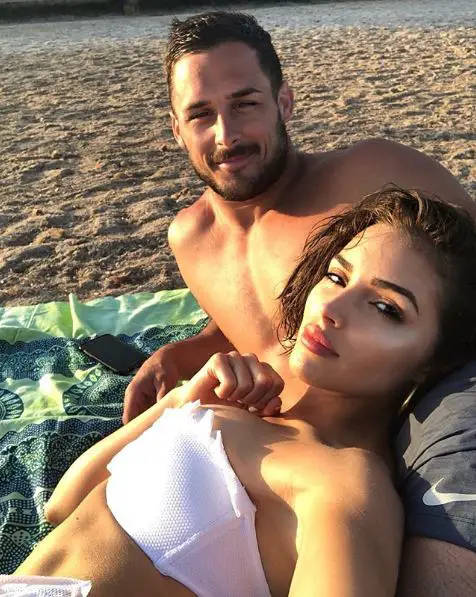 Olivia Culpo, former boyfriend Danny Amendola on 23 October 2018 (Photo: Olivia Culpo's Instagram)
The source further explained that the lovebird care for each other and are working out in their distance. Also, the couple flew back to L.A and sources claimed that her boyfriend is going to stay with her for a bit.  
Following their rekindled romance, the couple made a frequent public appearance which truly gave hope to the amassed fans about their long-term relationship. 
However, their relationship lasted for only four months as the ex NFL player was spotted with reporter Bianca Peters on a beach date. After the news aired about Danny's cozy date, Olivia called off their relationship in October 2018.
Dive In:- Jeff Leatham Wiki: Rekindled Romance, Mid-Age Wedding Bond Still Strong?
Moreover, the news about their split wasn't digested properly, the 26-year-old former Miss Universe and her ex-boyfriend again sparked the reconciliation rumors in January 2019 after they were spotted celebrating New Year's Eve together.
The speculation about their reunion aired after the duo posted the similar snap of a firework celebration from Miami in social media. But at the moment, Olivia and Danny are yet to make the comment on their relationship status.