Entertainment
Comedian Paul Mooney Dies at 79! A Look Into His Life Before Death
A pioneering comedian and writer, Paul Mooney left us with his incredible works in comedy before his death at 79. Mooney was mostly known for his works as a social critic and working alongside Richard Pryor. 
According to his publicist Cassandra Williams, Mooney's death was caused due to a heart attack. He passed away on 19 May 2021 at 5:30 a.m. at his home in Oakland, California. 
Mooney's daughter- Spring Mooney, took to Twitter and confirmed the news by posting a tweet. She shared- 
Give me a moment !!! My best friend just died and my world is forever SHOOK !!! I really can't put into words right now my feelings .. know that I LOVE THIS MAN AND I AM BROKEN
A lot of his fans, colleagues, and well-wishers expressed their gratitude throughout Twitter. 
American writer and poet Saeed Jones shared a poem for Mooney.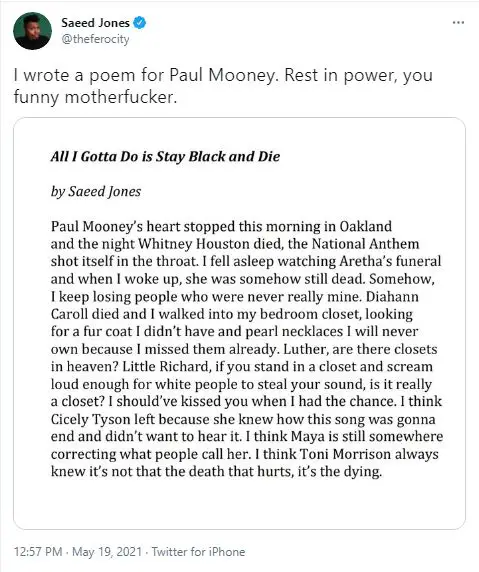 Post dedicated to Paul Mooney (Source- Twitter) 
Stand-up comedian George Wallace shared- 
So saddened by the loss of a real comedy King, Paul Mooney. Total respect for my elder. Witherspoon last year, now this. They say it comes in threes. I ain't sleepin' for the next two years. pic.twitter.com/DURUAjFHrk

— George Wallace (@MrGeorgeWallace) May 19, 2021
Further, Mooney's family posted a tweet through his Twitter thanking his well-wishers for all the love and support they expressed towards the trailblazing comedian.   
Thank you all from the bottom of all of our hearts ...you're all are the best!...... Mooney World .. The Godfather of Comedy - ONE MOON MANY STARS! .. To all in love with this great man.. many thanks
A Look Into Monney's Career Before His Death 
The Award-winning comedian Paul Mooney made his name writing for the late comedian Richard Pryor. He wrote several materials for Pryor's appearance on Saturday Night Live. Mooney also co-wrote materials for Pryor's albums- Bicentennial..., Is It Something I Said, and Live on the Sunset Strip, including Richard's comedy-drama called Jo Jo Dancer, Your Life Is Calling. Also, Mooney was the head writer for The Richard Pryor Show. 
Similarly, Paul wrote for American stand-up comedian Redd Foxx's sitcom comedy series- Sanford and Son and Good Times. Mooney also made an appearance as Mooney at the Movies, Negrodamus and Ask a Black Dude on. 
Further, he released his first book named Black Is the New White in 2007.  Chappelle's Show
See Also:- Sue Perkins & Wife-Like Partner | Why Openly Gay Couple Won't Have Kids
Mooney's Wife And Children  
Mooney got married to the actress Yvonne Mooney back in 1973, but the couple could not sustain their married life, and hence their marriage ended with divorce.
He has three sons named Daryl Mooney, Dwayne Mooney, and Shane Mooney, including a daughter named Spring Mooney. Paul also had another son named Symeon, who was murdered in 2001.
In 2018, Monney shared a romantic relationship with the singer Chaka Khan
On 2018's Valentine's Day, Paul shared a picture with Chaka in which she was sitting on the lap of the comedian. He tweeted-
"I'm having a fantastic evening @ChakaKhan each day is Valentine's Day!"
On the same day, he replied to the tweet in which he mentioned Chaka as his" wife," and he adores her a lot.
Besides, in 2014, several rumors surrounding Mooney claimed that he was diagnosed with prostate cancer. However, his children cleared the rumors back in February 2016 that he did not have cancer and claimed his forgetful habit to be the first stage of dementia.
You May Also Like:- Is Griffin Newman Married and Has a Wife? His Twitter Says No