Entertainment
Petri Hawkins-Byrd Talks About Married Life And About Wife In A Secretive Way
Many celebrities prefer their professional life to create the buzz in the industry rather than their personal life. Actor Petri Hawkins-Byrd has maintained a tight guard over his life, as only the least amount of information about his personal life has circulated in the media.
However, the actor, Petri Hawkins-Byrd, famous as bailiff on the show "Judge Judy," has a secret way of talking about his personal life over social networking site. Curious?
Keep reading!
Secret Way of Talking About Married Life with a Wife:
Petri Hawkins-Byrd is a married man for more than two decades now, and he shares his marital bliss with wife Felicia. Although he keeps her out of the limelight, Petri loves gushing about his wife over Twitter.
Petri shared a tweet regarding the visit to Ireland with wife Felicia, back on April 10, 2013.
Two decades is long enough to know a person inside and out! Back on March 30, 2014, Petri gave his followers a glimpse of his married life with Felicia, his wife of twenty years via Twitter.
Petri's tweet regarding his wife was the reply to King Hezzy tweet regarding old married couples.
As a husband, Petri has a secretive way of mentioning his wife. Similarly, Petri, who is also the father of four children, has a unique way of flaunting his kids over Twitter as well.
On January 2, 2014, Petri mentioned about his son over a Twitter post, giving a glimpse of his personal life to all his fans and followers.
Moreover, through Petri's tweet on February 26, 2014, his ardent fans got to know about his daughter as well.
As a father of four children, and supporting the cause closing the gap, during an interview, he voiced the importance of the quality education for the children. Moreover, he urged the parents to invest in providing quality education to their children, as the return on the investment is fruitful.
Caption: Petri Hawkins-Byrd's shares his thoughts and sheds light on the importance of quality education.
But beyond all the humdrum in his personal life that locked it safely away from the public, it was in 1989, Byrd's personal life changed drastically. Even with so much love shares among the Byrd family, the actor's wife Felicia decided to take a break from their ties and moved to the West Coast along with their children.
Discover More: MSNBC's Lawrence O'Donnell, Post Wife Rift Meltdown & Dating Affair
Left alone after that sudden move from his wife, the duo tried to hold up their ties by getting engaged in cross-country counseling for five months.
But, beyond all trail, due to the failing marriage, Judge Judy's actor took a stand on making a one-time decision to get back with his wife and better thing out with his family. 
He reports this incident by saying:
"It was a one-shot deal for me to get our relationship back together, and I jumped at it; I didn't want to be a statistic,"
he further reminiscences this event by saying:
"One day when I was there, our 2-year-old was running on the beach. I just looked at him and thought, 'I can't take him back to the city.' It was the best decision I ever made."
From that point onwards the couple has been living their life, with many ups and downs but all battling it together.
Turning Point in Life:
In the New York City, Petri worked as a court officer, for Brooklyn circuit and got transferred to the Family Court Division, Manhattan in 1986 and during this period, he met Judge Judith Sheindlin, the maker of court program "Judge Judy." Petri graduated with a degree in criminal justice from John Jay College in 1989. And in 1990, he shifted to San Francisco Bay Area in California along with his family and worked for United States Marshals Service.
Read More: Daniel Henney Thoughts On Getting Married, Ideal Wife & Dating Talks
The year 1996 turned out to be a turning point in Petri's life when he was offered the role of bailiff in the courtroom drama "Judge Judy." Petri landed the role after he sent a congratulatory letter, to the show's maker Judith Sheindlin for the show "Judge Judy." After receiving the letter, Judith offered Petri the role, and today, Petri is the part of one of the longest running shows, "Judge Judy" which premiered back on September 16, 1996.
Don't Miss Out: Actor Johnny Strong Married Status, Family & Wife At Age 44 | All In His Bio
With his performance, he successfully left a mark in his audience heart and memory and the show "Judge Judy" has showered him all the name, fame, and wealth he ever wished, which enables him to relish a life of luxury in his house at Elk Grove, California. 
Being nominated at the Emmy twice in the row, the actor shares a glimpse of his happy moment at the Emmy awards by pouring his excitement and happiness via Twitter to his audience.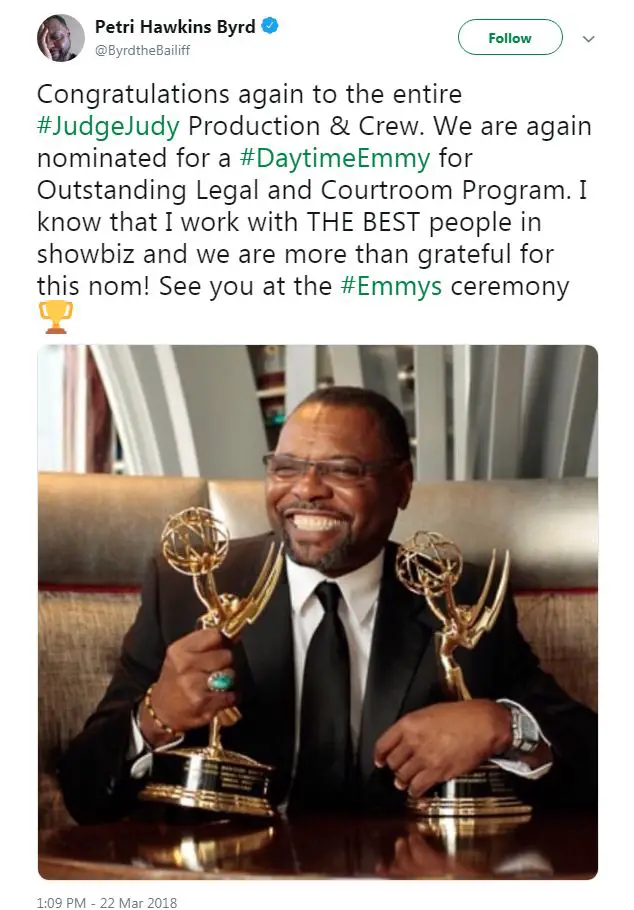 Byrd shares a dazzling all smile picture of himself on Twitter (Photo: Petri Hawkins-Byrd's Instagram)
While basking in the glory of name and fame, along with his hard work, and dedication towards his craft, Petri has successfully earned a handsome salary and accumulated a net worth of 3.5 Million.