Entertainment
Phil Heath Found Perfect Girlfriend After Divorce At Age 38, Now Wife!
Phil Heath is an American IFBB professional bodybuilder and former Mr. Olympia, who lost his title after seven years to...with defeat coming after a long time, there have been several rumors about.. currently married to his second wife...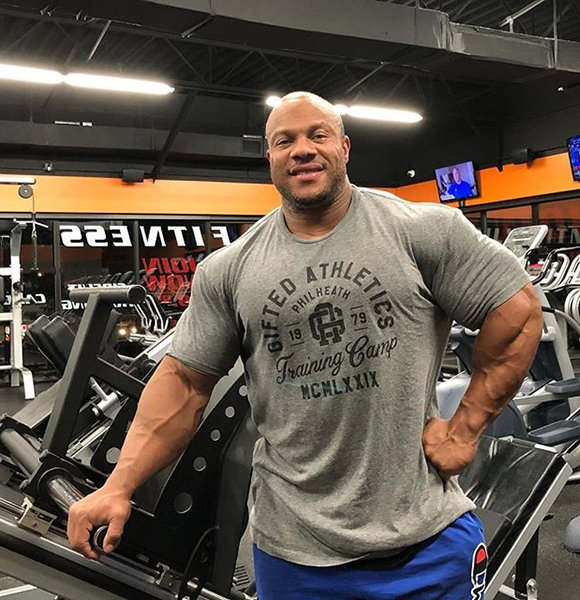 Discipline in life is always important, especially when it comes to bodybuilding. Phil Heath, with his constant discipline in life and tremendous courage, has set a standard for all other bodybuilders to follow.
An American IFBB professional bodybuilder and former Mr. Olympia, Phillip Jerrod "Phil" Heath has gone through a lot of struggle in his life to reach at the height of his career today. However, he has been constantly supported in his path by his partners over the years. With a divorce with former- wife, Phil has found another source of motivation in his life.
With a disciplined workout and diet plan, Phil has reached the position he stands in today. However, a setback in his career isn't going to be an end to the seven times Mr. Olympia winner, who recently had to lose out to that position.
Girlfriend Turned Wife After Divorce With Former Beau
Phil, at age 38, is currently enjoying a very settled personal life with his current wife Shurie Cremona. However, it hasn't always been a smooth ride in the park for the record holder.
You May Also Like: Richard Sandrak Now - Shocking 2018 Photos! "Little Hercules" Not The Same Today
Phil was involved in a long-term marriage with his first wife Jennie Laxson, whom he married in June 2007. Despite the constant spotlight upon him in his career, Heath has always successfully managed to keep his personal life away from the limelight.
With a very low-key marriage lasting eight years, the two pursued separate journeys in life in 2015.
With one after another trophy filling his cabinet, Phil found his personal trophy for the second time in life in the form of his girlfriend Shurie Cremona.
After dating for some time, the former boyfriend and girlfriend turned into husband and wife on 25 July 2017.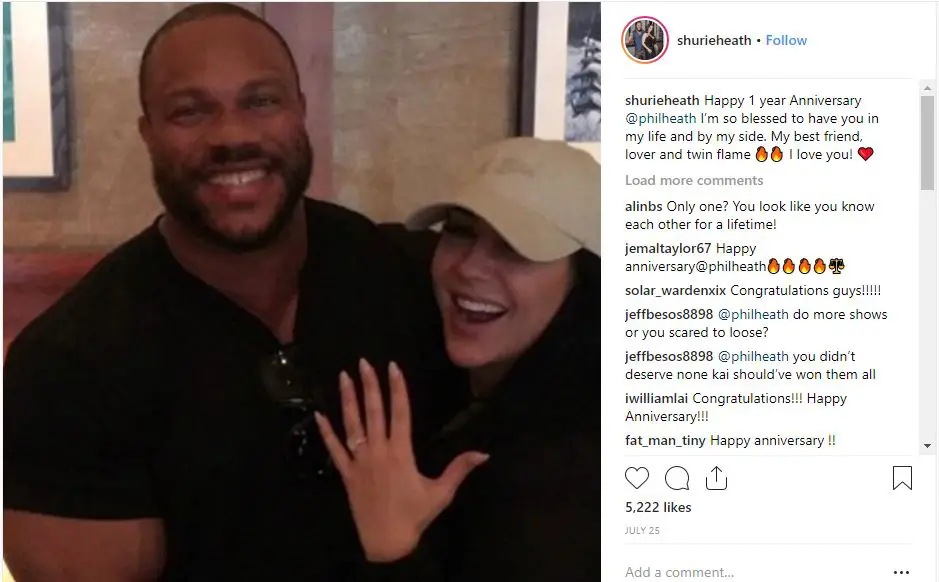 Phil Heath poses with his wife Shurie. (Photo: shurieheath' Instagram)
Going by his social media account, Phil seems to enjoy the company of his new wife.
Normally a secretive person preferring to keep his private life under public's eye, Phil has not hesitated one bit in confessing his love to his new wife.
On the occasion of Shurie's birthday on 21 July 2018, Phil posted a heart-touching romantic message to her wife on his Instagram account, where the caption read,
"Happy Birthday to my Queen, My Love, My Best friend and truly one of the greatest human beings I've ever had the privilege to know. @__mrsheath__ words are never the greatest illustration of my love for you, as I prefer showing you with my most genuine actions."
So, with this new found love, Phil might just have one more reason to keep going despite his long and illustrious career already.
Defeat Not The End For Workout Sensation
Phil's seven-year continuous reign of the Mr. Olympia throne came to an end on 2018 when he finished behind Shawn Rhoden. With victory becoming a habit, there were many doubts about Phil's ability to come back strong after his defeat.
The speculation was further fueled after an Instagram story from his wife following his defeat,
"You'll never see him again. God Bless."
However, determined to set a record of eight Mr. Olympia title wins, Phil soon set the record straight in a video posted by his wife on Instagram, that he isn't going anywhere from the game.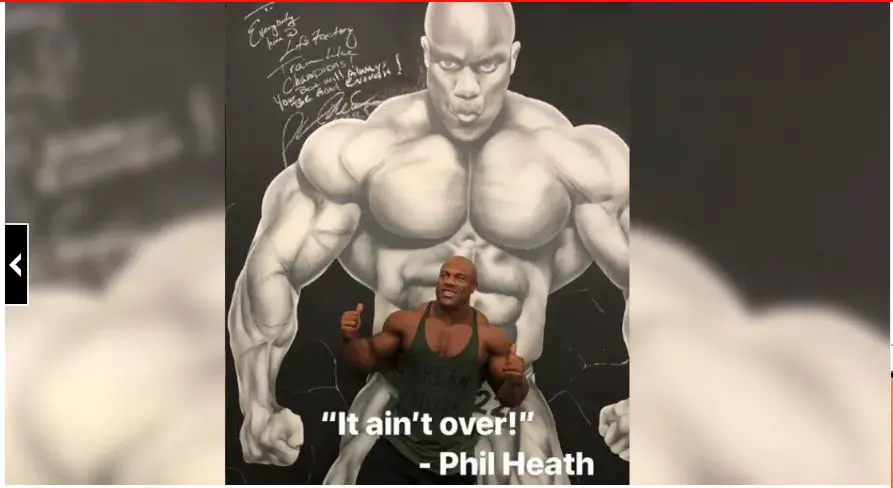 'It ain't over' for Phil as he prepares for his comeback. (Photo: muscleandfitness.com)
Standing in at a height of 5'9" and weight ranging around the 255lbs mark, the bodybuilder has managed to accumulate a massive net worth of $8 million.
Don't Miss: Meet Bodybuilder Kali Muscle Girlfriend/ Workout Partner! Wife, Gay Rumors & More
With his intense workout sessions and a strict diet plan, Phil hopes to regain the title which he had made his own for the last seven years.
A better man after defeat, Phil Heath hopes to continue his illustrious career overcoming what he believes is a minor bump in the road to greatness.