Entertainment
Pom Klementieff's Wiki-Like Bio Includes Dating Affair With Boyfriend? Claims To Be Fine Even After Brother's Death
The best part of bad times is that they expire someday. The only thing that makes a difference is how we deal with those moments.
Pom Klementieff, a Canadian-born French actress, has set an example for similar proviso. She experienced a tragic early life, divested of her parenthood and elder brother's love and care.
While other may feel heartbroken and get into depression, she dealt with the situation as a strong lady. She is now supposed to be enjoying her life and confidently, claims to be fine; ready to explore the remaining aspects of life. So, was this actress accompanied by a life partner while fighting such anguished circumstances? Let's find that out!
Dating someone after brother's tragedy?
It was on her 25th birthday that the Guardian Of The Galaxy star had lost her brother in a suicide. With a father who died while she was still a kid and a schizophrenic mother, Pom didn't have an easy childhood growing up.
After the tragic loss of her brother, life threw more hinderances on her way and further challenged her emotionally.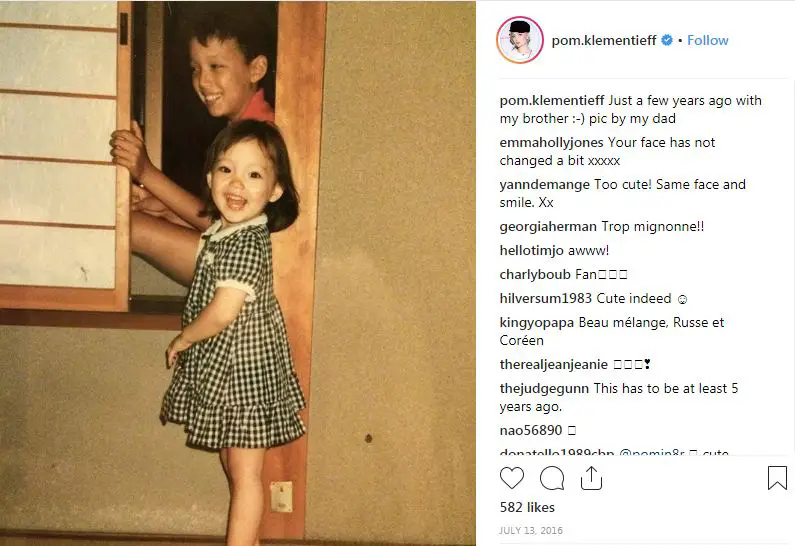 Pom posts a childhood picture of her and her elder brother (Photo: Pom Klementieff's Instagram)
With such a difficult phase, it was to The Inquirer Daily News, she reported that she was copping up saying:
"It's life and s--t could be worse, I'm really okay right now."
In such a challenging phase too, the actress chose to live through it solo. Her beauty and exquisite look have earned her many fans who would go gaga towards her. But still, at the age of 32, the star is still reported to be single.
Keeping her dating life under the wraps, Pom has not given a single permanent clue about her potential boyfriends till date.
Read Also: David Attenborough Age 92 Married life Ends In Tragedy plus Family & More Facts
Even though one can spot Pom taking pictures with many guys, it just leaves an open platform for her fans to throw wild boyfriend guesses at her. But a fixed boyfriend was, however, nowhere to be spotted.
It just leaves her follower with a conclusion that the artist is too busy working for her new movie 'Uncut Gems' starring Adam Sandler.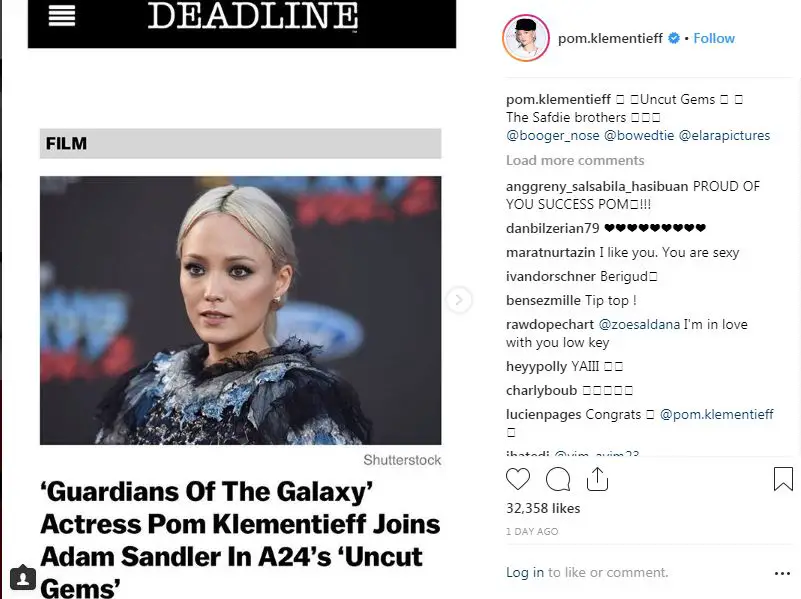 Pom Instagrams about her new movie (Photo: Pom Klementieff's Instagram)
The actress has no plan for making boyfriend to date but wants to keep entertaining all by signing up more and more films. She is a strong determinate lady who is focused on her work and surely has a great future.
An Interview With Pom: A Brief Summary!
Pom Klementieff along with Karen Gillan appeared in an interview just two days before the release of their movie; The Guardians Of The Galaxy Vol.2. The actresses highlighted their female roles in the interview that was aired a year ago.
Pom, who played the role of Mantis, shared her working experience with her co-actors. She mentioned that she enjoyed her empathetic power and always is fond of working the Marvel characters.
Furthermore, Pom discussed her likings for the Marvel characters because of their cool, sexy, strong and badass nature.
Pom in an interview before the release of their movie; The Guardians Of The Galaxy Vol.2.
A short Wiki-like Bio of Pom Klementieff:
Pom Klementieff was born on May 3 of 1986, in Quebec City of Canada to a particular match. Her father was Russian and French, while her mother was Korean. The name "Pom" came from her mother, which she related with Korean words for "Spring" and "Tiger."
Her family moved to Japan from Canada and then to Ivory Coast and finally settled in France. At the young age of five, she lost her father, and her mother is a diagnosed schizophrenic.
After the sad demise of her father, her paternal uncle and aunt raised her up. Unfortunately, she lost her uncle and elder brother (who committed suicide) on her 18th and 25th birthday respectively.
Don't Miss: Brandel Chamblee Talks Life & Tragedy Before Wedding To Wife Bailey Mosier
The actress has struggled for a long time since her childhood. Before entering the film industry, she had worked as a waitress and saleswoman in France. Later, she made her way in Hollywood and has played famous movies has gained her huge publicity till date. She is best known for her roles in Guardians of the Galaxy Vol. 2 (2017), Old Boy (2013) and Hacker's Game (2015).