Entertainment
Quinton Aaron Wishes Weight Loss And Girls Chasing Him; Thoughts To Get Married Or Calls Everyone Wife For Fun?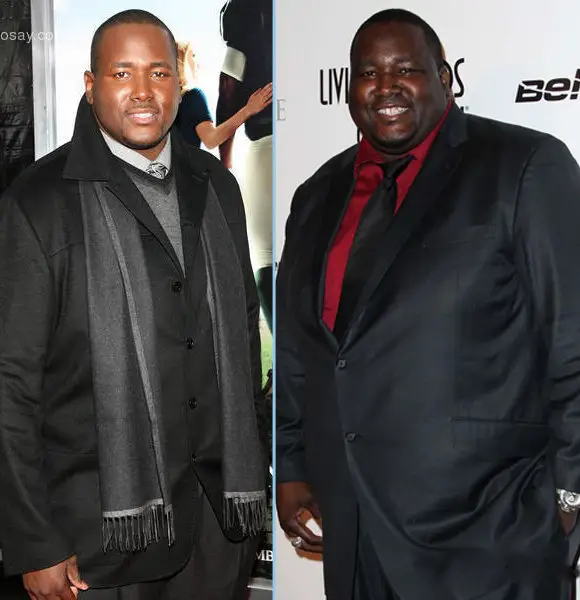 Personal life of celebrities is something that the fans and the media are most keen to know. After all, we love them and want to know as much as we can about them. The Blind Side actor Quinton Aaron's case is no different, as people are keen to know if he is married and has a wife, or at least has a girlfriend to accompany in his personal life.
The actor also has a strange wish to share with us. Is it the desire of ruling the whole Hollywood? Or, the artist hopes something stranger, hard enough to get fulfilled? We will be reading all about it right here.
Dating Status Revealed - Possible Wife?
Quinton Aaron, at the age of 32, accompanies his co-stars and lot of other celebrities most of the time but isn't found leaving any traces regarding his relationships.
Quinton frequently keeps flaunting pictures of himself along with female celebrities through Instagram and Twitter. He addresses them either his girlfriend or his future wife.
See Also: Autumn Calabrese Age 37 & Husband Still Friends; Married Life Rift, Family Stays
Back in January 2014, he posted a picture with Brittany Eustis. The two looked odd in the picture, but still, Quinton managed to call her his future wife. The other guy with Quinton and Eustis in the frame is Charles Carver, who is an actor of ABC and MTV series.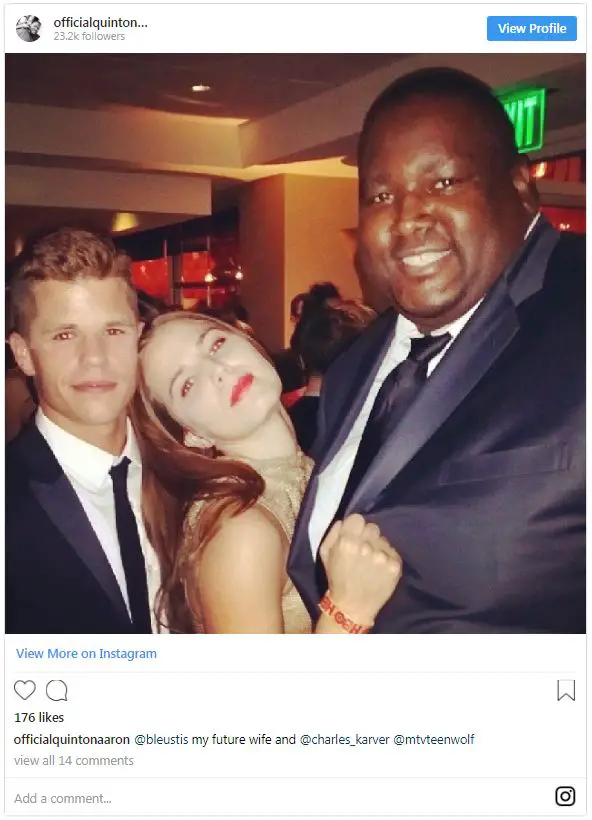 Quinton Aaron mentions Brittany Eustis as a future wife. (Photo: Quinton Aaron's Instagram) 
In June 2013, Quinton posted a Twitter media post with a radio personality, Cecilia Valencia. It was supposed to be a regular meet, but the actor meant something else from his post, as he called her a sexy girlfriend.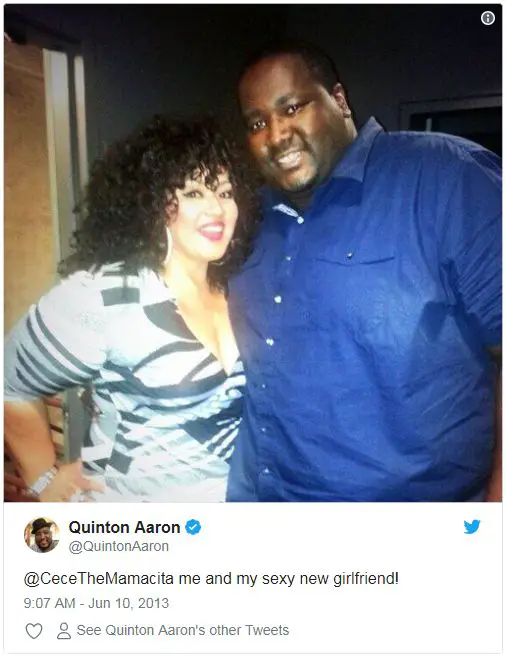 Quinton Aaron mentions Cecilia Valencia as his new girlfriend. (Photo: Quinton Aaron's Twitter)
Likewise, on 24th June 2016, Quinton posted a picture of him with a strange lady. Similar to his previous posts, he continued his humor by addressing the woman his wife. The post also got a catchy view and it's is non-other than Quinton's size.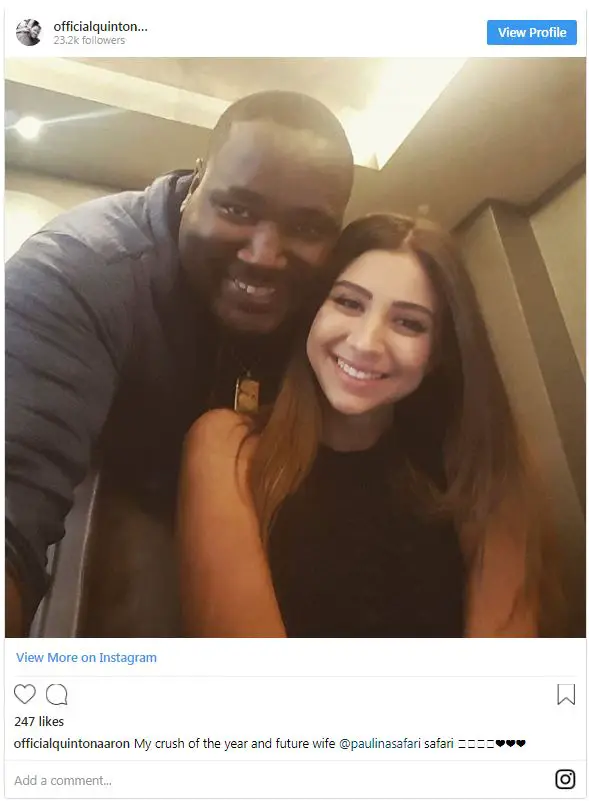 Quinton Aaron's crush. (Photo: Quinton Aaron's Instagram)
After all these posts from Quinton, we need to understand his mirthful character and don't just get into his jokes. The actor is surely grabbing the mass attention indeed but he has been posting lovey-dovey pictures with a woman quite often which leads to speculation that she might be his girlfriend.
even though he joked about having a girlfriend the past, those jokes were only short-lived. As of now, Quinton posts very often with his girlfriend Taryn Marie Stejskal.
He often mentions her as his "baby" while showering his love over her. Adding to it, he also reminiscent the moments that he spent with her. He seems to share a deep fondness for Taryn.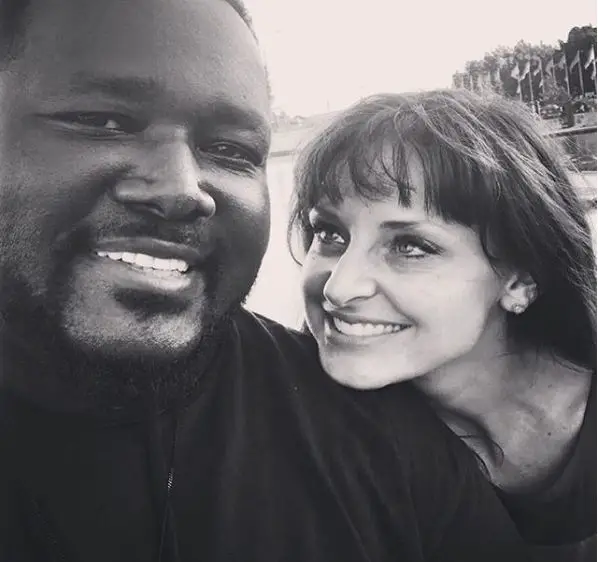 Quinton Aaron with girlfriend Taryn Marie. (Photo: Quinton Aaron's Instagram)
Likewise, the way Taryn looks at Quinton shows that she also shares similar feelings for him. Despite being previously married and sharing children with her ex-husband, Taryn seems cozy in Quinton's presence.
However, Taryn has made no mention of Quinton in any of her posts. Well, Quinton finally has a girlfriend and seems to be dating.  
Quinton Desires Of Weight Loss:
Quinton stands 6 feet 8 inches tall from the ground and weighs 550 pounds. While the actor was perfect for his height, he mostly faced several moments of embarrassment due to his weight.
Don't Miss: Sports Writer From ESPN Kate Fagan Is Now With A Partner Who Previously Had A Husband! Shares Her Side of Lesbian Story
One of such moments is the airplane incident. He was once moving from Philadelphia to Rochester in one of the US Airways flight. It was a connecting flight where he was traveling in first class due to the unavailability of the economy class.
But later when the actor comforted himself with the two available seats, he had to leave the flight due to the arrival of seat's owner. While everything seems to be jest, Quinton was much serious about his weight loss as it was causing him many troubles.
He had even made a wish of having weight loss and making girls go crazy after him after the plane incident. The size that was fit enough for the role of Michael Oher in the movie became the reason for another humiliation experience.
Later, he spoke about the incident facing the media. He said:
"I just grabbed my bag and just got off as quick as possible because it was an embarrassing."
He even added:
"As I saw the seats, I'm literally hoping that no one had to sit next to me because I knew it wasn't going to work if they did."
He, further stated as:
"I live in California. I want to go to the beach in the summertime with a tank top on and have girls chasing me down the beach one day."
Did Quinton Undergo Weight-Loss?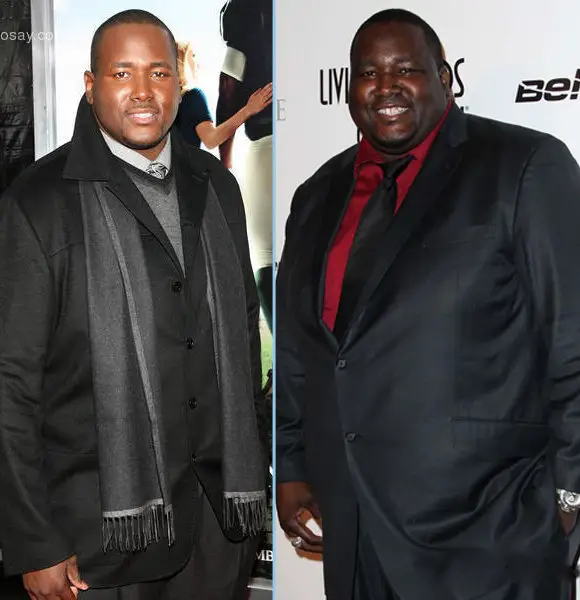 Quinton Aaron before (R) and after (R) weight loss. (Photo: Liverampup.com)
The picture above is the before and after physical body change of Quinton Aaron. The actor has transformed himself into a fitter and slimmer person now, and this is a moment of joy for him as it is a dream come true for him.
You May Also Like: Phil Donahue, At Age 82 With Wife Of Nearly 4 Decades, Where Is He Now?​​​​​​​
After his role in The Blind Side, he started an anti-bullying foundation known as The Aaron Quinton Foundation. Hence, he has been busy traveling the country to talk to children about the dangers of bullying and harassment.
The actor is wealthy enough to maintain his single and standard life, and he is a person with a net worth of $100 thousand.