Entertainment
Rachel DeMita: 5 Facts - From Age To Her Dating Status
Rachel DeMita: 5 Facts - From Age To Her Dating Status. If you are a regular fan of NBA, then you have probably not missed the first ever broadcasted studio show, NBA 2K. As engaging as the show's interviews with NBA stars are, the host of the show, Rachel DeMite, brings another level of excitement with her anchoring.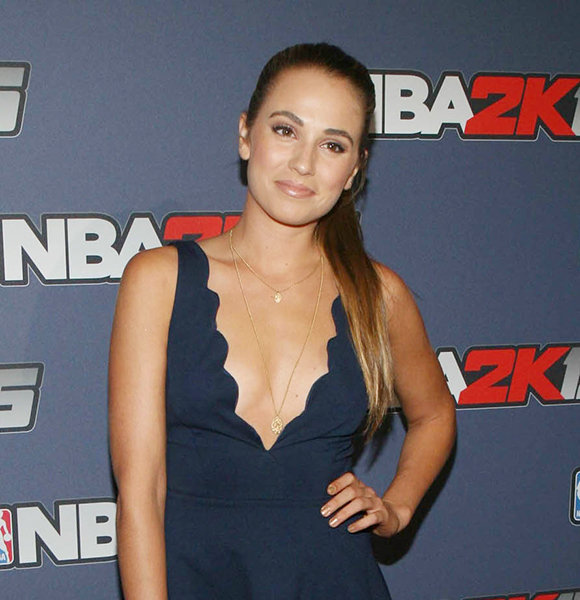 If you are a regular fan of the NBA, then you have probably not missed the first-ever broadcasted studio show, NBA 2K. As engaging as the show's interviews with NBA stars are, the host of the show, Rachel DeMite, brings another level of excitement with her anchoring.
Not only that, but Rachel is also well known for her social media accounts and personal YouTube channel, which mainly showcases her lifestyle videos.
You might have seen Rachel's power-packed hosting, her lifestyle videos, but how much do you know about her life behind the cameras?  
1) Rachel's Short WiKi-Like Bio
Rache Annamarie DeMita was born to parents Jack and Shannon DeMita on 14 June 1990, in Ohio. Rachel is the only child in the family and was raised in Ohio.
She completed her education at Old Dominion University. Later, she started her career in social media from her YouTube channel, where she often uploads videos about lifestyle, fashion, and beauty.
Legend In Making:- Austin Rivers Wife, Girlfriend, Family, Height
She has more than four hundred thousand followers on Instagram and is very popular for hosting the first-ever broadcasted studio show, NBA 2K.  As of now, Rachel is the producer and host of 2K and also works as the host of Uproxx Media.
Besides that, DeMita also serves as the brand ambassador for Adidas.
2) Rachel's Awkward Dating Story
Rachel had an embarrassing Valentine's day during high school. It was her first Valentine's day having a boyfriend. However, the two were together for just a couple of months. On Valentine's day, she bought a beautiful card and made a CD with her favorite songs. She also bought a bunch of candies and even purchased a T-shirt from her boyfriend's favorite shop.
However, it happened to be a school day, so she packed all the intended gifts in her bag and got ready. When she saw her boyfriend, she was excepting him to wish her first, but, unfortunately, things didn't go the way Rachel planned in her head. So she got frustrated and gave away all the gifts to her girlfriends.
But at the end of the day, Rachel's boyfriend came along with balloons and a huge teddy bear, saying he wanted to give her a big surprise. Although that went well, at last, their relationship didn't last long. 
That was quite a long time back, and Rachel is back to dating ways. While she was in high school during her first time, now she has grown up to become a beautiful young lady. Featuring in the NBA 2K as it's host, the 29-year-old started dating Oklahoma City Thunder star, Andre Roberson, in the summer of 2018.
Since then, the couple has been the headlines in the NBA news. The bounds of their love are immeasurable as they are seen hanging out in every other picture that they post in their social media handle. In 2019's Valentine's Day, the loving couple shared photos from their wonderful dinner date for the fans to see.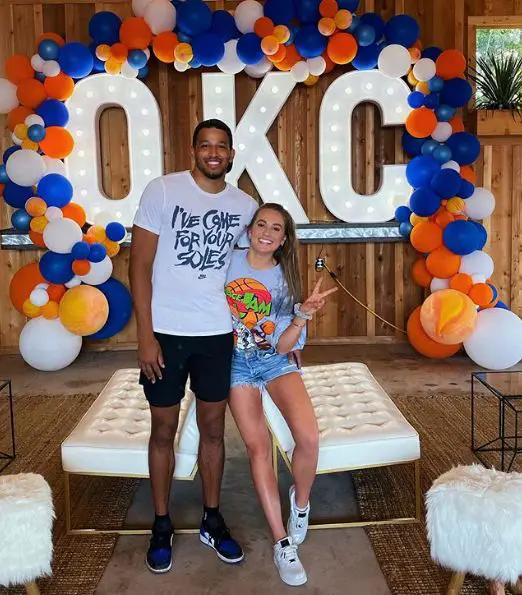 Rachel DeMita visits Oklahoma City, Oklahoma with boyfriend Andre Roberson in October 2019 (Photo: Rachel DeMita's Instagram)
The host was also with Andre during his hard time encouraging her boyfriend to overcome his ruptured patellar tendon in the left knee. Now, Rachel has announced stepping down as the host of the NBA 2KTV. She even appeared in the digitalized game form of the sport and was a major star of the show.
However, that does not stop the beauty from being linked with the sport. Now, she will be often seen in courtside, not with a mic in her hand, but supporting and rooting for her boyfriend. 
3) Books Had A Great Impact On Rachel's Life
Rachel feels that books have changed her life for good, whether it be with work or making her a better person. She is very particular about books that she reads, and there are only a few books that she feels have shaped her life. 
The first book that she thinks has helped her get motivated at work is Relentless by Tim S. Grover. Likewise, she has also read Unscripted by Ernie Johnson, where he talks about his personal life, health, and family. She found the book inspiring and thinks it showed what a good person he is, and she admired his never-giving-up personality.
Likewise, Rachel's list of favorite books includes The Alchemist, The Five Second Rule, What I Know For Sure, and a few more. 
4) Rachel Has A Great Love For Cats
Rachel is very fond of animals, particularly cats. However, she doesn't have a cat because she travels too much. She is out at least eight days a month, and she is not allowed to have cats where she lives. What a bummer!
Colorful Personality:- Clint Capela Girlfriend, Rumors, Family, Height
From a very young age, Rachel always wanted to be a zoologist. It was her dream to study the felines. She loved cats ever since she was a kid, as she grew up with two.
Besides, she had a jar in her kitchen, which was called "The Jar to Africa," where she collected coins so that she could go to Africa and study lions, leopards, and cheetahs.
5) Rachel Had a Thing for Basketball in the Past
Rachel's passion for basketball started when she was in her junior year of high school. Her goal growing up as a basketball player was to get a division 1 scholarship in college, but not to pursue it as a profession.
She ultimately earned a full-time division 1 scholarship to Old Dominion University in 2008. However, she wasn't too happy about it because she had to give up on her primary subject and also wasn't able to take the classes she wanted to.
Not just that, she felt like she did not fit in with the other girls on campus; she felt like Old Dominion wasn't the right pick for her, and she ended up quitting basketball for good.