Entertainment
Rachelle Lefevre Keeps Dating Affair With Boyfriend To A Minimum; In Thoughts Of Getting Married?
Rachelle Lefèvreis is a Canadian actress who is beautiful and is talented to make a firm place in the hearts of many of her fans. She has been able to do well in her professional life and is adored by many. But people are equally keen to know about her personal life and her love relationship. Many might know that she has a boyfriend and is serious about her relationship.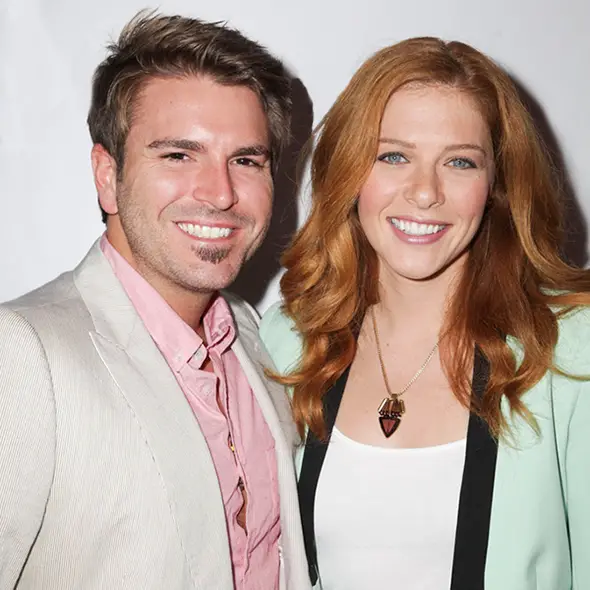 Rachelle Lefèvreis is a beautiful and talented Canadian actress who has attained immense success in her professional life, which is evident through her huge fanbase. But her fans also long to know the real Rachel, i.e. her personal life beyond the screen.
However, this is one aspect of her life that the actress seems extremely keen to maintain her secrecy about. With an engagement done away from the public's eyes, the same can be anticipated about the marriage as well.
However, has Rachelle been able to dodge media attention and has she already been married to her partner?
Rachelle And Her Boyfriend, Getting Married Anytime Soon?
Those who know Rachelle know that she is in a dating relationship with a well-renowned chef, Chris Crary. The two began dating back in 2013, and the romance commenced when the smitten chef tweeted an offer to cook Rachelle a meal.
You May Also Like: Hannah Simone & Husband New Parents, Married Life Blossoms With Ecstasy
Usually, she remains secretive about her personal life, but in an interview with the Buzzfeed, she revealed about her boyfriend, i.e. Chris. She said,  
"I have a boyfriend who I'm very serious about."
After 18 months of dating, Rachelle and Chris got engaged In 2014, just two weeks before the production wrapped the second season of the "Stephen King" series. But they kept things a bit private, which seems normal looking at their secretive past. She even revealed her reaction if Chris proposed in public.
She said,
 "I told him if he asked me in public the answer would be no!"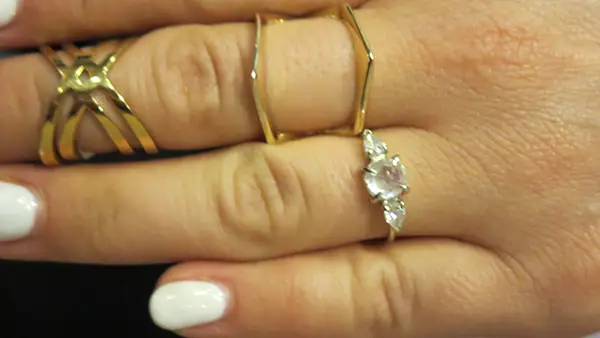 Rachelle's revealing her gorgeous engagement ring. (Photo: tvweeklogieawards.com.au)
Read Also: Laura Mennell Dating To Get Married, Revealed? Family, Net Worth & Facts
Moreover, Rachel stated her excitement about their engagement in her statement,
"I'm over the moon."
Furthermore, she added,
"He got the ring and I think it was just burning a hole in his pocket because it was very spurred off the moment so he'd clearly just decided,"
The engagement news rubbished all the rumors that suggested the actress be a lesbian, as she was seen eager to perform her wedding nuptials soon with her chef boyfriend.
Secretly Married? Calls Chris 'Genuine' Husband
Not one to enjoy the spotlight when it comes to her personal life, Rachelle has always managed to create a safe distance from all the media attention.
However, despite her introvert personality, it still came as a shock when she referred Chris as her husband in one of her Twitter post on 19 February 2017.
"My husband is genuine, talented and successful but if you measure a man by his role as partner and father, I married a GOD. @ChrisCrary"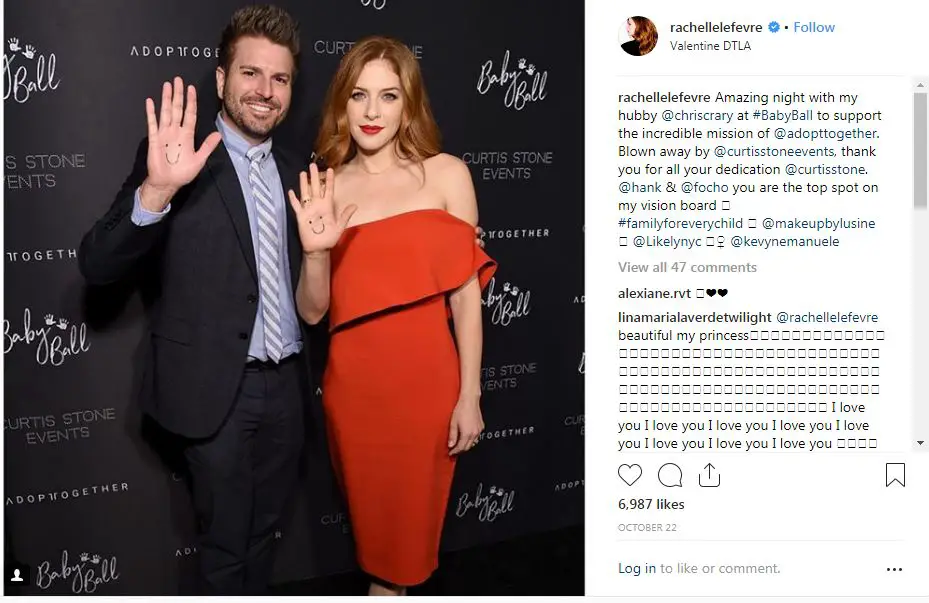 Rachelle Lefevre referring Chris as her 'hubby'. (Photo: Rachelle Lefevre's Instagram)
With not a lot of information to an outsider, the actress got secretly married to her chef husband. She later revealed the news while participating in her new show Proven Innocent's promotion event in 2018.
"We went across the river and got married in Leland. We haven't talked about it much, but it was such a wonderful moment. The entire cast and crew were at the wedding. That place is so special to me."
After making her official announcement terming Chris has her husband, the flow of social media posts with Chris has drastically increased. Rachelle also wished her husband a happy birthday with a heartfelt caption on Instagram. 
"I wanted someone to share a life and have a family with. There were prayers- for things I wanted and things I didn't want. There were things I didn't even know I should pray for. There were things I didn't pray for because they seemed too much to ask. You are the answer to all of them. Happy Birthday @chriscary. My life is more than I ever could have imagined because you were born. I love you."
Not only do they share a great love relationship, but they also join forces for good causes like backing animal rights campaign.
Don't Miss: Sandra Oh Married & Separated | Who Is She Dating Now? Find It Out​​​​​​​
In 2015, they teamed up with people at the "Best Friends Animal Society" to encourage the public to adopt pets from shelters instead of buying them from breeders which are indeed a touching gesture from them. 
A joint statement from the couple stated, 
"No single decision has impacted our lives as positively as the choice to adopt our dogs from a shelter. Rescuing an animal is one of the most rewarding things you can ever do, and we are repaid daily in unconditional love."
They further elaborated,
 "We cannot imagine a greater bond than one built on mutual gratitude. We gave our dogs a forever home and in return they have given us a friendship we will cherish forever."
Rachelle Lefèvre, who was born on Feb 1, 1979, in Canada, is an actress by profession and is a household name in the industry. She is talented and has been able to do significant justice to her talents and abilities with her famous roles in successful projects like "A Gifted Man", "The Crossing", "Under the Dome" and any more.
Her skills and dedication have paid her good dividend and thus, she has been able to accumulate an estimated net worth of $1.5 Million.