Entertainment
Radio personality Carson Daly Married Girlfriend of 10 years in 2015. Meet his Wife, Siri Pinter. Also, cause for his Weight Loss
Carson Daly married in a very private ceremony surrounded by friends and...his wife shared the good news of her pregnancy through the...radio personality and producer, Carson finally...shared his experience with the dramatic weight-loss in an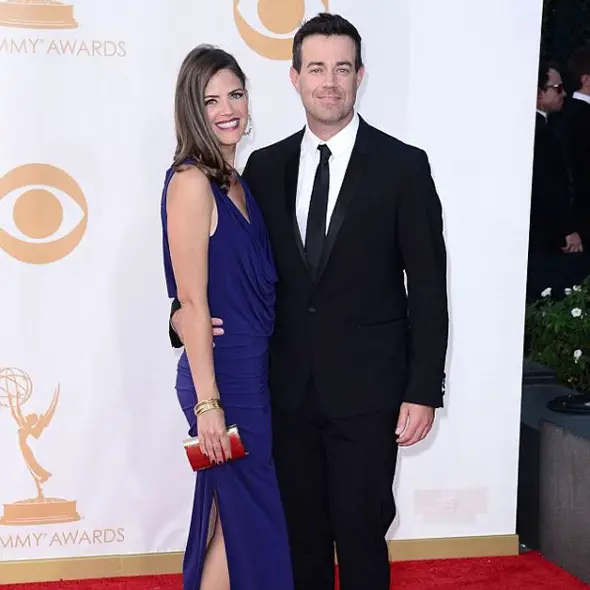 Who doesn't know Carson Daly? After all, the MTV DJ icon and The Voice host is well known in the arena of the music industry. But what about his wife?
An American TV host, radio personality and producer, Carson finally tied the knot with a woman he had been dating for ten years. He had proposed and stepped up the relationship after dating for years. But while it sounds normal in a paper, the journey was tough for him.
After all, the past of a person affects his future steps in considerable ways sometimes. The same scenario almost occurred in his life too, but he got over it facing few other challenges on the way. Let's find out how.
Wedding, Pregnancy
Carson tied the knot with Siri Pinter, daughter of actor Mark Pinter in a secret wedding. The wedding was so secretive that even the bride and groom's parents were unaware of it. It was only after their arrival at the venue; they came to know that the two lovebirds were finally getting hitched.
The couple - who got engaged in 2013 - married in a very private ceremony surrounded by friends and families on the night before Christmas Eve. 
Likewise, the couple was also blessed with three beautiful children, namely Jackson James Daly, London Rose Daly, and Etta Jones Daly. The eldest being Jackson and the youngest being London.
The couple welcomed their eldest child in March 2009. Their eldest daughter Etta was born on 16 September 2012 and was named after Pinter's grandmother. Similarly, London was named after Carson's grandmother and was born in August 2014. 
Pregnancy Details
On 20th September 2019, Carson was all ready to be a father for the fourth time. Interestingly, his wife shared the good news of her pregnancy through the Instagram handle of her blog, Siriously Delicious. Posting  a very thematic picture, she wrote,
"As a fan of even numbers, I'm thrilled to share with you that @carsondaly and I are expecting Baby #4! I've always dreamed of a big family and feel beyond thankful for this miraculous blessing. And a huge congrats to my 10-year-old son, who is totally going to raise this kid for me. Right? "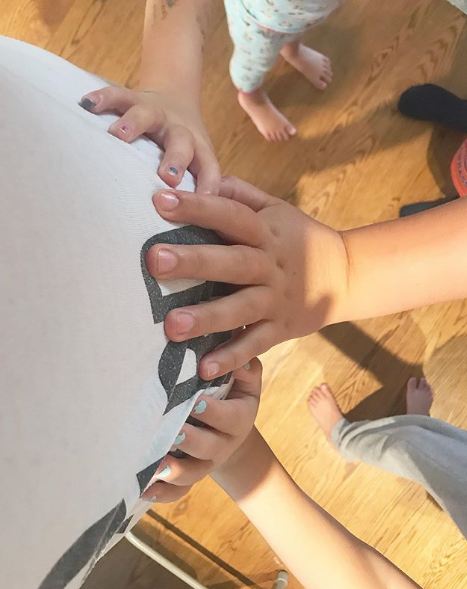 Carson Daly's wife Siri Pinter discloses her pregnancy with a baby bump on 21st September 2019 (Photo: Instagram/Siriously Delicious)
Although the pair didn't share the due date of the baby, it's obvious that both Carson and Siri are more than eager to welcome their child into the world.
Weight Loss,
Carson, 42, was once an obesity patient, around the time he hosted NBC's late-night show, Last Call with Carson Daly. He shared his experience with the dramatic weight-loss in an interview with People Magazine. As per the host, he was motivated to lose his weight to focus on his career, his life and start living a healthy lifestyle.
Read About NBC's Host:- Meteorologist Matt Noyes Bio, Age, Wife, Family
Apart from being the host of The Voice and social media correspondent for NBC's morning show Today, he worked as a radio DJ in KROQ-FM, KAMP-FM, and CBS radio. Occasionally, he hosted special event programming for NBC such as the Macy's Fourth of July fireworks show and New Year's Eve with Carson Daly from Times Square.
While her husband is busy hosting different shows, Siri, on the other hand, blogs about food (dream job indeed) in her blog titled Siriously Delicious, where she posts some fantastic food recipes. Her products are first tested and approved by hubby Carson and her little angles.
Interestingly, before blogging, Siri worked as a writer's assistant on the Last Call with Carson Daly. So, there is a probability that their love bloomed while working together.
Carson Daly: Traumatized by Father's Death
Daly's father passed away when he was only five years old by cancer, and he has admitted that his father's death slightly scarred him. He agreed to have commitment issues in the past and confessed that his father's untimely demise might have been the cause for it.
A source close to him talked about this issue and was reported saying, 
"Carson loves Siri, but he's struggling to pop the question and cement his commitment to her. It all stems from his childhood. His dad passed away, leaving his mother a widow, and deep down Carson worries the same thing could happen to him."
The Voice host also almost lost his mother to cancer as well and admitted that he was tired of missing important people in his life.
Another Tragedy In Carson's Life
The TV host was hit with an unfortunate tragedy when his mom Pattie Daly Caruso died on 17th September 2017, of a heart attack at the age of 73. Carson was extremely close to his mother; thus, her death affected him immensely.
As if the tragedy was not enough, his stepdad died five weeks after Carson's mother Pattie died.
Staying strong the American host posted a sweet snap of his family including himself, his sister Quinn and mother in honor of her birthday on 28th March 2019. The strong lady would have been 75 years old if she were alive.
A doting son, he also penned a beautiful essay about his mother for American Heart Month in February 2019.
Carson's Show Ending
A chapter in the American host's life came to an end. Well, his late-night show Last Call With Carson Daly will end after its run of 17 years in 2019.  He decided to leave the show in order to spend more time with his family. Likewise, he said fair well to his long-running show hosting it for the last time on 24th May 2019.
Explore:- Jamie Apody Age, Bio, Husband, Salary
The NBC host was later replaced by YouTube heavyweight Lilly Singh with her brand new late-night show, A Little Late with Lilly Singh.