Entertainment
ESPN's Ramona Shelburne Surprising Salary & Net Worth | Bio Uncovered
Sports writer Ramona Shelburne's exploits at ESPN has earned her a sizable fortune, a feat reflected on her impressive salary and equally mind-boggling net worth.
But it was her stint at Los Angeles Daily News that has left a permanent mark on her life, having met her future husband working for the LA-based paper. With a new baby added to the pair's married life, the shifting dynamics ought to bring joy to the Shelburne-Barich family.
Delve into Ramona's biography to learn more about her age, height & earnings at ESPN!
Inside Ramona Shelburne's Net Worth & Salary: Legend In Making
An athlete from her early childhood, Ramona has used her expertise on sports - NBA, in particular - to entertain ESPN audience since 2009.
Read Also:- Bruno Massel Bio: Gleeful Family With Wife, Age, Net Worth & Facts
In addition to providing NBA coverage on ESPN's official website, magazine, and radio programmes, the California native is a part of the famed sports network's investigative unit across all platforms.
Her other contribution to ESPN includes her work for ESPN W and appearances on networks numerous shows, namely: Around the Horn, Pardon the Interruption, Outside the Lines, SportsNation, NBA Tonight, The Jump, and NBA Coast to Coast.
Besides ESPN, her writings also appear on Sports Illustrated, Stanford Magazine and Sports Illustrated for Women. Winner of multiple Pro Basketball Writers Association awards, Ramona exertions at the renowned sports network hasn't gone without unnoticed.
Online reports suggest that ESPN pays Ramona a six-figure sum in salary for her services. Given her experience & position at the network's hierarchy, her net worth ought to soar to great heights with every passing year.
Before joining ESPN, she wrote sports columns for the Los Angeles Daily News for seven long years.
Discover:- Trey Wingo's Net Worth & Salary As Huge As His ESPN Co-Host's? Bio & Facts
Bio Unveils Age, Height, Family & Blissful Married Life With Husband
It was during her almost a decade-long tenure at the LA-based newspaper that she got to meet the man of her dreams.
At the time when Ramona met her husband Nevin Barich first met (circa 2002), the latter was working as sports writer/copy editor for LA Daily News. As for Ramona, The Beadle & Shelburne co-host - who stands five foot and two inches (157 cm) in height - was fresh off her graduation from Standford University and looking for a writing gig.
A year later, Nevin left for a senior editor position in National Notary Association. At present, he's a food & beverage analyst for Industry Intelligence Inc.
Though employed at separate networks, Ramona and her then-boyfriend Nevin remained in touch. And over the years, their relationship only went from strength to strength, eventually culminating a marriage in 2009. 
Don't Miss:- Still Husbandless, Parker Posey, 47, Dating History: Current Boyfriend?
On the married duo's ninth wedding anniversary, Nevin took to Instagram to celebrate the joyous occasion by posting a snap of pregnant Ramona from their baby shower.
Ramona's husband of 9 years dedicates an Instagram (Photo:- Nevin Barich's Instagram)
By the time her husband had uploaded the above Instagram post, she was already in her fourth trimester. And on 3 October 2018, Ramona, age 39, and her husband "welcomed their baby Daniel Charlie Barich to the world."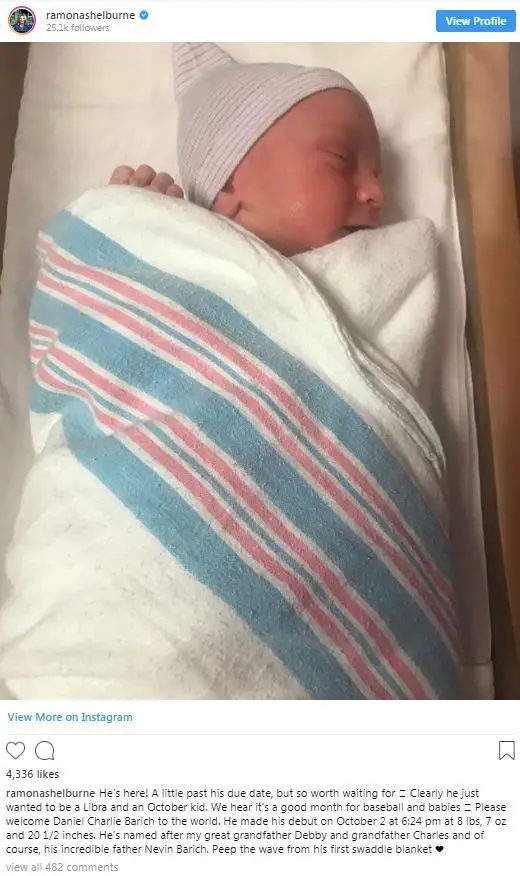 Ramona shares first pictures of her baby (Photo:- Ramona Shelburne's Instagram)
All in all, the 39-year-old sports writer's family life encapsulates the word "bliss."
Interesting:- Cynthia Frelund Bio: Hottest NFL Reporter's Salary To Married Status
Born on 19 July 1979 to a screenwriter mother Jeanette Shelburne & father Jim Shelburne, Romana grew alongside her sister in Los Angeles California.
After completing her high school education from El Camino Real High School in 1997, she enrolled in the American Studies programme at Standford University. She earned her master's degree in Communication from the same.