Entertainment
Find Out Richard Giannotti Salary & Net Worth, Plus Get His Wife Details
Using his on-field experience and the relationships - he built during his nine years stint as a player - former MLB star-turned-financial advisor Richard Giannotti has accumulated mouth-watering net worth.
No longer reliant on the steady flow of income as salary, the Florida native uses the trades he learned in college to fulfill his obligation as the president of an asset management company.
Has the pursuit of more in professional front, in any way, affected the family life with his wife, Joy Taylor? Read along to find out & more including wedding details, his age & height!
Behind Richard Giannotti's Salary & Net Worth
Living true to his name, Richard, age 35, has transformed his passion into a productive endeavor!
Salary & Net Worth Related:- Piers Morgan, Massive Net Worth Holder Fired By CNN? Here's The Truth
His 9-year-old playing career as a professional MLB outfielder saw him play first for Los Angeles Angels (2004-2007), and then for St Louis Cardinals for a single season before moving on to Southern Maryland Blue Carbs (2008-2013).
It is during his playing years that he built a dense network comprising of friends, fellow players, and mentors. Following his retirement, the St. Thomas Aquinas High School Alum ran a successful clothing line titled Bubucheek Clothing before diving into the world of financial management, primarily targeting athletes & entertainers.
A Bachelor of Business Administration (BBA) graduate, the University of Miami Alum - who stands 6 foot and 3 inches in height - currently serves as the president of sports & entertainment at Global Wealth Management.
Despite his job title, Richard seemed all too focused on creating a reliable brand as opposed to financial gains. He once famously said:-
"The most important thing to me is maintaining my good name that I built by continuing to be an honest man who is very straight-forward and hard-working."
More MLB Personality:- Lauren Shehadi Is Engaged & Getting Married! That's What Fans Are Saying
Gone are the days when the former Los Angeles Angels outfielder - who earns a six-figure sum in salary working for his current company - had to worry about making a substantial amount. Because for Richard, his actual net worth gets reflected not in millions but the brand name.
Family Drama: Divorce From Wife Joy Taylor Despite Dream Wedding?
While his professional career has seen new heights, his family life seems to have reached a new low.
Beyond the fact that Richard and his TV anchor wife Joy Taylor split went under the public radar, there seemed nothing out in the air that suggested their split. All that changed when the latter began flaunting her now-fiance & former NBA athlete Earl Watson on social media.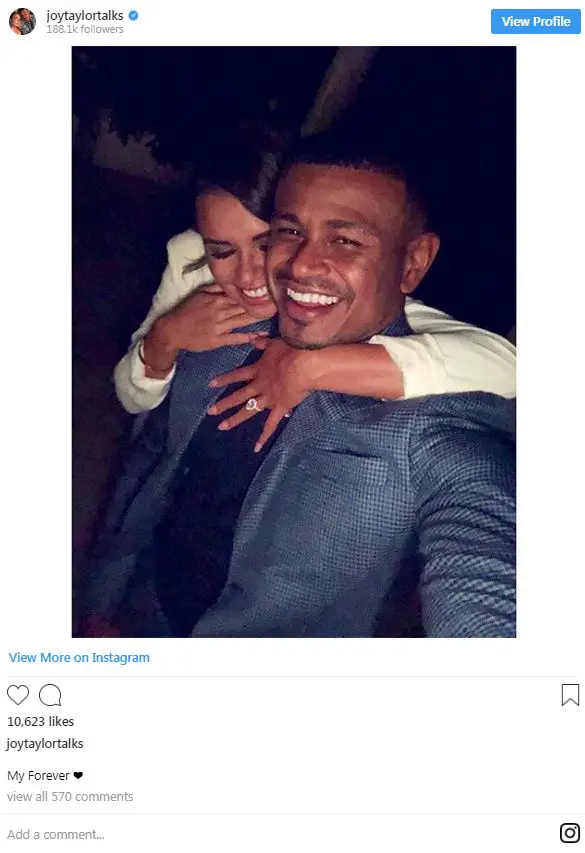 Richard's ex-wife shows off her ring & her husband-to-be (Photo:- Joy Taylor's Instagram)
On the bright side, the 35-year-old former MLB star's marriage couldn't have lasted for more than two years. After meeting at a conference, he and his ex-wife got married on 13th February 2016 - following a couple of years of dating - in a wedding ceremony held at CoralGables, Florida.
Other Dreamy Wedding:- Liam Hemsworth & Miley Cyrus Are Married! A Wedding Over Christmas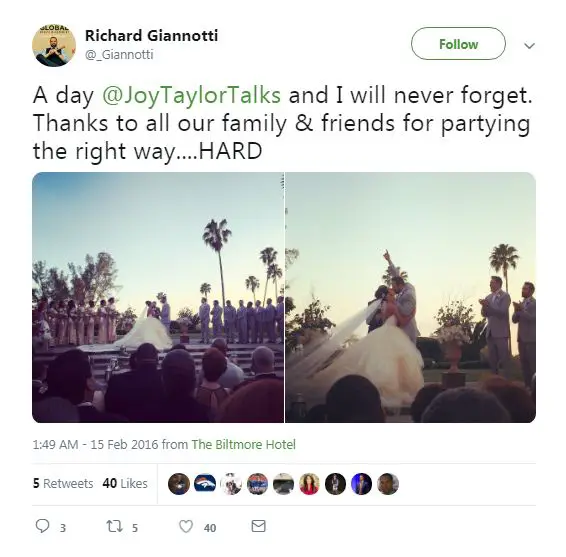 Richard shares an image of him kissing wife from their wedding (Photo:- Richard Giannotti's Twitter)
Perhaps, Richard didn't get his priority straight, and as a result, their marriage failed. Or, in hindsight, he and his wife were never meant to be.