Rick Ross underwent an astounding weight loss transformation in...Called off engagement with wife prospect due to...Has two kids with girlfriend...A long list of former girlfriends include...New album in 2019 saw him work with...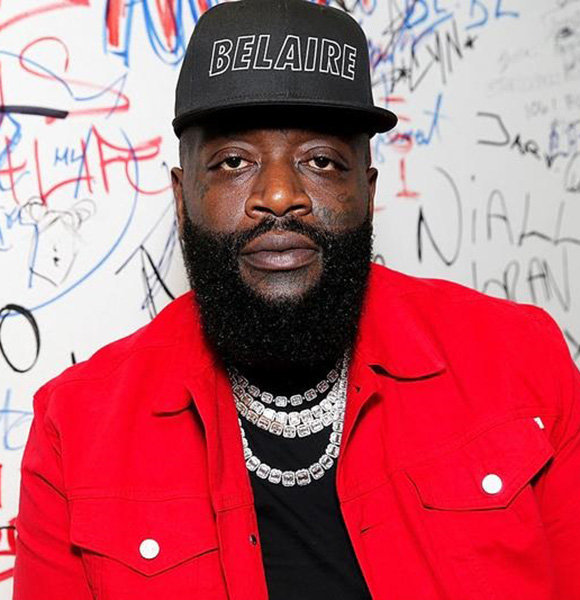 Self-proclaimed "the biggest boss in the game," Rick Ross is a Hip-Hop icon. Besides earning reverence for top-notch beats selection and raspy delivery, the Mississippi-born & Miami raised-rapper spearheads the legendary label Maybach Music.
Bursting into the national music scene with the gold-certified single Hustlin', Ross released his debut album Port of Miami in 2006 under Def Jam Recordings. In the subsequent years, he dropped nine solo studio efforts including classics Deeper Than Rap and Teflon Don.
Because of the portrayal of kingpin image of self, Ross gets labeled inauthentic. Despite the criticism, the Ashton Martin Music hitmaker garners a massive fan following.
Weight Loss
In March 2018, a headline by TMZ concerning Ross created havoc among his fanbase. Citing sufferage of multiple seizures, the notorious media outlet claimed that the rapper was on life support after getting hospitalized.
On the heels of the health scare, the Joy of Tears wordsmith's family issued a statement. In it, they criticized TMZ for exaggerating the situation.
Musician With Weight Issues:- Sam Smith Gay, Boyfriend, Dating, Weight Loss
Back in 2011, Ross' health hit the news as he suffered seizures twice in a day while boarding different flights. If the first incident didn't ring alarm bells, the second one sure did.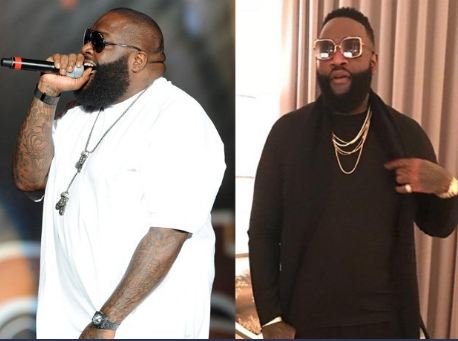 Side by side snaps showcasing Rick Ross' weight loss transformation (Photo:- capitalxtra.com)
Recovering from the 2018 health scare, Ross went into work. Within months, fans and media could see his incredible weight loss transformation. By 2019, he was no longer the "fat black guy" in the room.
For his part, the Thugs Cry hitmaker continued to reference his astounding weight loss metamorphosis on his songs.
New Album 2019 & Age
Ross' 2019 project Port of Miami 2 served as the sequel to his classic debut of the same name. In the new album's song titled "I Still Pray," he pays witty homage to his weight loss struggles while briefly ruminating on the 2018 hospital stint.
Featuring Wale, Drake & Pusha T as guests, Port of Miami 2 boasts production credits from Hip-Hop super-producers Just Blaze & Beat Billionaire.
Even at age 43, the album proved that Ross was yet to lose touch with the current music scene.
Wife, Girlfriend & Kids
Beyond a behemoth of a discography, Ross garners a pictorial love history.
A father of four kids, the "Santorini Greece" hitmaker's earliest high-profile girlfriend was Khloe Kardashian. He and the world-renowned reality star had a brief - yet intense - encounter in Summer of 2014.
Before Khloe, he was in a relationship with fashion designer Shateria Moragne.
Also Dated Khloe:- Meet James Harden New Girlfriend; Dating At Age 29 Or Just A Rumor?
When things simmered down with Khloe, Ross found a companion in Ming Lee. Officially together from November 2014, the duo parted ways in February 2015. Months after the split, the Devil Is A Lie rapper ignited romance with stripper "Skrawberry."
After short-lived romance with the exotic dancer-girlfriend, Ross built romantic ties with Instagram models Briteady and India Westbrook Love. But he deemed neither fitting of the wife crown.
In 2017, Ross seemingly struck gold with a Twitter executive Liz Hagelthorn. Within two months of dating, reports of their engagement began to make noise. But after the Red Roses wordsmith impregnated on-and-off Briana Camille, Liz called off the wedding.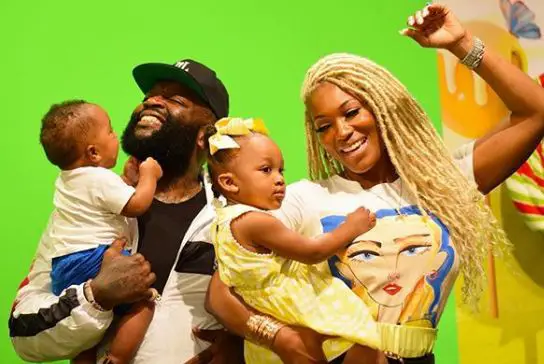 Rick Ross and on-and-off girlfriend, Briana Camille with their children circa 2019 (Photo:- Briana Camille's Instagram)
A fitness instructor by trade, Briana is the mother of Ross' two kids Berkeley Hermes and Billion Leonard Roberts. The Vegas Residency hitmaker is also father to two children, Toie Roberts and William Roberts III from earlier relationships.
Back in 2015, Ross enjoyed a short-lived engagement to Instagram star and wife prospect Lira Galore. Having gotten engaged in September that year, the pair parted ways a month later.