Entertainment
On-Reel Gay Romany Malco Wife Rift | Reveals Dating Status Now
Best known for the Showtime drama Weeds, American actor/comedian Romany Malco, age 49, has led a colorful life on and off the screen.
From being married to a celebrity wife to facing gay allegations, nobody can argue that Brooklyn native life is just as engaging as the bigger stars in the world of entertainment.
Nothing embodies his ever-so-colorful life than his Twitter handle, which has turned into an outlet for him over the years to wallow about his inner turmoil.
Gay Rumors Amidst Divorce From Ex-Wife
The Opposite Attract voice actor has used the social media application to update his fans about his intimate life.
Similar:- Jay Mohr & Wife Divorce Settlement | Married Life Ends After Second Attempt
Following his divorce from his ex-wife, Taryn Dhaka after two years of marriage, Romany opened about the experiences of being married on Twitter. In a resentful tone, he wrote:
"No, I'm not married anymore. I just wanted to see what it was like. It was so cool. I'd do it more if it weren't so damn expensive!"
His ex-wife, Dhaka is better recognized as the body double for actress Jessica Alba. The ex-flames had met in 2007 at the set of the movie, The Love Guru. After dating for one year, they married in 2008, only to divorce two years later in 2010.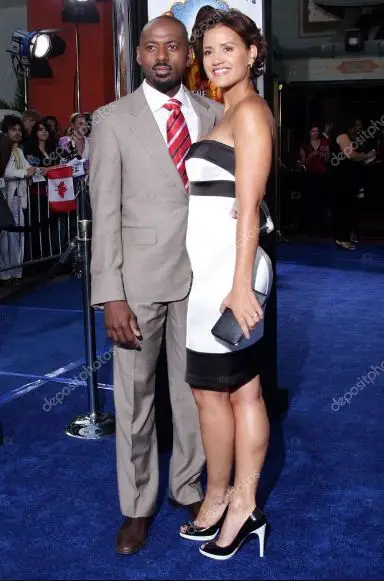 Romany and his ex-wife Taryn attending the premiere of the movie The Love Guru (Photo:- Deposit Photo)
Even though two years had passed since his marriage with ex-wife had ended in divorce, Romany sounded bitter when he sent out a tweet on 27 June 2012 that read:
"Was married once. It made me younger. But divorce took 20 years off my life."
Speaking of things to be bitter about, the 49-year-old Weeds actor has been long accused of being gay. His failed marriage to actress-wife made the gay allegations all the more intense.
Interesting:- Jay Mohr & Wife Divorce Settlement | Married Life Ends After Second Attempt
His "about me" profile addresses the gay allegations with a quote that reads:
"Just because my characters were gay in both "Blades of Glory" (opposite Will Ferrell) and "A Little Bit of Heaven" (opposite Kate Hudson), does not mean that I am gay in real life."
The Weeds star ends his statement in a sarcastic tone by claiming that he's "still straight." However, for $90 million, he claimed that he could be gay.
Romany's Dating Status; No Longer Marriage
No sooner Romany had come out as a gay man; he was romantically linked with a married woman.
You May Also Like:- Laura Main & Partner Married Secretly? Family Insight & Relationship Status
The Think Like A Man Too actor was once rumored to be dating actress Meagan Good. His rumored romance with Meagan made so much noise that he was forced to put out a tweet to douse the gossip.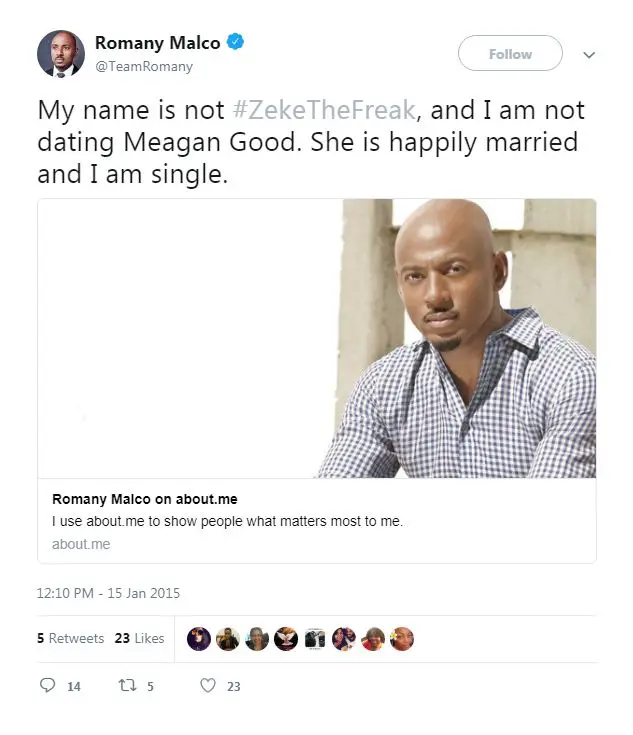 Romany addresses the dating rumor between him and Meagan Good (Photo:- Romany Malco)
Off all things in the tweet, his fans were stunned by his claims of singlehood. Not more than a year ago, in June of 2014, while talking to the Essence Magazine, he had professed happiness in finding a spiritual girlfriend. He told Essence:
"The last thing that reminded me to be grateful is… my girlfriend makes us pray together every night before we go to sleep."
Even after facing an ugly divorce and worse breakup from - what can only be inferred as - terrific girlfriend, the 49-year-old Brooklyn native sounds more resilient than ever.
Someone with an undying spirit like Romany shouldn't have trouble finding the elusive one shortly.
Pursuit Of Success Elsewhere: Married To His Acting Career
As things stand, the 40-year-old Virgin actor would instead focus on his acting career than look for companionship with a possible wife.
Interesting:- Jim Sciutto, CNN Correspondent Age 48 On Wife, Kids & Being Wise Parents
Nobody in the show-biz seems to be working as hard as Romany. This September alone sees him feature in two projects -- a movie and a TV series. The 49-year-old Brooklyn native will star alongside Kevin Hart, Tiffany Haddish, Taran Killam, Rob Riggle and Ben Schwartz in Universal Pictures' movie Night School.
Night School is scheduled to hit the theaters on 28 September 2018. Likewise, he will portray the character Rome in the upcoming ABC drama titled A Million Little Things. Huffington Post's Claire Fallon describes the show as:
"This show centers on four friends who met when trapped in an elevator together a decade ago and discovered they were all Boston Bruins fans. Their shared fandom and season tickets have kept them together ever since. That is, until Jon kills himself, leaving his friends and family reeling."
Actors Ron Livingston, James Roday, and David Giuntoli complete the quartet of the aforementioned group of friends alongside Romany. Rumor has it: A Million Little Things - which is set to air on 26 September at 9 AM on ABC - is the answer to NBC's hit family drama This Is Us.