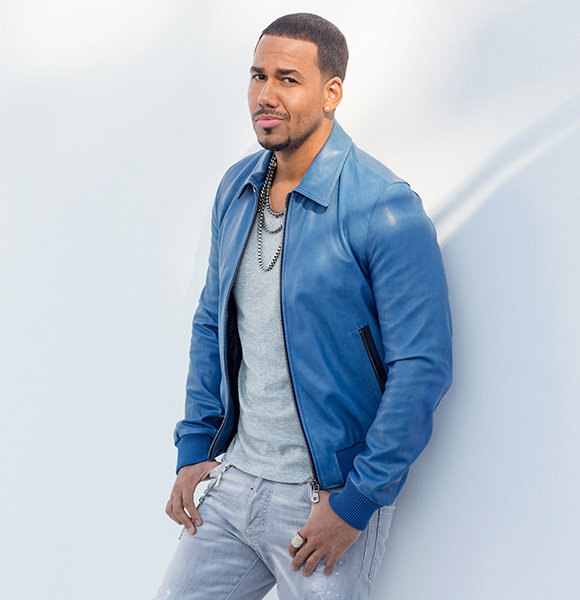 Quick Information
Son/s

Alex Damian Santos, Valentino Santos

Rumors

Gay Rumor

Eye Color

Brown

Hair Color

Black

Weight

91 Kg (201 Lbs)

Height/ How Tall? 6 Feet 1 Inch
Education

Morris High School

Net Worth

$30 Million

Partner

Name not disclosed

Date of Birth Jul 21, 1981
Sister/s

Laura Santos

Ethnicity/Race

African-Dominican Republic, Puerto Rican

Zodiac Sign

Cancer

Birth Name

Anthony Santos

Profession

Singer-Songwriter

Birth Place

The Bronx, New York, United States

Nationality

American
Recording artist Romeo Santos welcomed a baby - his second child - in March 2019. He revealed the exuberant news with his fans via Instagram on 27th March 2019.
Sharing a black and white image of the baby's feet, the "Eres Mia" hitmaker also teased his upcoming album Utopia.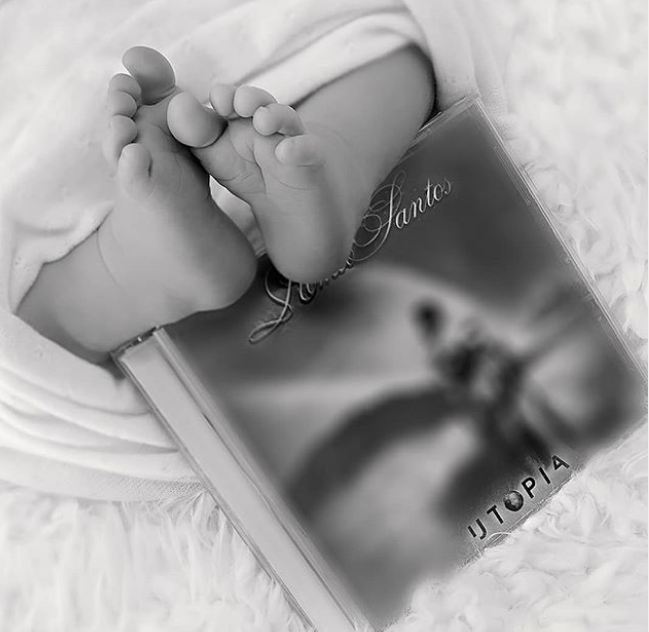 Romeo Santons announces the arrival of his second baby in March 2019 (Photo:- Romeo Santos' Instagram)
Romeo, however, refrained from providing any more details, including the baby's name, sex, or birthday.
Who Is Romeo Santos Wife?
Not only did Romeo hesitate to share information about his second child, but he also didn't find it necessary to reveal his baby's mother's name, or so to say, Romeo Santos wife.  
The only known fact is that his second son's name is Valentino Santos.
Mystery Better Half:- Kehlani, Age 23, Confirmed Pregnant! Baby Daddy, Queer & Right In Front
In his defense, the "You" crooner has always maintained an image of a recluse -- well, at least on the dating front. For all his fans may care, he could even be engaged to his longtime mystery girlfriend.
In 2016, Romeo sparked dating - and subsequently engagement - rumors in a rare display of PDA after putting up a snap with a yet-to-be-identified woman on his Instagram.
Four years earlier, then 39-year-old Romeo was pictured sharing quality time with a woman named Francelys Infante. It is still unclear if the two women are the same or different personalities.
Is Romeo Santos Married? Swirling Gay Rumors
Considering how secretive the singer is about his married life - assuming he has one - it's only natural that the detractors would label him a closeted gay.
Accused Of Same:- Rafi Gavron Girlfriend, Gay, Net Worth
The so-called haters often failed to take notice of his past romances with women and kids borne from the said relationships. Gay or not, Romeo remains a dedicated father to his children and a hero in the eyes of his fans. 
Samantha Medina & Rome Santos
Besides his newborn, Romeo is also a father to a teenage son named Alex Damian Santos.
Per gossip, Alex is the son of his short-lived affair with Samantha Medina. There's a rumor floating around which suggests that Romeo Santos' wife was Samantha  Medina, and they were a married couple for a brief period at the turn of the century.
Nevertheless, by the Aventura lead singer's admission, he didn't adapt to fatherhood all too well early on. Recounting the initial jitters he suffered as a new father, Romeo once revealed:-
"I enjoy being with my son and I love him, but at the moment I was so young, and the only thing that I could think of was the music career."
With or without the support of a wife or wife-like partner, he continues to grow into a complete father figure to his two kids. In return, his music too continues to evolve.
Essentials - Parents, Nationality, Height & High School
Born in 1981, Romeo - real name, Anthony Santos - of American nationality completed his schooling at Morris High School in the Bronx, New York.
Fellow New Yorker:- Diamond Strawberry Bio, Age, Net Worth, Boyfriend
A proud Latino, the New York native's ethnicity is the result of his parents' marriage. His father, Francisco, is of Dominican heritage, while his mother, Lidia, is a Puerto Rican.
Besides his six feet and one-inch height and 150 pounds weight, Romeo's other discerning physical attribute includes his fresh haircut.
Why Did Romeo Santos Leave Aventura?
Romeo Santos formed the band Aventura in the year 1996 with his cousin and friend which include Henry Santos, Lenny Santos, and Max Santo. He was the main singer, songwriter, and co-producer of the band.  
Their first album came in 1999 with the fusion of hip hop and R&B. Then, in 2002, they released their song Obsesión, which garnered huge success in international charts. 
In 2009, the band was invited to the White House to perform for the 44th President of the United States, Barack Obama. 
Over the decade, Aventura has come up with five albums. Their international hit include "Cuando Volverás", "Un Beso", :Amor de Madre", "Los Infieles", "El Perdedor", and many more.
Unfortunately, the band split in 2011 with a mutual decision to pursue solo careers. However, they reunited in 2016 for the last time and put on an amazing concert for the entire month of February at the United Palace Theater in Big Apple.
Rome Santos Net Worth
Rome started his solo career in April 2011, signing a contract with Sony records. His debut song 'You' from the album Formula, Vol. 1 released on 9 May. His other singles from the album include Promise, which topped the Tropical Songs chart, and Hot Latin Songs.
 He released his second album, Formula, Vol. 2, on 25 February 2014, the best-selling Latin album of 2014. Likewise, his third album Golden came in July 2017, while his fourth album Utopia came in April 2019. 
He has also made short appearances in films like Snaky Panky (2007) and Furious 7 (2015). 
With all these works, Rome Santos has accumulated a net worth of $30 million.