Entertainment
What Is Bodybuilder Ronnie Coleman Doing Now? Surgery Talks
Ronnie Coleman is a retired American professional bodybuilder holding the record of...His success, however, has come in at one big cost, his own health. Til date, Ronnie has been involved in...surgeries. despite surgeries, his love for workout continues as he is helped in his recovery path by wife...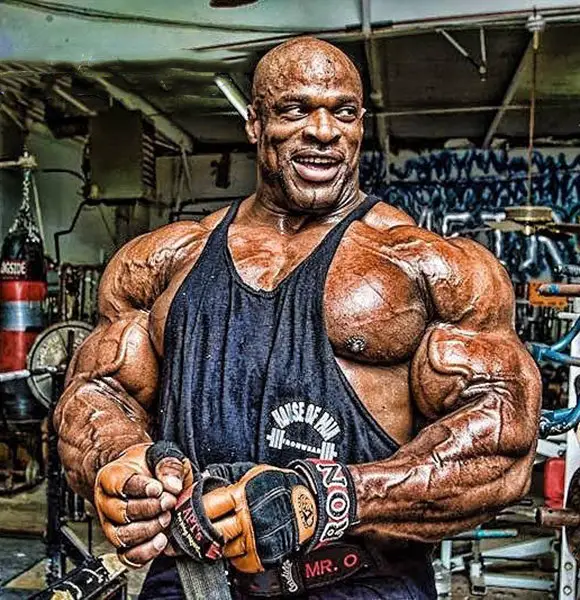 A retired American professional bodybuilder holding the record with eight consecutive Mr. Olympia titles, Ronnie Dean Coleman unprecedented success came to him at the cost of surgery, one after another. What once was a physique people dreamed of turned into a body people got scared of.
One Surgery After Another
Bodybuilding, as attractive as it seems, comes with a consequence. Besides the apparent physical effort to put, it has an unseen struggle behind the scenes.
You May Also Like:  Meet Bodybuilder Kali Muscle Girlfriend/Workout Partner! Wife, Gay Rumors & More
The same goes in the case of Ronnie. Considered by many as the greatest bodybuilder to ever live on the planet, Coleman has had a series of surgery one after another.
At age 55, Ronnie recovered from yet another surgery on his back. After going through nine previous surgeries, fate remained unkind to the bodybuilder as on 19 September 2018, he got admitted to the hospital for his tenth surgery.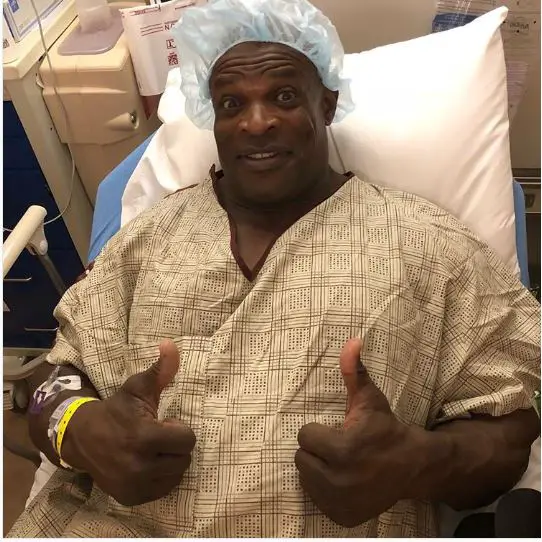 Ronnie Coleman on the beds of a hospital before his tenth surgery. (Photo: ronniecoleman8' Instagram)
In an Instagram post, Ronnie updated his fans about his health situation with a caption that read,
"Here we go again, this is surgery number 10 for me today. This is my third one this year as I had one back surgery in February, a fusion. Then I had another three weeks later to fix the screws that had broken from the surgery in February. I'm hoping and praying that this is my final surgery."
Following his tenth surgery news, fans worldwide prayed for the health of the former bodybuilder. The outcome from the prayers was positive as Ronnie himself shared the story of his successful surgery on Instagram,
"Just wanted everybody to know that the surgery was a huge success. Have a scar from my ass all the way up to my ribs. Will be in the hospital all weekend though to control this massive pain."
What Is He Doing Now? 
Carrying the daunting task of bodybuilding, Coleman faced a lot of complexities in his body. He would recover from an injury and land into another surgery in no time.
Don't Miss: Rich Piana Married His Wife In An Interesting Wedding Ceremony But What Exactly Had The Couple Contemplate Divorce? 
Under such circumstances, he bid farewell to the competitive bodybuilding scene and spends most of his time with family and friends.
Though he is enjoying life to its fullest, injuries seem to bother him now and then. In January 2019, he underwent a Level Neck fusion surgery with a possibility of spine correction surgery in the future.
Even though he is going through a lot in life, he inspires others with his life journey, which he has embedded into his new book released on 20 September 2019. Apart from that, the eight-time Mr. Olympia Champion spirits were going high as he predicted the winner of the 2019 Olympia in a video, showing off some skills of his own in the guy.
As of 2021, Coleman is very active on his Youtube channel, sharing videos regarding bodybuilding and workouts. He has 1.09 million subscribers on his Youtube. 
Workout and Wife Completes Ronnie's Life
Despite facing some of the most challenging and painful injuries in his career, Ronnie's love for workouts hasn't yet diminished one percent. The bodybuilder, after ten surgeries in his body, still works out like a beast.
See Also: Dallas McCarver Wiki: Everything We Know About The Bodybuilder Who Died At The Age of 26
Apart from his love for working out, his life is complete because of his wife, Susan Coleman, a longtime girlfriend to Ronnie. The couple got married on 11 April 2016 and they have two daughters, namely Valencia and Jamilah. He often posts pictures together with his daughter and family on his Instagram.
On the occasion of their fourth wedding anniversary, Coleman took to Instagram and shared a throwback picture of their wedding and expresses his love and gratitude towards her through the caption. 
Standing in at the height of 5 feet 11 inches (1.80m), Ronnie once had body measurements every other bodybuilder envied about. Due to his unprecedented records, the bodybuilder currently enjoys a net worth of $2 million.