Entertainment
Rose Namajunas From Long Hair Sacrifice To Addicted Boyfriend & Husband-To-Be Struggle
American Mixed Martial artist, Rose Namajunas is often praised by the public for her hard work and devotion towards the game. Having sacrificed her long hair for training, Rose showed her commitment towards her fighting career.
Also the engaged woman, Rose has accepted her future husband despite his addictions. The couple, who didn't have a very romantic start to their relationship, are on their way to get married. Learn about the personal life of Rose along with her other significant details.
Sacrificed Long Hair For Training; Next Fight
Rose started her physical training at a young age involving herself in sports like taekwondo, jiu-jitsu, and karate. She commenced her career in MMA as an amateur fighter in 2010 and defeated Paige VanZant, which was the first loss for Paige in the UFC.
Rose later her debut fighting in the Invicta FC. She joined UFC in the 20th season and reached the final although she lost to Carla Esparza. 
See Also:- Arianny Celeste Dating Status Now; UFC Diva Well Over Abusive Boyfriend?
Rose is often considered an inspirational figure for many due to her dedication and commitment towards the fight. She even got rid of her long hair as it got in the way of her training. Rose posted an Instagram picture on 8 November 2015 to show her short hair and expressed that it was interrupting her practice, so she had it cut short.
Further, she also mentioned that she was a fighter and not a beauty pageant contestant.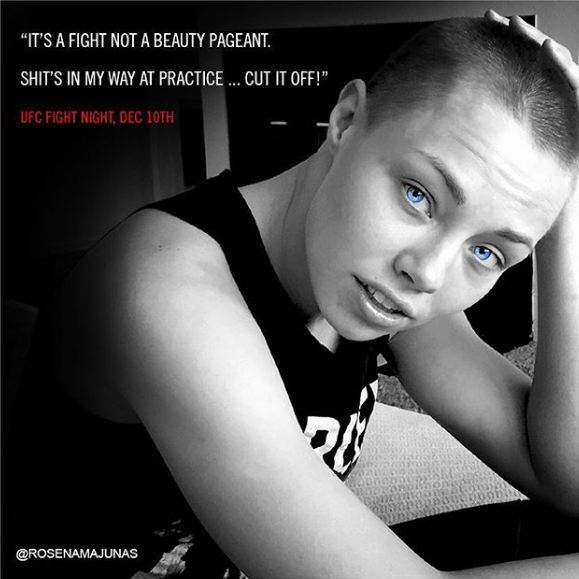 Rose flaunts her short hair on 8 November 2015 (Photo: Rose Namajunas' Instagram)
Rose, who recently defeated Joanna Jedrzejczyk in the previous match, will be facing Jessica Andrade in her next match. Currently, she has been busy splitting her time between practice for her next match and her future husband.
Committed To Fighter Boyfriend, Husband-To-Be Is An Addict
Rose has been longtime committed to her boyfriend, Pat Berry, who is also an MMA fighter. Their first meeting was not so romantic as Rose punched Pat in the head. But, Pat instantly fell for her beauty and her fighting attitude. However, Rose took some time to acknowledge her love for Pat. Pat revealed in a 2014 interview with Bleacher Report,
"I say we've been dating for more than five years, but she says two or three years."
Pat, who often struggles with his addiction to substance abuse and alcoholism, landed in trouble with the law due to a bar fight and got jailed for his act. But, he is still a loving fiance to Rose and frequently supports her during her matches.
Read Also:- Robert Ri'chard On His Way To Get Married To Co-Star Cougar Girlfriend Or Already Dating Someone Else?
The couple, who are now engaged, doesn't even hold back from showing public display of affection. During the entry of a match, Rose was pictured kissing her husband-to-be.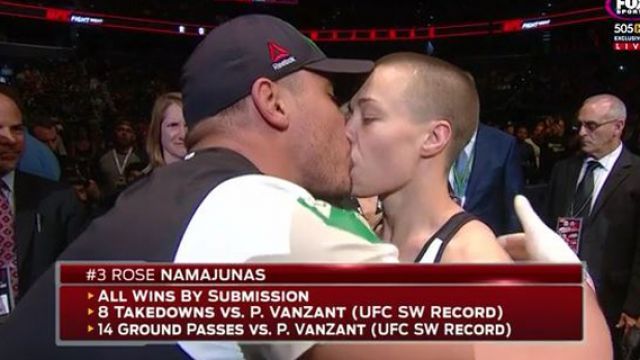 Rose kisses her fiance/coach, Pat Barry before she enters the ring (Photo: SportsJoe.ie)
The soon-to-be husband and wife have not announced the date of their wedding, but before the couple gets married, Pat should probably resolve his issue with his addiction.
Parents Details, Father Dies Of Schizophrenia
Born in Milwaukee, Wisconsin; as the daughter of Lithuanian immigrant parents, Rose grew up in a rough community and even became the victim of sexual abuse during her younger days. The 26-year-old UFC fighter lost her father, a Schizophrenia patient when was a young girl of 16. Although Rose's father is no more with her, she still maintains a close relationship with her mother.
Her mom, Jolita Frank also cares for Rose and frequently features her daughter on her social media posts. 
You May Also Like:- Pregnant Amy Childs Age 28: From Baby Due Details To Secret Boyfriend - Revealed!
On 29 June 2017, Jolita even shared a tweet to wish Rose on her birthday. Similarly, Rose also mentions her mother on her several of her Instagram posts. On 15 June 2017, she shared a picture of her mother and called her "pretty."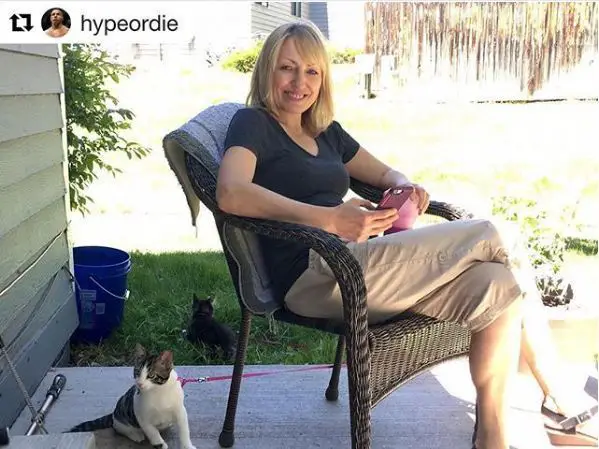 Rose Namajunas' mother, Jolita Frank on 15 June 2017 (Photo: Rose Namajunas' Instagram)
Rose has not mentioned about having any sibling, so she is assumed to be the single child of her parents.