Entertainment
Roxanne Shante Baby Father, Relationship, Parents, Net Worth
Roxanne Shante could have undoubtedly become the male equivalent of modern-day Jay-Z, had it not been for her abusive relationship with her baby father.
The Queens, New York rapper, who first burst into the music scene as a teenager with chart-topping single Roxanne Roxanne, hanged up the mic at the tender age of 25, thus bringing an end to her reign as the first lady of Hip-Hop.
Now a mother of four children, the retired emcee along with her husband are still exemplary members of society, running a couple of non-profit foundations aimed to help troubled youth.
Read along to learn more essentials to understand Roxanne's legacy better!
Relationship With Baby Father; Parents Four Children
Arguably the first ever female to ever "rock the mic," Roxanne's rise to fame - and eventually, the fall - serves as a cautionary tale.
By the time the Go on Girl wordsmith got thrust into the limelight because of the inescapable single Roxanne Roxanne, she had barely even finished high school. Soon more success followed. In a decade between her breakout year and the time of her retirement, she embarked on a multitude of nationwide tours and released two critically acclaimed albums.
Inspired By Roxanne:- Azealia Banks Boyfriend, Dating, Gay, Net Worth
While her musical career was seeing unprecedented heights, her relationships with family members were at all time low. But none got as bad her connection with her then-baby father, Cross James, who allegedly extorted $10 thousand from her after kidnapping their son Chris.
Looking past the 18 years age difference, Roxxane and her then-baby father's relationship was extremely toxic -- a topic heavily depicted in the Pharell Williams and Forest Whittaker - produced film Roxxane Roxxane.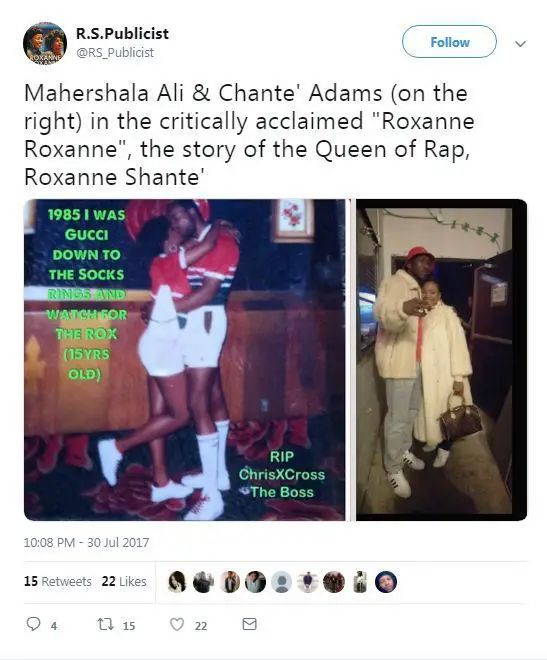 A fan shares a snap featuring Roxanne Shante and her baby father Cross James after the premiere of the biopic (Photo:- R.S. Publicist's Twitter)
Eventually, the weight of fame and drama proved too much of a burden for the legendary rapper to carry, and at the prime of her career, she opted to give up on her musical career for a family life among other things.
Now, a married woman with four children - Chris, Tajze, Kareem, and Randy - Roxxane leads an exemplary life in New Jersey with assistance from her husband, who is yet to be disclosed. Besides running a prestigious foundation entitled Mind Over Matter, she makes regular TV as well as event appearances, spreading wisdom and knowledge.
Roxanne Shante Essentials - From Parents To Net Worth
Digging deeper -- her charitable work is her way of ensuring that the troubled kids within her reach don't go through the hurdles she went as a child.
Coming from a broken home, Roxanne - who holds American nationality with Latino heritage - and her female siblings faced a difficult time both financially and emotionally because of her parents' decision to not work on their relationship.
Even after achieving success as a recording artist, the Shante family's financial woes continued after her mother's then-lover dupped them of $20 thousand, money meant for resettlement from the dangerous New York projects.
Celeb With Same First Name:- Shantel Jackson & Rapper Nelly Relationship | Married & Net Worth Talks
At age 49 with the net worth of $500 thousand, Roxanne is far from an unfortunate individual. But imagine, if she hadn't retired so early in her career. Perhaps, she would be at Jay-Z's level, meaning $500 million wealthier, but who knows?