Entertainment
Rumored Gay Lukas Haas Sparks Dating Rumors! Sighted Shirtless With Mystery Blonde In Mexico
Gay rumors are something that celebs often have to deal with in their lives. People are always keen to speculate various things about a public figure, and thus, they tend to set several fires.
The same can be presumed, about "The Revenant" actor Lukas Haas, who has often been speculated to be a gay. But did you know, he has repeatedly been spotted with a mystery woman some while ago? Hence, could she be the one, who shuts all the gay rumors for good?
Let us find that out!
Lukas Haas, Spotted With A Mystery Woman: Dating Amidst Gay Rumors?
It was late 2016 when Lukas Haas, along with the legendary actor, Leonardo DiCaprio; who also happens to be his co-star in "The Revenant," Nina Agdal and a mystery blonde were spotted at a beach in Cancun. Leo and Lukas Hass were shirtless while the other blonde donned a whitish bikini.
Nina was not pictured together but was said to have joined Leo there. Nina revealed her presence, as she posted a photo of her in Cancun, a couple of days before Leo and the others were seen.
We knew that Leo and Nina were dating then, as per a source who announced,
"Leo seems very into [Nina], he constantly holds her hand and kisses her. Nina seems to enjoy Leo's company too. She acts very giddy around him. She has great energy and seems to make Leo very happy."
But who is this other blonde? A possible love mate of Lukas?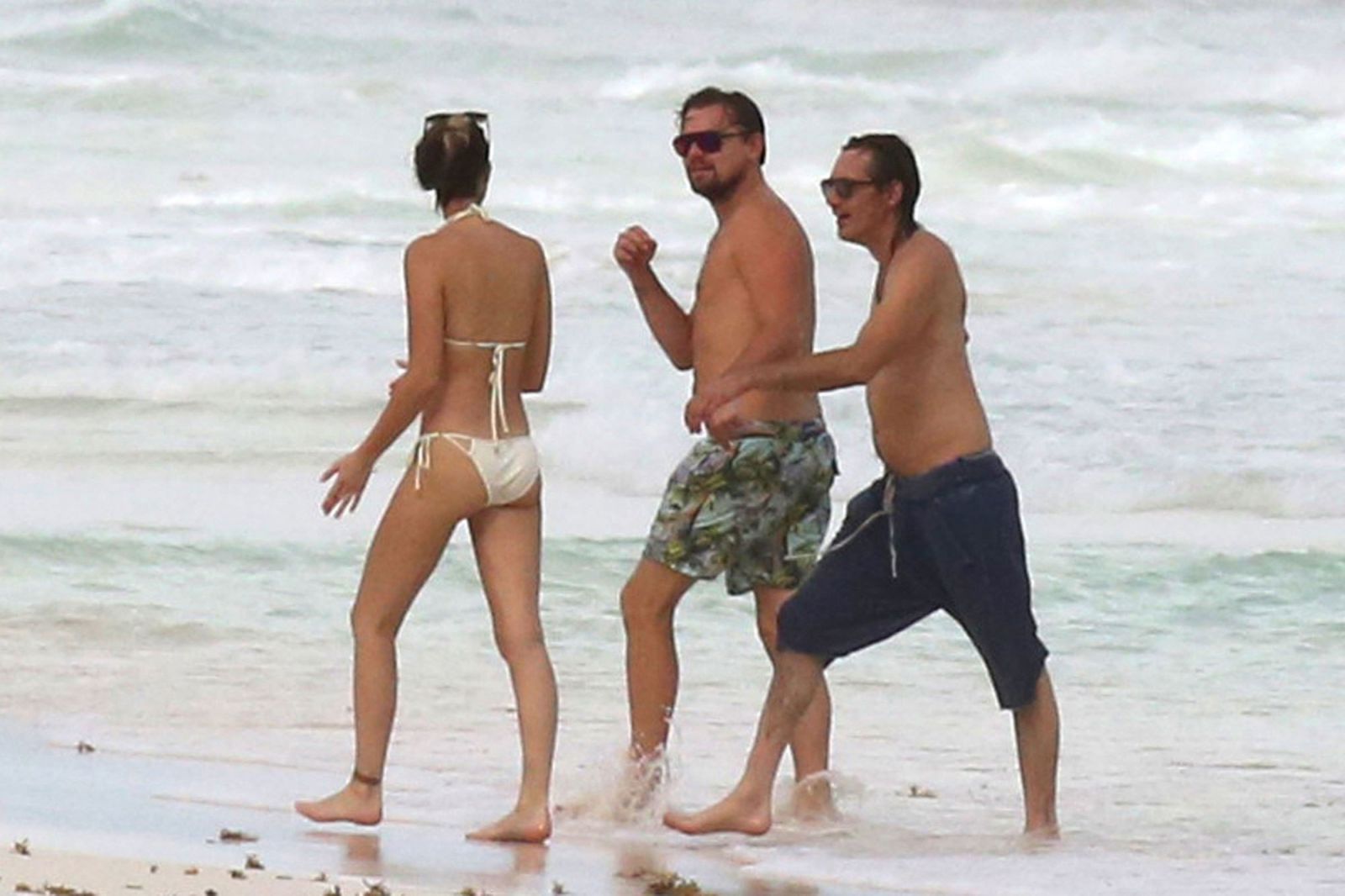 Caption: Leonardo DiCaprio, Luka Haas, and a mystery blonde spotted at Cancun beach in December 2016.
Photo Credit: people.com
Moreover, does this blonde thing, ring some bells to you?
Remember Leo, Haas, Roxy Horner (Leo's then choice) and another blonde (could be the same) were spotted out on a double date earlier that same year?
As per a source,
"The entire party was in baseball caps, they tried really hard not to be recognized. Horner didn't leave DiCaprio's side."
So is it possible that Haas might be dating the blonde woman?
Maybe he is, but he has not officially spoken anything about the nature of their connection, which is why no major conclusions could be reached as of now.
However, to spice things a little bit, they have not been spotted together lately, which adds more to the suspense. Additionally, Lukas has neither been vocal about him having a wife, as his limited revelation about his personal life points out; he is not married.
Thus, let us hope, Haas reveals something exciting to his fans in the near future!
Moreover, did you know, Haas was previously linked with the likes of "Thor" actress Natalie Portman, model Lindsay Lullman, and famous singer Aria Crescendo?
Surely, that is enough to shut all the gay rumors that often surround him.
A Short Wiki-Like Bio of Lukas Haas.
Born in West Hollywood City of California, on April 16, 1976, Lukas Hass is an American actor. His Texas-born mother, Emily Tracy is a writer by profession, while his German-born father, Berthold Haas is a famous artist.
Haas has two twin brothers, namely Simon and Nikolai. Lucas was said to have been discovered by casting director Margery Simkin, at the age of just 5, while the actor was still in kindergarten.
He later went on to be recognized as the star of movies and projects like "The Revenant." "Inception," "Witness," "Red Riding Hood," and plenty more. The success of these, as well as other projects; helped his finances the world of good, and he is known to be enjoying a net worth of $7 million.
Haas, his good buddy Leo and Entourage's Kevin Connolly were also spotted showing their support for best friend Tobey Maguire in 2017 when Tobey's daughter was set to make her acting debut in the school rendition of "Beauty And The Beast."
Such nice people, eh?
Stay with us for the latest updates on Lukas Hass!