Entertainment
Sabrina Claudio Ethnicity, Height, Boyfriend, Family & Essential Details | A Bio
Released under the Atlantic Records, 2018 offering "No Rain, No Flowers" by soulstress Sabrina Claudio boasts some of the best songs in her ever-so-burgeoning catalog.
Sadly, an unearthing of her racist tweets coupled with somewhat not so sincere apology meant that the "Unravel Me" singer's future projects would fail to emulate the same fanfare like her past releases.
Was the backlash justified? Is Sabrina a hypocrite? How has it affected her dating life?
Delve into the Florida native's biography to find out & more including her age, ethnicity, height, weight, family & net worth!
Biography Unveils Age, Ethnicity, Family, Height, Weight & Net Worth
R&B, the musical genre predominantly practiced by African-American musicians and also, the sound Sabrina, age 22, has adopted to shoot up the charts.
Another Inspiring Bio You May Like:- Model Sjana Earp Age 24 Bio Reveals Height & Dating Status Of Yoga Expert
Initially gaining momentum because of the cover songs uploaded on YouTube & Soundcloud, the Orion's Belt songstress released her first ever project titled Confidentially Lost in 2017 amidst much hype surrounding her music.
Her sultry voice coupled with fleshy lyrics managed to captivate the listener's ears; meanwhile, her physical beauty - height & weight of 5 foot & 7 inches and 55 kilograms respectively as well as mesmerizing feet - made her almost irresistible to the discerning eyes.
When it seemed like Sabrina could be on the brink of R&B supremacy, her racist ways from her teenage years got unearthed. Operating under the username @ODamnYourUgly, she had made some racist remarks aimed at women of color as well as dropped the proverbial "N-Bomb" multiple times.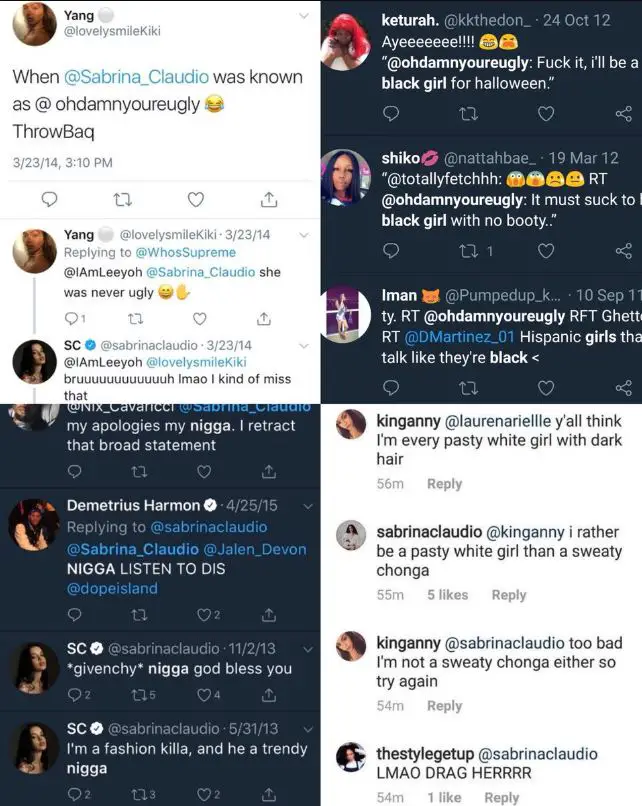 A screengrab of Sabrina acting racist (Photo:- @forniaa's Twitter)
Discover New Today:- Jalen Hurts Career Drove Girlfriend Apart? Height, Weight, & Parents Detail
Following the exposé, the Don't Let Me Down singer issued an apology for her "past ignorance" but to no avail.
"I realize my past ignorance is affecting people I care so much about and I am so sorry. I've made mistakes and while I cannot take them back, I will learn from them."
One of her staunch supporters, Joe Budden even labeled her racist on an episode of his self-titled podcast. While her fans - be it white or black - bemused at her hypocrisy. The burning question on her detractors' mouths: How could someone be of the culture without respecting its originators?
Perhaps, it has something to do with her upbringing. Born on 19 September 1996 in Miami, Florida, Sabrina grew up in a Hispanic household supported by parents working in the medical field. Her father, Damian Luis Claudio is Puerto Rican whereas her mother, Minette Santos is of Cuban descent.
The lack of a "black" role model in her life growing up, however, shouldn't necessarily exonerate her of ignorance -- the fact that the Florida native had to learn the hard way as her 6-figure net worth continues to see a sharp decline.
Songs About Boyfriends: Who's Sabrina Claudio Dating At Present?
Despite all the drama surrounding her, a host of young men have promised to sweep Sabrina off her feet on wax. Mal, one-third of the Joe Budden Podcast, being the most vocal of all her boyfriend hopefuls.
Fellow R&B Songstress:- Mila J & Siblings Bond, How Is It? Explicit Details On Net Worth & Ethnicity

Sabrina recounts her experience with "boyfriend" (Photo:- Sabrina Claudio's Twitter)
Like Mal, a legion of her male fans, have wondered the inspiration behind the sensual nature of her songs. Perhaps, she's been dating on the down low.