Entertainment
Sam Asghari Wiki: Age, Bio, and Other Facts of The New Romance of Britney Spears
Sam Asghari Wiki: Age, Bio, and Other Facts of The New Romance of Britney Spears. She seems to have found herself a new flame, whose name is Sam Asghari. So who is this new guy, in a relationship with one of the biggest pop stars, Britney Spears? If you too are wondering the same then we might come of some use to you like today, we shed light on the life of Sam and tell you the things you need to know about him in a short wiki-like bio of him.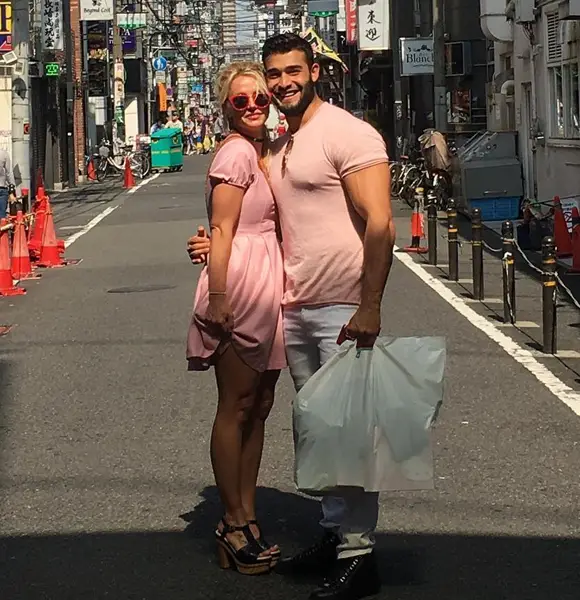 Hit me, baby, one more time!
Britney Spears found herself a new flame, whose name is Sam Asghari. So who is this new guy, in relationship with one of the biggest pop stars?
Bio - Age, Nationality & Height
Born on 23rd March 1994 in Tehran, Iran, Sam Asghari - now age 25 - stands over 6 feet and 2 inches in height. An Iranian by nationality, he moved to the United States as a teenager. His parents lived apart since he was two years of age.
An oldest of the four siblings, Sam shares a close-knit bond with his biological sister Farzaneh, who is a registered nurse by trade
Wiki Unveils Career Change
Sam is a well-known print, fitness, and commercial model and has also appeared on the cover of several reputed magazines like Men's Health.
His modeling credits further include some music videos, and he has appeared in some popular music videos for artists like Britney Spears in "Slumber Party," and also Fifth Harmony's "Work From Home."
Wiki You May Enjoy:- Kevin Perry Wiki, Age, Dating, Girlfriend, Ethnicity, Parents
The fitness model boasts a full frame with the chest measuring at around 42 inches. Also, he makes his living as a personal trainer and helps his clients with the level of their structure and fitness.
But before being a model, Sam wanted to become a police officer and work in law enforcement. In an interview with MSI College, he reasoned for the change of life goal and said:-
"I understood that my passion was elsewhere. I was way more passionate about fitness modeling and acting."
He also worked as a BMC personal trainer at the Royal Personal Training.
Believe it or not, but Sam used to weigh over 290 pounds at one point in his life. It even led to depression. Through strict diet plans and regular gym visits, he eventually achieved astounding weight loss.
Romance With Girlfriend Britney Spears
Sam met his girlfriend Britney in 2016 on the set of the pop songstress' music video for Slumber Party. Despite the 13 years age difference, the duo hit it off from the start.
In July 2017, the Baby One More Time hitmaker confirmed the romance via Instagram by labeling Sam, her boyfriend. Further confirmation of their love came earlier that year when she wished the fitness model on his birthday.
In an interview with "Fast in the Morning With Nathan Fast," CBS Radio on January 20, 2017, Britney recounted about her first meeting with Sam and said,
"I think we were at, um … we were shooting. We were doing the scene where I was doing the walk scene through the hall to go through the door to go to the bedroom, and we were sitting there and waiting and waiting together for like 20 minutes at a time."
She added,
"We were having to be literally stuck there together, so we were basically forced to talk to each other. He has no idea … I mean, he knows my name but he doesn't really know me as a person."
The Pop Princess then concluded,
"He's like, "What is this girl like?" and I have no idea who the hell he is, you know?' We started talking about sushi and started talking about things we like and like we should go to sushi one day."
Her comments startled everyone including a close confidant. Before crossing paths with Sam, Britney - per source - sworn to never be in another relationship.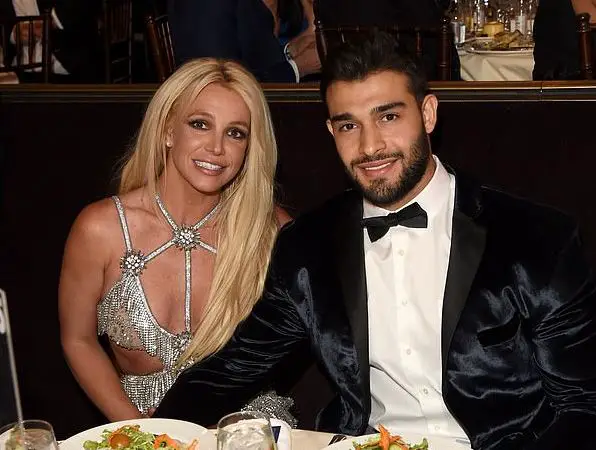 Sam Ashgari attending a bow-tie event with his girlfriend Britney Spears circa 2018 (Photo:- dailymail.co.uk)
Previously, Britney Spears was a married woman and had exchanged wedding vows with Kevin Federline.
Engaged Or Still Dating?
Defying everyone's expectation, Sam and Britney made it to 2018 without breaking up. In turn, it fueled engagement rumors.
Wedding Bell Tolls:- Joe Anglim Engaged, Fiancee, Sierra Dawn
While still dating and vacationing in Hawaii in January that year, the Toxic songstress flaunted a diamond ring. Later, she doused the rumors of them getting engaged but professed a keen interest in bringing a baby into their life.
Despite the lack of commitment, the lovebirds' don't shy away from supporting each other. Sam's loyalty was on full display when he spared supportive words after Britney's mental health facility in April 2019.