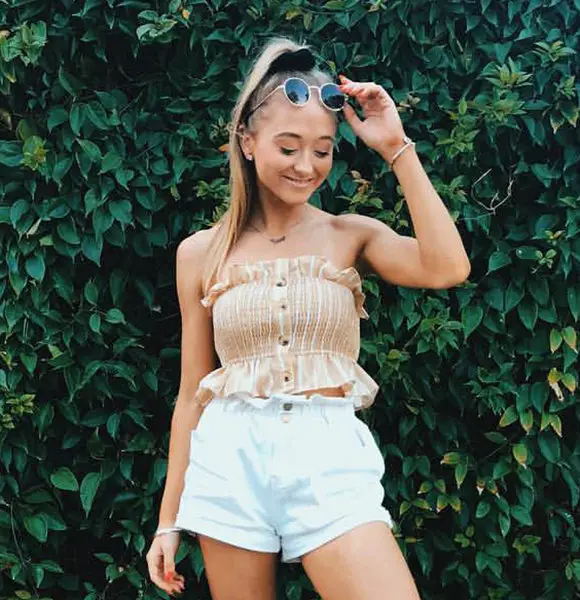 Dancer Sam Rybka garnered overnight fame in 2013 after she and her twin sister Teagan made it to the semi-finals of the immensely loved talent show, Australia's Got Talent.
Apart from the Rybka twins being well-known in their careers, they are also renowned for keeping their personal lives secret. 
However, Sam did reveal her boyfriend after being together for some time. 
Let's find out more about her dating history. 
Sam Rybka's Boyfriend
At the moment, Sam is not seeing anyone. Not only her but her twin sister, Teagan Rybka, is also single. Both of the Rybka Twins don't have a boyfriend.
Fellow Dancer:- Madison Haschak Wiki, Boyfriend, Parents
For the most part, Sam maintains a squeaky clean image in public. Her dating history is short and free of unwarranted "affairs."
Therefore it's no surprise that the reality star-turned-internet sensation's ex-boyfriend Zac Spencer is her only public romance.
To those unfamiliar, Zac is an American fitness personality who's now pursuing a musical career.
Sam started dating her boyfriend, Zac, in May 2017. However, the fans didn't get wind of the lovebirds' romance until May 2018, when Sam peened a heart-melting anniversary post to her boyfriend on Facebook.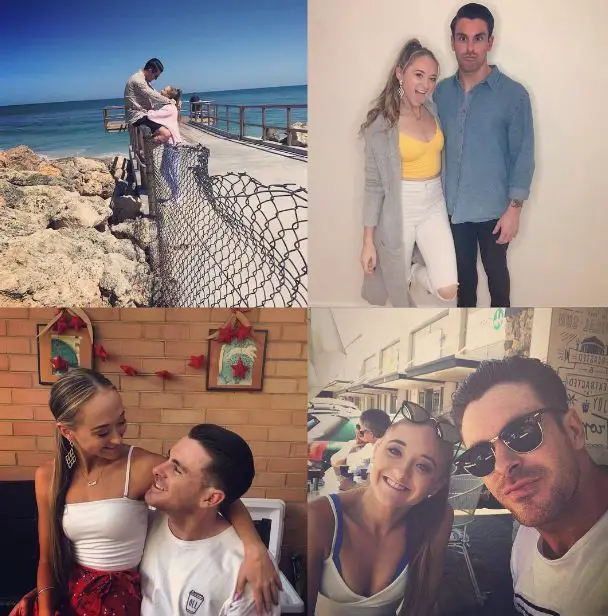 Sam Rybka and her then-partner, Zac Spencer's two-year-long affair between 2017 and 2019 is illustrated in a "collage" (Photo:- earnthenecklace.com)
In the months that followed, her then-boyfriend Zac appeared on her YouTube channel. It became evident that the two were inseparable.
Married To A Cancer:- Pregnant Eniko Parrish's Husband Kevin Hart Smacks Down The Allegations that He Cheated!
Sadly, the love affair didn't make it to the end. By February 2019, Zac was already back on the dating scene with his new girlfriend, Mel Scotty. Like Zac, Mel is also a "CrossFit junkie." However, now, Zac is not dating anyone at the moment. 
Apart from her dating life, she is very close to her parents and family. 
Sam Rybka's Parents And Nationality
Sam was born on 22nd June 1995 to loving and supportive parents. A native of Perth, Australia, she holds Australian nationality.
At age 3, the dancing sensation - now age 26 - and her sister commenced training in acrobatics. Their mother, an acrobat enthusiast, later enrolled them at the Debra McCulloch Dance Academy.
What had initially started as a hobby later turned into a passion. By the time Sam reached her teen, she had mastered various dance forms, including jazz, ballet, tap, lyrical, and hip-hop.
Amid success, she and Teagan suffered a family tragedy when they lost their biological father in July 2018. Besides them, her parents shared three more children.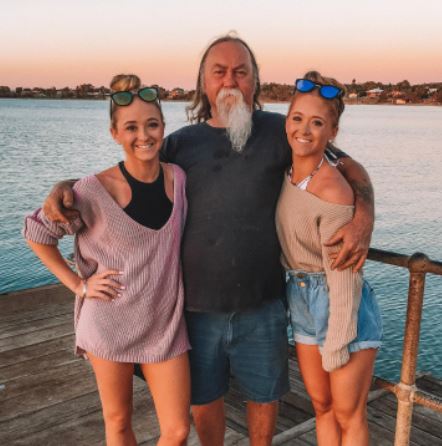 Sam and her twin with their father. (Source: Instagram)
With the help of her family's support, she has successfully achieved her dreams. 
Sam Rybka's Career
Measuring 5 feet and 9 inches (1.75 m) in height, the YouTube star and her twin sister are clients of the New York-based agency Cunningham Escott Slevin & Doherty.
Via notable appearances, including on the Ellen DeGeneres' Show as a backup dancer to pop star Katy Perry, Sam has amassed a respectable net worth. In addition, her growing status as an influencer should help increase the flow of income.
Other Fallout In Late 2018:- MSNBC Ari Melber Dating Status After Split With Wife, Who Is New Girlfriend?
She got recognized with the help of Australia's Got Talent. Though a band named Uncle Jed won the competition, Sam and Teagan's contortionist dance moves left an impression on the AGT audience's memory.
The former reality star slowly began to amass a huge fan following online by cashing in on the show's success.
Together with Teagan, she operates a YouTube channel with more than 7.3 million subscribers called The Rybka Twins. Meanwhile, over 1.1 million fans follow her on Instagram.
As Sam is a secretive person, she has not revealed anything about having a partner. Instead, she is currently focusing on her career and maybe in search of someone who she can call her husband. 
We will surely update you more on Sam Rybka. Till then, stay tuned.