Entertainment
Sandi Toksvig Age 60, Wife After 'Aww' Filled Wedding; Rock Solid Or Rocky?
British-Danish comedian and TV presenter, Sandi Toksvig is an openly lesbian, who has withstood the test of times and overcame a heartbreaking relationship to end up happily married with her wife......Sandi first met her current partner earlier in ... and as the two hit it off, they entered in a civil partnership......Before that, she was in a longterm relationship with former partner ... and the couple even parented children of their own......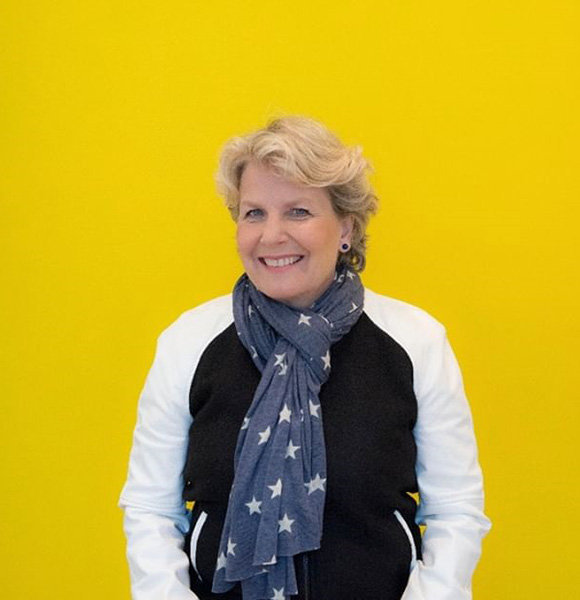 British-Danish comedian and television presenter, Sandi Toksvig has left no stone unturned in making the audiences laugh at her witty jokes. But, the irony persists when the funny woman herself faces a crisis of happiness in her life.
Breaking up with her first partner was never easy for Sandi, who chose to publicly address her lesbian sexuality in a time when celebrities rarely came out of the closet.
She even suffered a few backlashes due to the decision to address her sexual preference with the then-stereotypes, who shamed and criticized the actress for her lesbian identity.
After the struggles of being a social outcast and facing a tragic break up with her partner, a new dawn was bound to arrive for Sandi. And fortunately, the long period of loneliness and singlehood ended for her when she finally met her now-wife in an unexpected manner. 
Having paid her dues in life until then, the comedian's relationship with her wife has been an inspirational journey ever since.
Tragic Love Story With First Partner
Unknown about her sexuality in early days, the Denmark native realized her lesbian identity later in life when she was already a well-known celebrity. Coming out was not an option back then, especially for a famous TV personality like Sandi, whose career would be at stake if she chose to come clean with her sexual preference to her viewers.
Take A Look At: Openly Lesbian Tabatha Coffey & Beau Partner Forever - Unofficial Family
However, she took the bold step to openly pronounce herself as a lesbian around 1994 when she was in a relationship with her first partner, Peta Stewart. The lovers had been in a relationship for almost 12 years before Sandi came out publicly. 
The couple even parented three children in the form of two daughters Jessica Toksvig-Stewart (born 1988) and Megan Toksvig-Stewart (born 1990), and a son named Theo Toksvig-Stewart (born 1994), all of them conceived through artificial insemination.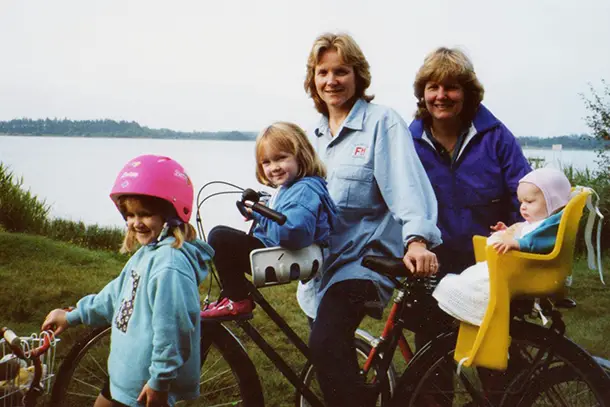 Sandi Toksvig and partner Peta Stewart along with their three children: Jessica, Megan, and Theo. (Photo: madeformums.com)
Speaking with a Sunday Newspaper in 1994, she opened up about her sexuality and mentioned the reason behind taking the step.
"I would rather keep my private life to myself, but I didn't want to live in fear. And I felt it was more important for my children to lead honest lives than for me to have a career in the media."
Despite being aware of the possible consequences she could suffer from opening up beforehand, the actual outcome was just too hard for the author to handle. She lost quite a few shows after her lesbian revelation and even received several death threats from society as well.
All these stress was too much for the star comedian as she soon drowned into the battle of depression. This had severe consequences in her relationship with partner Peta, as the duo could not withstand the test of time. Hence, they headed their separate paths in 1997, thus bringing a tragic end to their love story.
Romantic Wedding With Wife: Love For Spouse "Gets Better and Better"
Sandi has no complaints about life and she shouldn't either. Despite overseeing traumatic times after opening up, she found love once again in her life in the form of her psychotherapist wife, Debbie Toksvig.
The duo first met each other at the beginning of the millennium (the 2000s) at a stranger's dinner party and gradually developed their friendship over the next six years before entering into a civil partnership in 2007. The love between the partners was as good as a married couple, but Sandi had to wait for a further seven years to call Debbie her wife.
Read Also: Never Been Married, Openly Gay Actor, Robert Gant, Advocacy on Same-Sex Marriage: Dating Recorded Once?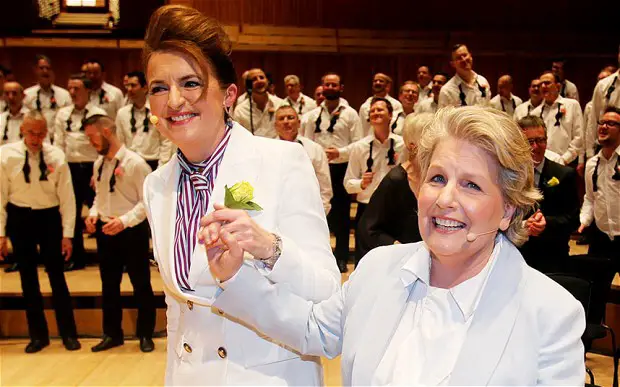 Sandra Toksvig along with her wife Debbie, renewing their vows in March 2014. (Photo: telegraph.co.uk)
The duo, who live together on a houseboat in Wandsworth, renewed their vows for each other in March 2014 after gay marriage was legalized in England and Wales. Speaking on This Morning in April 2014, Sandi mentioned her excitement over the event.
"I keep grinning. On Saturday my partner and I renewed our vows. We did it in a very quiet understated way - on stage at the festival hall! All my children were part of it and two thousand people attended... so a tiny little thing! You know when something just is perfect and you couldn't have made it any better? It was perfect."
However, same-sex marriage was not legalized by law in England until December 2014, which is after The Great British Bake Off host performed a wedding ceremony with her wife, Debbie.
Don't Miss: Assumed Gay Noel Fielding Partner In Crime, Girlfriend Or Sweet Wife?
In an interview with Pink News a few months after her wedding in December 2014, the presenter mentioned her delight over the wedding along with a confession which would make Sandi's wife love her even more.
"I'd marry her every day if I could. I do have a confession to make, which is that I do not love Debbie as much today as I will tomorrow. Tomorrow, I will love her even more. Every day, it just gets better and better."
With the duo now officially married to each other, Sandy's lifelong dream of gender equality has now been fulfilled. Thus, at the age of 60, Sandy spends her best days along with Debbie in what looks like a rock solid marriage.