For many years, it looked like ABC7NY's very own Sandra Bookman was solely dedicated to her day job as the weekend anchor for Eye Witness News at WABC-TV. An accomplished professional in her work of line, her efforts thus manifested itself in a mouth-watering salary, which in turn, helped her amass a fortune in net worth.
However, since getting married, her focus seems to have taken a left turn. For better or worse, she won't stop referencing her husband on social media posts these days. Read along to learn more including her height and information about parents!
ABC7NY's Sandra Bookman's Married Life 
Sandra married a perfect man; her husband Savio Oppio is as romantic as they make. Scroll through the WABC-TV personality's Instagram and take a gander at the pasta he made for Valentine's dinner in 2017.
Those who follow the veteran journalist of African-American ethnicity are all too familiar with her significant other's culinary skills. Oddly enough, she once suggested that Savio makes his living as a chef.
ABC Journo In Our Vault:- ABC 7 Val Warner Has A Family, Married With Husband Or Casually Dating?
Though great with pans & stoves, Sandra doesn't make much of her life partner's fashion sensibilities. On her 20th June 2017 Insta post, she took a dig at him for the very matter. Perhaps, it is all she knows about keeping the flames of their marriage alive.
Since tying the knot in November 2015 in a low-key wedding, the Texas native and her husband have created countless unforgettable moments together. From vacationing in Italy in 2017 to meeting Jimmy Kimmel backstage in 2018, the married couple has done it all.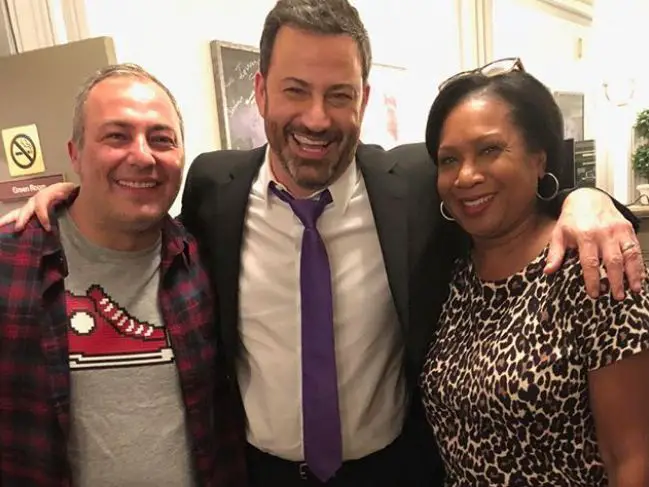 Sandra Bookman and her husband, Savio Oppio pose for a photo next to late night talk show host Jimmy Kimmel (Photo:- Savio Oppio's Instagram) 
Safe to conclude that Sandra, age 59, won't ever face a husband crisis; at work, she has her Eye Witness News co-anchor Joe Torres to call a "TV husband."
Dissecting Net Worth & Salary; Education Plus Nationality Revealed
Working at Eye Witness News as a weekend anchor since 1998, Sandra - who holds American nationality - alongside meteorologist Lee Goldberg and Bill Ritter has remained a staple among the ABC7NY viewership.
The world first got a taste of her popularity after she helped the police arrest an on-the-run murderer named Robert Cabassa in 2002. The 59-year-old veteran anchor - who stands five feet and three inches in height - held the fugitive for 40 minutes on the phone, just enough time for the law enforcement agents to trace the line and catch him.
Celeb With The Same Name:- Sandra Oh Married & Separated | Who Is She Dating Now? Find It Out
Such is the reverence she garners among her fan base and which justifies her six-figure salary at the network. Her earnings from TV gigs play an instrumental role in fattening her ever-so-growing net worth -- a sum likely to surpass seven-figure threshold.
A University of Texas Alum with Journalism degree, Sandra previously worked at WSB-TV, WRAL-TV, and KFDM-TV. For her coverage of the 1996 Olympics, she even clenched a local Emmy.
Born in 1959 in Texas, the seasoned journalist is one of four daughters - Bridget, Angela, and Pamela - born out of her parents' marriage. Despite where she is today - personal as well as career-wise - she hasn't lost touch with both her father and mother.