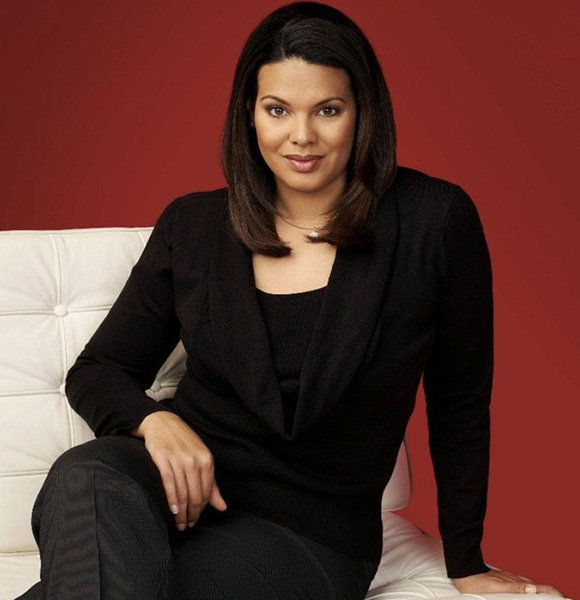 Sara Sidner has become so synonymous with CNN that people often tend to forget that the Florida native has a life outside of her work at the famed news network.
Now happily married to a "wonderful man," it's not shocking that she and her husband faced difficulties synchronizing their schedule on the wedding days, especially considering her obligations at CNN. 
Even with her hectic schedule, her husband supported her decisions and priorities. 
Let's find out who is this amazing woman married to.
Sara Sidner's Husband
Sara's work at Los Angeles-based CNN. We have seen her cover a wide range of national as well as international stories.
See Also:- Rebecca Berg Secret Wedding? CNN Journalist's Married Status & Facts
From her coverage of the 2014 Ferguson Riot to her reporting on issues plaguing many countries, including India, Egypt, Nepal, Afghanistan, & Cambodia, the CNN personality has gone above and beyond to fulfill her obligations.
Despite all her best efforts, the Operation Hope host's family life seems to have suffered the most because of her constant running around because of her job. In her 2015 interview with TVNewser, she explains:-
"I adore travelling. I enjoy learning about other cultures and habits and traditions almost more than anything else. I have had the best education in the world from the people who populate it.  The moving around isn't the hard part. The not-having-a-life-other-than-work is the challenge. It is extremely hard on the family."
One doesn't have to go further than her admission in the same interview to get an insight into her mess of family life.
Interesting:- Sophie Mudd Age 20 Wiki: Parents, Boyfriend To Measurements & Net Worth
When she finally agreed to get married to her now-husband and make plans for their wedding, Sara was in then-war-torn Zintan city of Libya, reporting for CNN. Explaining her ordeal, she says:-
"You are in the middle of covering a conflict that you physically can't leave at the time. When I finally said yes to the wonderful man in my life, I ended up making wedding plans on a satellite phone in the middle of Libya as rockets were flying through the night air overhead."
Forget making to the wedding ceremony; her secret husband feared that she wouldn't even make it alive. The Operation Hopeful host recounts:-
"My husband said to me, "Seriously, you had better make it to your own wedding!" He was not kidding and I was actually worried that I might not make it. That is life as a foreign correspondent."
However, she was able to get married to her husband on the scheduled date, and they have been living happily ever since. But Sara is a very private person who has not given any update regarding her marriage or the possibility of having children.
Even though Sara has not disclosed her husband, she is one of the lucky ones who got such a supporting partner. 
Today she is still working at CNN, which pays a six-figure salary. It may have almost ruined their married life, but she seems ready for her next corresponding gig despite the fact. 
Sara is the person who has actively raised her voice for the black community. Read along to the first-ever racist experience she faced early due to her ethnicity. 
First Time Sara Sinder Realised Her Ethnicity
The woman Sara's today - with all her accolades and recognition, the woman Sara's today is more or less the making of her upbringing!
Discover:- Who Is Alysha Del Valle, NBC4 Journalist Married To & What's Her Salary?
Born to a British immigrant mother and an African-American father, Sara, age 49, identifies herself as belonging to a "human being." Her worldview probably got shaped by a bitter experience she had faced due to her ethnicity in her school, as told by her feature on CNN's The First Time I Realized I Was Black.
Sara recounts a racist incident she had faced as a student (Source:- edition.cnn.com)
After much thinking, her teacher had jotted down her as white because of her intellect. Having never met similar issues at any family gatherings, Sara felt enraged to the point that she wanted to fight her teacher.
Sara has done many risky reporting, but will you believe us if we tell you that she broke down in front of the camera while reporting?
Sara Sidner Breaking Down
Sara is one of the strongest reporters on CNN who never feared anything bringing issues up to the public. She has covered all types of reports, be it in a war or others; she never feared anything until she had to cover stories in hospitals during the pandemic. 
Everyone witnessed her break down for the first time. It was not because people had been ignorant about it and how the situation in the hospitals was getting worse.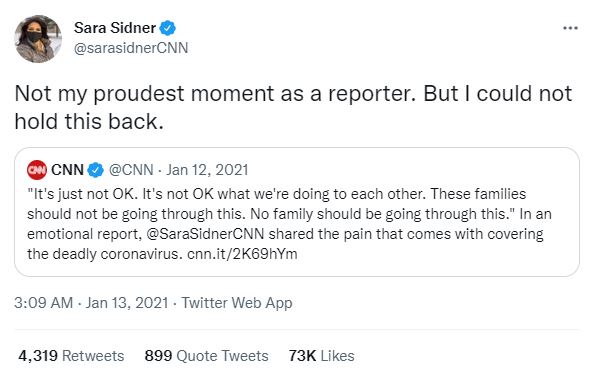 Sara tweets about her not-so-proud moment. (Source: Twitter)
At that time, she also realizes that she is not a robot who can work 24/7and decides to modify her lifestyle. 
In an interview with Glamour, she explained,
"This was a moment to remind me that I am not a robot. I am a fully functioning human being, and I am deeply terrified about what is going on in this country."
She recently spoke out on the suffering of the Ukrainian people during the Russia-Ukraine conflict. She is active on her social media but only updates regarding her works.
We hope someday; she will open up about her married life with her husband. We will keep you updated on her in the coming days. But, till then, stay tuned.