Entertainment
Openly Gay Scott Evans Didn't Come Out Willingly; Dating Status Unveiled
Once you make it big in Hollywood, it propels you to such stardom that every movement you make will be noticed. Similar is the case with the American actor Scott Evans whose actions came to the limelight due to his convincing role as a gay in the series One Life to Live. Despite not coming out himself, the spectators came to know that he is a gay in real life as well. And by now, you probably must be curious to know who accidentally disclosed his big secret.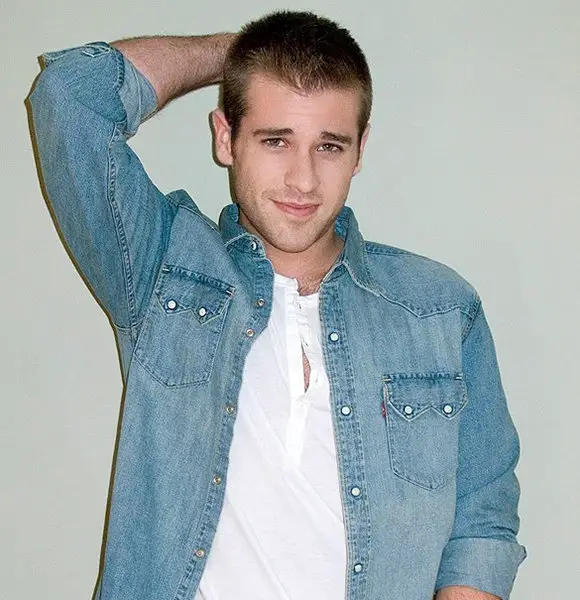 American actor Scott Evans was closeted to the public eye until his brother accidentally revealed his sexuality. Before the disclosure, the actor played a gay role in the series One Life to Live, which often raised some eyebrows regarding his sexual orientation because of his convincing role. 
Scott Evans' Accidental Revelation
Evans, famous for the ABC daytime soap opera, One Life to Live, admits that his friends and family knew about him being gay from his teenage years. But, he didn't reveal his sexuality, fearing it would hinder his career. 
However, it was accidentally revealed by his older brother, Chris Evans, the famous Captain America from the MCU (Marvel Cinematic Universe).
During an interview with the Advocate, Chris accidentally revealed the truth about his brother. When asked about Scott's sexuality, he confirmed that his brother was gay. He affirmed: 
Yes, I do have a gay brother. I'm down with the gays. Mostly I'm hanging out with him and his gay buddies, who are...hilarious. They're the funniest people I know.
Likewise, in an interview, Scott shared that Chris received a lot of flak from his friends after outing his brother, and that is only when he realized his mistake. After realizing his mistake, Chris immediately asked if that affected Scott in any way. But Scott was happy that his brother was comfortable enough to talk about his sexuality.
Scott further added that he was at ease about the revelation and didn't blame Chris for the news. He even quoted:
"Dude, I don't care. It's as if you said Scott Evans has blonde hair and blue eyes.  It's who I am, I don't really care."
After the incident, Scott helped Chris learn about the struggles gay people faced in their day-to-day life. The Evans brothers are now strong advocates of gay rights, and Scott openly talks about his sexuality through social media.
Gay Actor:- Zeljko Ivanek Married, Gay, partner, Family, Net Worth
Does Scott Evans Have A Wife? A Look Into His Love Life
Scott Evans, a Hollywood star standing at the height of 6 Feet (1.82 meters), has attracted immense attention in the media when it comes to his love life. He is currently in a romantic relationship with Zach Volin. 
Scott and Zach's started their relationship back on 4th June 2018 and, the pair seem inseparable and deeply in love. On Valentine's day 2020, Scott shared a fun picture with his boyfriend, and the caption read- 
Happy Valentine's Day to the only person I've spent 2 consecutive Valentine's Days with. Love you the most @zachvolin !!! 
On more about Zach, who stole Scott's heart, he is a gym enthusiast. He sweats it out regularly in the gym and even posts about his gym antics on his social media. 
Judging by the images he shares, it seems Scott is enjoying his life after the curtains of his secret fell, all because of his brother's accidental error. But, the couple has not spoken anything about getting married to this date.
You May Like:- Actor Austin P. McKenzie Is Dating! Gay Boyfriend, His Ticket Out Of Closet?
Was Previously In A Secret Relationship?
Before Scott's relationship with Zach, he was in a romantic relationship with a mysterious man. In contrast to Scott's current affair, his relationship with his ex-boyfriend was quite a hush-hush affair.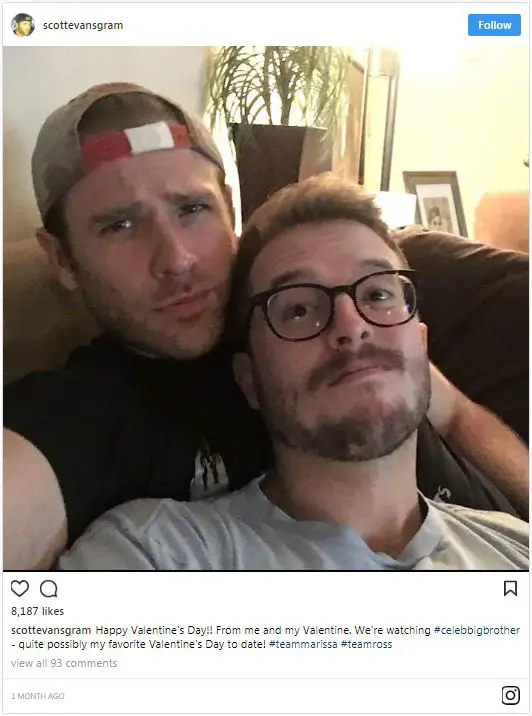 Scott Evans getting cozy with his Valentine (Source: Scott Evans' Instagram)
Although the mysterious man was later revealed as Alexander Claud, nothing surfaced about the nature of their relationship.
It is not clear when the romance started or ended. But, Scott soon moved on from his past relationship to a new one and is happier than ever.