Pilar Rubio became a married woman on the 15th of June 2019... The sports TV presenter and her footballer husband Sergio Ramos tied the knot in a ceremony held at the Cathedral of Seville...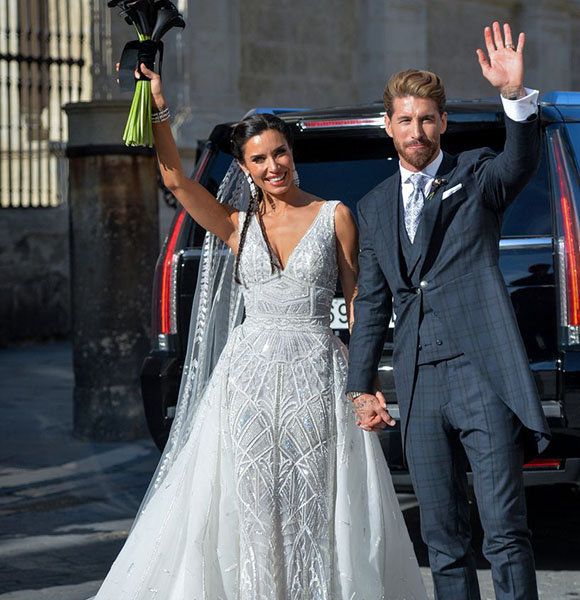 Pilar Rubio became a married woman on the 15th of June 2019.
The sports TV presenter and her footballer boyfriend Sergio Ramos tied the knot in a ceremony held at the Cathedral of Seville. Her father accompanied Pilar to the wedding venue. Meanwhile, Sergio made the way to the spot in his mother's company.
Guests began to enter the Cathedral at 16:30, an hour and a half before the actual ceremony commenced. Then at 17:25, the bride and groom sealed the marriage by kissing each other as they appeared by the door while holding hands.
Following the nuptials, Pilar and Ramos along with the guests traveled to the farmhouse La Alegria SR4. Reportedly, the newlyweds banned cell phones at their reception.
Guests At Pilar & Sergio Ramos' Wedding
By all means, the Se Lo Que Hicisteis reporter's wedding with her husband was a star-studded event. All the big names in world football were there.
Another High-Profile Nuptial:- Nick Jonas & Priyanka Chopra Unite Culture In Stunning Interracial Wedding
The 500 guests included Ramos' Real Madrid current teammates including Luka Modric and Marcos Asensio. David and Victoria Beckham along with fellow Spain Internationals Jordi Alba, Alvaro Morata, and Sergio Busquets were also present with their respective partners.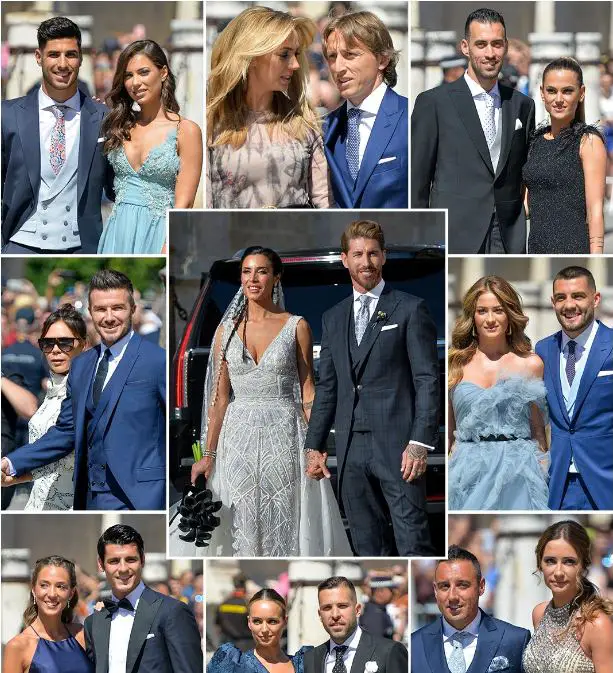 Collage showcasing the star-studded guest list at Pilar Rubio and Sergio Ramos' June 2019 wedding (Photo:- Bleacher Report's Twitter)
Celebrities Nina Pastori, Pablo Motos, and Cristobal Soria also made it to the guest list.
Her husband's former coach Carlo Ancelotti was one of the notables names to congratulate the duo on their marriage via social media.
Pregnant With 3rd Child
The news of Pilar and Sergio getting married came exactly a year after the duo's engagement. In June 2018, the Real Madrid captain popped the big question during a romantic dinner date. A gleeful Pilar couldn't help but accept the proposal.
Three months before getting engaged, the pair had welcomed their third child Alejandro. Before Alehendro's arrival, they were already parents to two boys Marco and Sergio Jr.
Back in October 2017, Pilar announced that she was pregnant with Alejandro. She did so on Instagram.
Baby Bliss:- Blake Lively Pregnant, Husband, Wedding
Pilar and Sergio began dating in 2012. They met at Spain's 2012 World Cup victory celebration. Despite the eight years age difference, the duo fell for each other instantly.
Before Sergio, the gorgeous brunette enjoyed a decade long romance with Jose Molinero.
Bio - Age, Parents, Height & Net Worth
Pilar was born in 1978 in the loving arms of Manuel Rubio and his wife. A native of Madrid Spain, she pursued a degree in Economics in college but, never finished.
The mother of three with five feet and three inches (1.64 m) height initially recieved her start in show-biz as a model. She later pivoted to broadcasting. Working for networks Cuarto and Telecinco, she earned nation-wide fame.
Named twice as Spain's sexiest woman by FHM magazine, the 33-year-old is an occasional actress. Isi & Disi, Alto Voltaje are her notable films.
Husband's Coach:- Zinedine Zidane Bio, Age, Parents, Salary & Net Worth!
Pilar's earnings and net worth aren't public knowledge. Whereas, her footballer husband owns $80 million in net worth.