Entertainment
Sebastian Stan Wife, Girlfriend, Dating, Is He Single?
Sebastian Stan is a Romanian-American actor, who is best known for his role as Bucky Barnes aka The Winter Soldier in the Marvel movies.
Sebastian has reprised the role in numerous movies namely, Captain America: The First Avenger (2011), Captain America: The Winter Soldier (2014), Captain America: Civil War (2016), Avengers: Infinity War (2018), Black Panther (2018) and Avengers: Endgame (2019).
Further, Sebastian is set to reprise his MCU role again in 2020 in the upcoming Disney+ series, The Falcon and the Winter Soldier (2020).
Is Sebastian Stan Single?
Over the years, Sebastian has gained massive fame and established himself as a household name. Needless to say, his fans are always curious to know about his personal life and dating affairs. However, to their dismay, Sebastian typically stays mum when it comes to his love life and relationship affairs.
Despite, having a fair share of romantic affairs in the past, the Marvel superhero is not a married guy yet. Further, he is also not linked with anyone at the moment.
Well, looking at his squeaky clean current dating life, the actor does appear to be single at the moment.
Past Relationships/ Girlfriends
Sebastian Stan has always been pretty secretive when it comes to his love life. But, he has not exactly been able to escape the media tabloids and prying eyes.
His last known relationship was with Spread costar Margarita Levieva. The two reportedly started dating in 2014 after being friends for a while.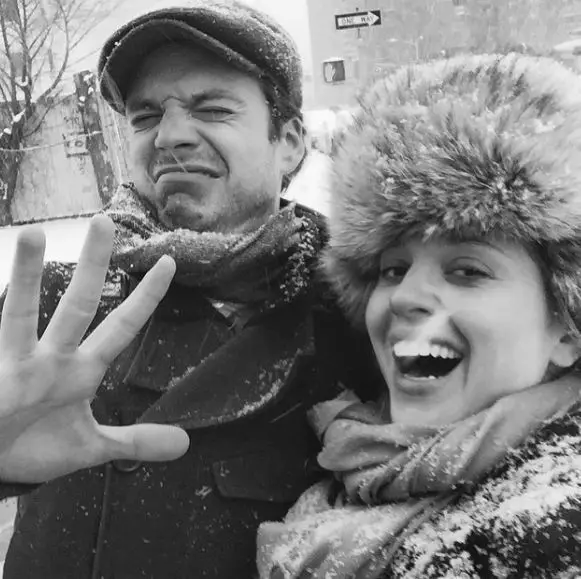 Sebastian Stan with Margarita Levieva in March 2015 (Photo: Sebastian Stan's Instagram)
Sebastian and Margarita were both pretty private about their relationship. But, their relationship did not work out and the two parted ways quietly.
More On Sebastian And Margarita:- Margarita Levieva And Actor Boyfriend Sebastian Stan Rarely Come Together; Not Dating Anymore?
Before that, Sebastian Stan was in a relationship with Jennifer Morrison, whom he met on the set of Once Upon a Time in 2012. Further, in 2011, Sebastian was linked to Glee actress Dianna Agron. The couple reportedly dated for a few months before calling it quits.
Next on Sebastian Stan's list of exes is Gossip Girl fame Leighton Meester. The two met on the sets of CW's show Gossip Girl and dated from 2008 to 2010.
Sebastian Stan's Take On Gay Roles and Rumors
Well, first let's clear out the air; Sebastian Stan is obviously not gay.
However, the MCU fanatics are notorious to create fantasy relationships among the characters. And among the many relations born out of fan fiction is his character Bucky's relation with Captain America (portrayed by Chris Evans).
You May Be Interested:- Chris Evans Single, Gay, Dating, Partner
But, Sebastian does not seem to be bothered by such fiction at all. In fact, the actor has said that he would totally ship the two together.
Further, the actor is also known for being very comfortable to play gay characters on-screen. For instance, he portrayed Jack Benjamin's character in the TV series, Kings (2009). He is also very vocal about LGBT representation in every field.