Entertainment
Sebastian Vettel & Long-Term Girlfriend, Wife-To-Be? Salary, Net Worth Info
German F1 racer, Sebastian Vettel has a romantic relationship that traces back to his childhood. As a loyal partner, the racing car driver has been faithful towards his girlfriend, and in return, she has rewarded him with an adorable family.
But, does the couple ever intend on getting married or are have they already exchanged the wedding vows? With a luxurious life and family, the couple necessarily may not need an official wedding; however, they could be planning a future wedding anytime soon!
Family Of Four With Childhood Sweetheart; Plans On Getting Married?
Sebastian is in a relationship with his partner of years, Hanna Prater. The couple met during their schooling years in Heppenheim Middle School and soon started dating. 
Don't Miss:- Rebecca Dalton's Bio: Her Age, Racer Boyfriend and Her Instagram Filled With Dating Affairs and Her Lifestyle
Post their graduation, Sebastian moved to Switzerland while Hanna remained in Germany. Despite the distance, the pair kept their bond alive. By 2010, the F1 racer even bought a home in Switzerland and invited his girlfriend to live with him. With bliss, they resided together and built a family.
Hanna gave birth to a baby daughter named Emilie on 12 January 2014; whereas the second daughter named Matilda in 2015.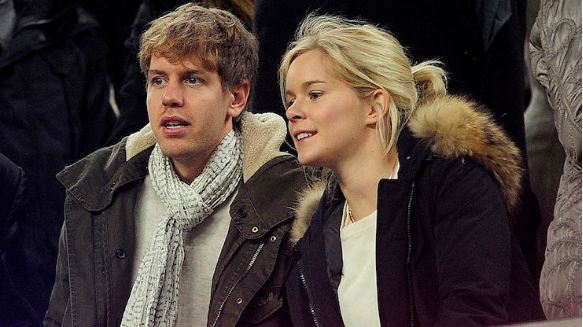 Sebastian Vettel with his girlfriend, Hanna Prater (Photo: TheNewDaily.com)
Before giving birth to their first kid, Sebastian was rumored to have married his girlfriend in 2014. But, the speculations were falsified by the pair in 2017. Sebastian and his wife-like-partner believe an official ceremony which pronounces them as "husband and wife" is not necessary. They have publicly admitted not to have any desires to adapt to the norms of society.
Discover:- Brad Falchuk & Girlfriend Soon To Get Married, Inside Her Wedding Plans
With all their love, Sebastian is maintaining a happy relationship in his family of four. He along with his girlfriend and children currently reside in Switzerland, but their house address has been removed from Google Maps for privacy concerns.
Mocked For Hair Cut; Sebastian Vettel's Height, Net Worth
In March 2018, Sebastian, a born Christian by religion, became a character of hilarious memes, all because of his new haircut. He tried on a new look for the season-opener in Melbourne, but his looks garnered nothing but laughs. The fact is, his haircut went to have likeliness with the dictator of North Korea, Kim Jong-un. Not only that, but his haircut was even compared to the Marlboro logo.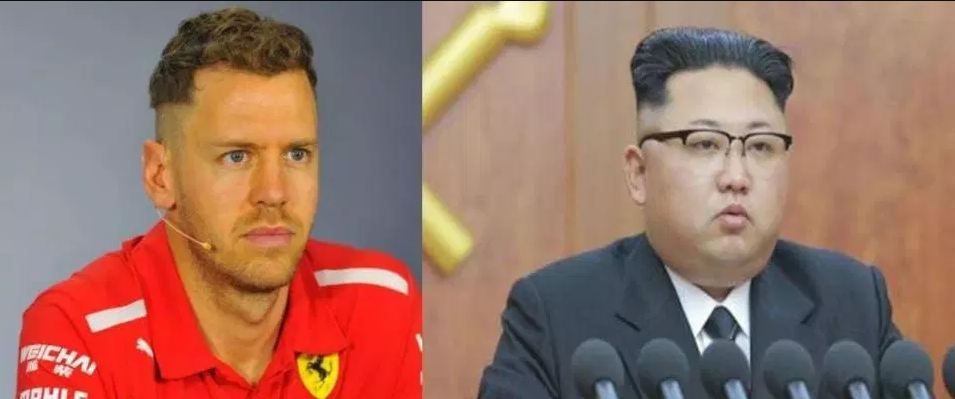 Sebastian Vettel was mocked for resembling the haircut of Kim Jong-un (Photo: TheSun.co.uk)
Though Sebastian got mocked for his haircut, he has impressive physical features. He, at the age of 31, stands at the height of 5 feet and 9 inches (1.75 m) which is just an inch less than the average German's height; i.e. 5'10".
You May Also Like:- What Is Brett Kavanaugh Religion? Did Allegation Tremble Wife Relationship?
Apart, from just appearance, he also has an alluring net worth. Considered one of the wealthiest F1 drivers according to a report published by Forbes, Sebastian proclaims a net worth of $100 million. He ranked 1st on the list of highest paid Formula 1 racers in 2017; with a salary amounting to $60 million.
Sebastian, with 50 Grand Prix wins and four World Driver's Championship title to his name, also has a collection of cars. His garage is full of super luxurious cars that includes Mini Countryman, Ferrari F430, Ferrari California T, Mercedes SL65 AMG, and Infiniti FX- Vettel edition.