Entertainment
Sexy Actress Madchen Amick Has Been Cast as Alice Cooper in CW's news TV show, 'Riverdale'
Phenomenal actress of all the time Mädchen Amick has a list of remarkable movies under her name. She has never back down in any challenges on her way to success. Popular for the role of Shelly Johnson in the series Twin Peaks and its prequel Twin Peaks: Fire Walk with Me, Mädchen Amick portrays each and every role with grace. Active in the industry since1989, Amick has appeared in dozen of films.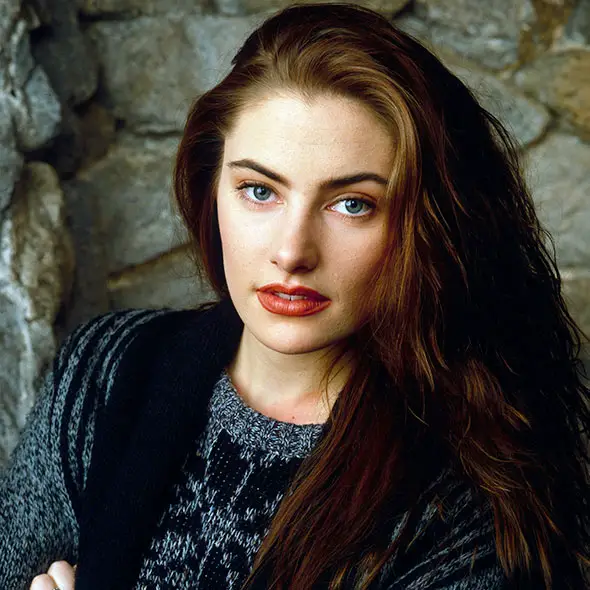 American actress, Mädchen Amick, is known for her phenomenal work as an actress starring in her hit television show Twin Peaks. Apart from her acting career, she shares decades-long romance with her husband.
Being on the spotlight, he hardly speaks of her man keeping their love life a low-key. Turns out, Amick's husband does not prefer the spotlight. Well, read below as we discover Amick's role in Riverdale along with insights on her relationship with her husband.
Acclaimed Actress, From Twin Peaks To Riverdale 
Twin Peaks' waitress Mädchen Amick, 45, has been cast as Betty's mom Alice Cooper in Riverdale. Riverdale, which is a subversive take on Archie and his friends, is a CW pilot from producer Greg Berlanti based on the Archie Comics' characters. It explores the surrealism of small-town life.
There is no doubt that Amick is a talented actress. She has been presenting herself in both films and on Tv shows with astounding acting skills. From the year 2013-2014, she appeared in the lifetime supernatural drama series Witches of East End. Amick is also known for playing the role of a mother whose son is ailing in American Horror Story: Hotel.
Amick will be portraying Alice, who is an editor of the local paper and is described as a perfectionist. Alice usually has a depiction of strength because she places high expectations on Betty, her daughter.
See Also: Olympic Skier Bode Miller & Wife Talk Daughter's Tragic Death In Emotional Interview, Warns Parents!
We are eagerly waiting to see her on the Riverdale series. Being cast as Alice in Riverdale is a brand new opportunity and an achievement in itself for Amick.
Nevertheless, Amick's captivating appearance with hot and sexy physique is expected to go well with the character she is portraying in Riverdale. Born with enduring beauty, Amick is a talented actress, a trained singer, and a down-to-earth lady. 
A phenomenal actress of all times, Madchen Amick has a list of remarkable movies and television credits under her name. Known for portraying the role of Shelly Johnson in the series Twin Peaks and its prequel Twin Peaks: Fire Walk with Me. Mädchen Amick is celebrated as an acclaimed actress. Active in the industry since1989, Amick has appeared in a dozen films.
Romance With Husband Of Decades, Shares Family Together
Talking about her personal life, she is married to David Alexis. Her husband is a personal trainer by profession. They have been together for decades since they began dating back when Amick had just entered the Hollywood world. 
Don't Miss: Meleasa Houghton Reason For Divorce With Husband Israel Revealed! Full Report
The pair exchanged the wedding vows back in December of 1987. Since then the couple has been together as this year they mark the 31st anniversary of togetherness. They have hardly been spotted in the limelight even during the beginning of their romance.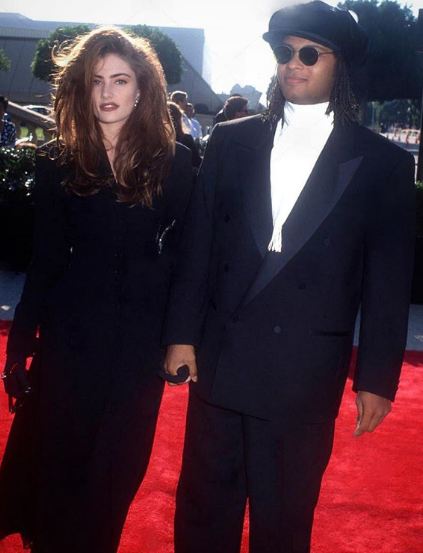 Madchen Amick with husband David Alexis. (Photo: Madchen Amick's Instagram) 
Turns out David despised the spotlight and did not prefer being on the spotlight which resulted in their low-key personal life. However, Amick often posts pictures with her man on special occasions such as birthdays and anniversary.
They have two grown-up children: a son, Sylvester Time, and a daughter, Mina Tobias. 
"When I first came to Hollywood and was going 20 calls a day, David was living on the other side of the street from me. Luckily, I'm married to a personal trainer [David Alexis], so he keeps me in good shape. We've been together for 27 years and when I met him, he was a musician. But we have two kids and they got into track and football and he got pulled in that direction. He used to be a track athlete and now he's a really amazing coach – he's changed a lot of kids' lives around Los Angeles."
Guess, what, both of their children are into music. Here is Sylvester a.k.a Sly Betz's Time Flies track on Soundcloud. On the other hand, Mina is an aspiring singer/songwriter residing in LA.
You may also like: Shaun King Family Insight: Who Are Parents & What's His Ethnicity?
Despite being an on-demand showbiz actress, Amick has kept her personal life private. She has been able to accumulate a net worth of $3 million so far.