Entertainment
QVC Shawn Killinger Husband, A Director Best With Baby & Children
Shawn Killinger is an American journalist working for....married to husband ..., she ironically found the love of her life on ... an independent woman, Shawn has stayed strong despite facing tragedies like...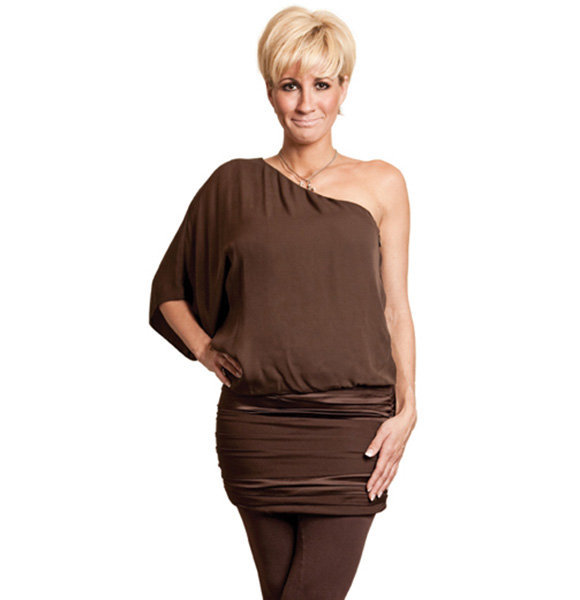 Despite undergoing tragedies as big as miscarriages and cancer, Shawn Killinger continues to fight on without letting even the greatest of setbacks to come between her career. Thus, the American TV anchor, reporter, and newscaster, who is currently working as a national program host for QVC, is what we call an ultimate professional.
With an attractive personality and a unique fashion sense, Shawn has been ruling the heart of millions. And for her heart and love, she found love in a place least expected. Although, Shawn has no complaints whatsoever with her love, as he continues to support the journalist, in what we call, the toughest of times.
However, Shawn has had no problem whatsoever in balancing her professional and personal life. With the extreme demands that journalism brings with itself, Shawn gets full support from her husband in raising their baby girl.
QVC Star Found Extremely Supportive Husband Online
The host for QVC, a television home shopping channel, Shawn found the love of her life after she got married to husband Joe Caretta on 13 April 2013. However, the presenter has a unique love story in itself.
Fellow QVC Host:- QVC Host Jane Treacy Bio: Old Age Love With Husband, Inside Romantic Life
The journalist found her current husband on "eharmony," an online dating site. Luckily enough, the first man she dated on the site, happened to be her present husband, Joe. The story between the two of them highlights the unpredictable plans that destiny has in store.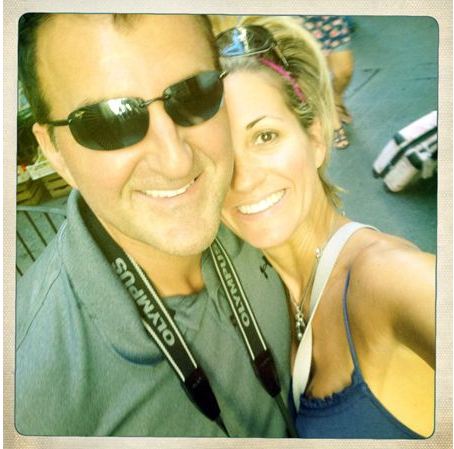 Shawn Killinger clicking a selfie with husband Joe in Florence, Italy. (Photo: community.qvc.com)
A father of two from his first marriage, Joe has been an extremely supportive partner to Shawn. In what we call the toughest of times, Joe has stood by Shawn facing every storm that comes in their path together.
Other QVC Host: QVC's Mary Beth Roe Eternal With Husband | Daughter & Family Status
The couple stayed together when Shawn faced an unfortunate miscarriage while five months pregnant with a daughter. After speculation grew to suggest her absence from her shows for a long time in 2014, Shawn came out about the situation in her personal blog on 8 December 2014.
"A few weeks ago, Joe and I lost a baby, a beautiful baby girl. We were almost 5 months pregnant. That is why I had been sitting down during shows, and took a break from Saturdays. I was very close to announcing my pregnancy."
The miscarriage wasn't the only trauma the couple had to go through. There have been constant speculations that Shawn has been suffering from cancer in her kidneys.
Though no kind of confirmation has come up from Shawn's side to confirm the news, Joe remains by the side of his wife, ready to battle everything that comes up their way.
Husband Best With Baby
Shawn, age 38, and husband Joe, after their miscarriage, adopted a baby girl Jagger Jude, born on 9 June 2017. Shawn shared her happiness amongst fans in her Facebook account on 18 June 2017,
"Today, Joe has one more reason to celebrate being a Dad: meet Jagger Jude, born Friday, June 9 in California! Joe and I are out here adopting a baby girl! I'm thrilled, anxious, full of questions, and in awe of women who have done this so gracefully bc I haven't showered in 3 days...and I'm loving every minute of it!"
Shawn, however, isn't alone in this challenge to raise her baby daughter. Her husband Joe, who has two children from his first marriage, seems to know his way around babies.
The director of general services operations at Erickson Living, Joe seems to be fond of his children going by his social media accounts.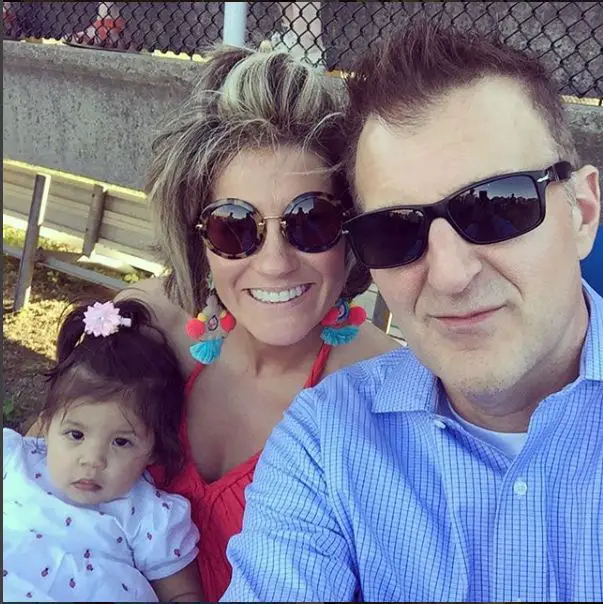 Shawn Killinger with her husband Joe and baby girl Jagger. (Photo: shawnkillingerqvc'Instagram)
Shawn Killinger, with her famous slogan, "Fake it till you make it" continues to excel at her workplace in QVC despite getting fired from the channel in her early career.
While a QVC host earns an average salary around $47,026 annually, Shawn with her impeccable style has managed to bag a net worth of around $1 million.
Fellow QVC With Weight Loss Story:- Did Mary DeAngelis, The QVC Host Achieved Weight Loss With Surgery?
Despite all the enormous challenges put in front of her, Shawn Killinger continues to grow forward. And now, with a loving husband and a baby girl of herself, she has found that extra motivation to battle every obstacle coming in her path to greatness.