Entertainment
How Much Is Joseph Simmons Net Worth? Get Family & Kids Details Here
Not only did Joseph Simmons - or widely recognized by his rap moniker Rev Run - help ushered in the sound of Hip-Hop in mainstream music as one-third of the legendary trio Run-D.M.C but also shaped the landscape of Hip-Hop centric reality television with Run's House alongside his wife & their kids.
Now making his living as an ordained minister, Joseph enjoys a fruitful married life because of his family. But how have his siblings taken to his newfound passion? Has it in anyways altered his net worth?
Read along to find out and more including his age, height & miraculous weight loss!
Twice Married Joseph Simmon's Family Life With Seven Kids; Wife Calls Him Nasty
In hindsight, the year 1983 proved a watershed moment for the legendary emcee.
More Rap Legends In Our Vault:- Queen Latifah Former Girlfriend Pregnant; Has Anything To Do With It?
Besides signing his first ever record deal with Profile Records, Joseph also got married to his first wife, Valarie Vaughn in the stated year. The Rock Box wordsmith and his ex-wife shared fruitful married life as their nine years together bore three kids: Vanessa, Angela, and Joseph "JoJo" Jr.
Despite the divorce, he and his ex-wife remain in excellent terms. Case in point: For Ebony's 2018 Mother's Day Issue, the whole of Simmons family including Valarie, his current wife & their kids had sat together for a photo-op.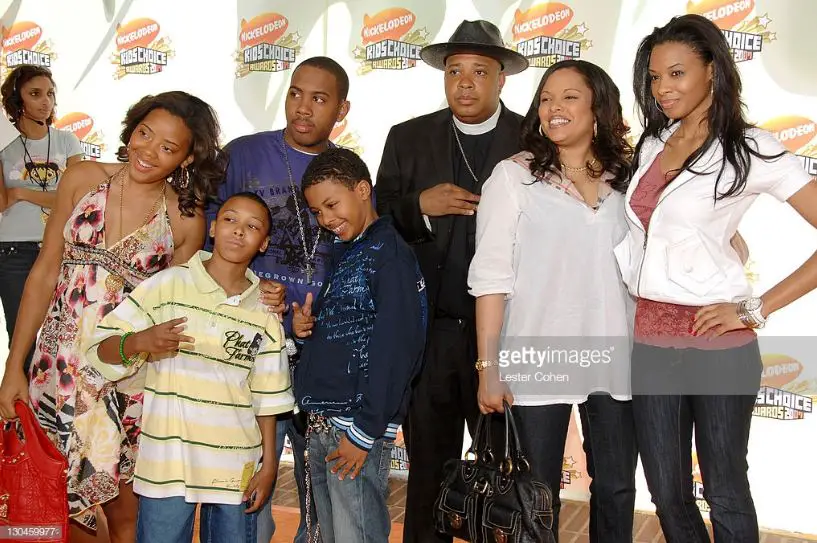 Joseph Simmon with his kids & second wife (Photo:- Gettyimages.com) 
Nevertheless, married since 1994, Joseph seemed to have found a soulmate in his second wife, Justine Jones. Or that's what Justine, the star of MTV reality show Run's House, told Oprah in May 2018 interview.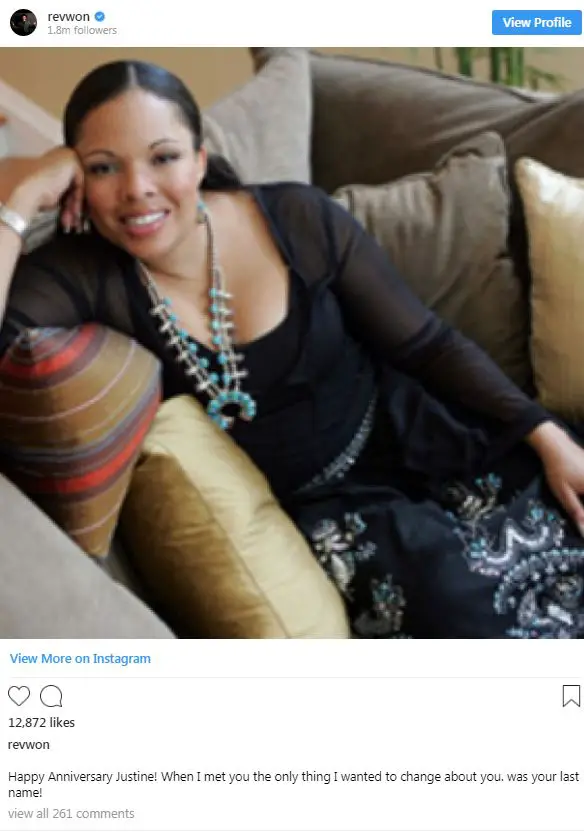 Joseph pens a message on the wedding anniversary (Photo:- Joseph Simmon's Instagram)
A star in her rights, the Grammy-nominated musician's wife is an aspiring comedian as well. Though together for more than two decades, she and Joseph have steered clear from showing off PDA. When asked behind the reason by family friend Tyrese Gibson, Justin tapped into the comedian bag and replied:-
"There's a reason for that: Rev. is nasty, Y'all."
Stories Related To Tyrese:- Surprise Surprise! Singer Tyrese Gibson Revealed He Secretly Married His Girlfriend on the Valentine's Day
Like many other longterm relationships, the former Def Jam artist and his wife - who have two biological kids, Daniel & Russell, together - have had to endure a fair share of tumult. But unlike the stated relationships, theirs didn't involve an act of unfaithfulness.
The death of their daughter Victoria Anne shortly after her birth due to Omphalocele in 2006 led the couple into adopting their fourth child, Miley Justine a year later. While still grieving the loss of his daughter, Joseph found solace in religion.
Siblings Boast Impressive Net Worth As Well; Height & Weight At Age 54
The passing of his group-mate Mizell's in 2002 followed by his daughter's death four years later left a void in the Take Back Your Family: A Challenge to America's Parents co-author's life.
Young Rap Legends:- Rapper 6ix9ine 'Daniel Hernandez' Daughter & Baby Mama | Facts Uncovered
An ordained Pentecostal minister today, Joseph shared his transition from a depressed family man to a church-going individual in the 2012 NPR interview by saying:-
"And when I started going to church I started to feel better. Things were starting to look brighter for me. I started to see that learning the principles of God was helping to shape my life better."
The dreaded transition, in the end, was as smooth as they come. And for the most part, his siblings - painter Danny Simmons & Def Jam founder Russell Simmons, who has a reported net worth of $340 million - seemed to be okay with his latest infatuation.
Discover:- Samantha Vinograd Married & Husband | Biography - From Age To Partner
Why wouldn't they be? At age 54, Joseph boasts a reported net worth of $70 million. Standing at the height of 5 foot and 9 inches, the Queens New York-native's genuinely dedicated to leading a long life as exemplified by 22 pounds weight loss in the recent time.