Entertainment
Son Heung-Min Is Not Married; What's Tottenham Star Dating Status Now?
Son Heung-Min is one of the most-talked football players right now...is not married and does not have a wife...also does not have a girlfriend...plans on staying unmarried till after his retirement from the game of football...has strict views about professional career and marriage which are derived from his father...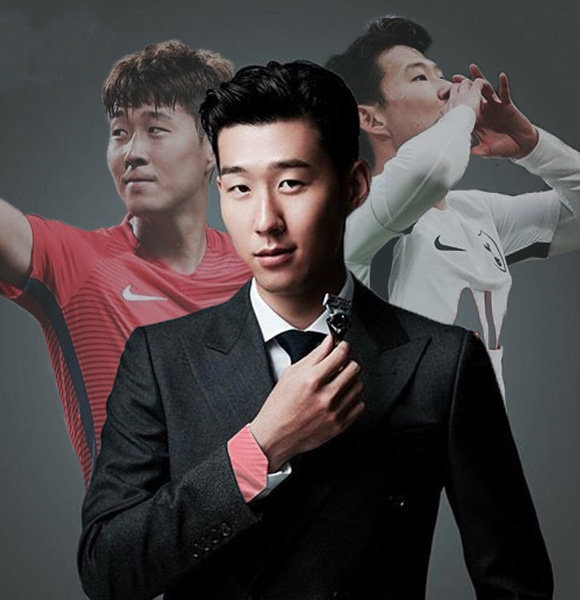 Son Heung-Min has been a Tottenham Hotspur player for so long; people do not even remember that he had a footballing career before. The Spurs player began a new journey at his club under the new manager Jose Mourinho in 2019 after Mauricio Pochettino's sacking.
The South Korean footballer played for various clubs before he signed with Tottenham on 28th August 2015. An FC Seoul's youth product, he has appeared for Hamburger's U19 team and senior team, and Bayer Leverkusen before his time at Tottenham.
Son's Personal Life: Is He Married?
Son isn't a guy who's really into relationships, or at least that's what he makes his fans and people in general believe. But, he does not have a clean slate when it comes to having relationships.
Another Tottenham Hotspur Player:- Detail On Dele Alli's Dating Status, Girlfriend, Family, Religion
Son has dated a few women in the past, and while not all of them are known, one stands out from the rest. He was seen going out on a date in November 2015 with the former member of the girl-group After School, Yoo So-Young.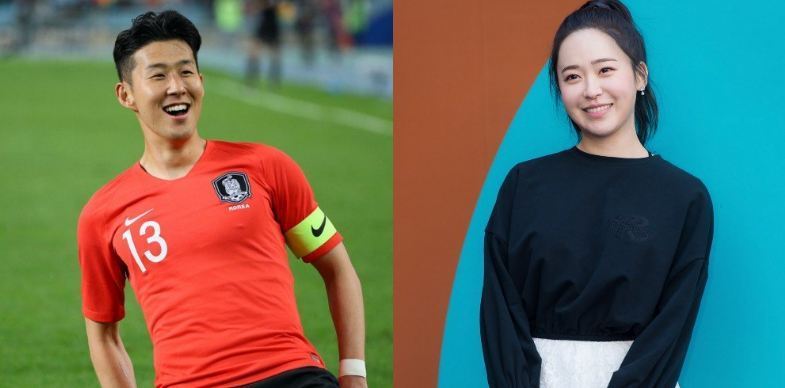 Son Heung-Min and Yoo So-Young were in a relationship in around 2015 (Photo: allkpop)
Their relationship was a mystery for a long time. Nothing was revealed until 2018 about their time together, and how they first got together. But, in July 2018, Yoo revealed during the podcast Jung Young Jin and Choi Wook's Fiery Friday Night Show that she and Son went out for a while and that he was her ex-boyfriend.
Yoo said that she met Son during a meal with her peers, and didn't know him before their first meeting.
However, the revelation wasn't without criticisms as Yoo was heavily criticized for revealing her relationship and exposing too many details. She was attacked on her Instagram as well, and it caused Yoo to make her Instagram account private. But, the criticisms didn't stop for a while, with even Netizens joining in on the attack saying that she brought this on herself.
Views On Marriage
The media and the fans can talk about his relationships for years, but it will be a long time before Son has a wife. He has very strict rules about marriage - rules that he derived from his father.
Son's father, Son Woong-Jung, too, was a professional footballer during his youth. His professional career was going on when Son and his brother, Son Heung-Yun, were still kids. He had to play football, as well as take care of his marriage and his family, which was a hectic job. He couldn't concentrate on football alone.
It led him to the conclusion that marriage could hamper one's professional career. And Son entirely agrees with his father on this one, saying that when one marries and has kids, he can no longer make football his number one priority.
Another Famous South Korean Personality:- Lee Min-ho Dating Status Now; Who Is Korean Hearthrob's Girlfriend?
Son says that he won't marry until his retirement from the game, and wants to completely focus on football while he is in his best shape. He says the following during his interview with The Guardian:
"I want to make sure that while I play at the top level, football can be No. 1. You don't know how long you can play at the top level. When you retire, or when you are 33 or 34, you can still have a long life with your family."
It is a thought that cannot be argued against, and Son is doing great in his career, so it could mean that his thoughts are working out well for him.
As for now, he is single and living his best life with his parents - a thing that might sound weird for Americans and Westerners alike, but not a new thing for people from Asia.
Facts About Son Heung-Min: Age, Height
Born in Chuncheon, Gangwon Province of South Korea, on 8th July 1992, Son is the first-born son of his parents: Son Woong-Jung (father) and Eun Ja Kil (mother). His brother Son Heung-Yun, too, is a professional footballer, although his team details are not known yet.
He resides with his parents in a three-bedroom home in Hampstead.
Son's height stretches 6 feet (1.84 meters).
The athlete plays on the left-wing position for Tottenham Hotspur.
He was due to perform a period of military service for South Korea. But, he got exempted from the service because he won a gold medal in the 2018 Asian Games.
Son is also the 2019 AFC Asian International Player of the Year.