Sonya Deville girlfriend was hesitant at first to make their love life public...by coming out as gay LIVE in front of thousands of viewers...she started dating another wrestler named...chances are high that her net worth will show figures in...
WWE star Soniya Deville has established herself as a professional fighter and an LGBT icon.
In 2015, the wrestler made history in WWE by coming out as gay- live in front of thousands of viewers. As a result, the entertainment giant finally had a face that would represent the LGBTQ community.
Interestingly, at that moment, she had no plans earlier to give away her big reveal. But after she was confronted with the question of her relationship, she didn't shy away from being open about her lesbian sexuality.
Ever since then, fans have been curious about her relationship. So, let's take a more in-depth look at her life outside the ring.
Soniya Deville's Girlfriend
When it comes to her relationship, the WWE icon has flaunted her love life openly. She and her girlfriend, Arianna Johnson, a model, made the best use of the wrestling platform by contributing heavily to the representation of same-sex couples on reality shows.
Further, their romance was a topic of interest in the ninth season of the show, Total Divas.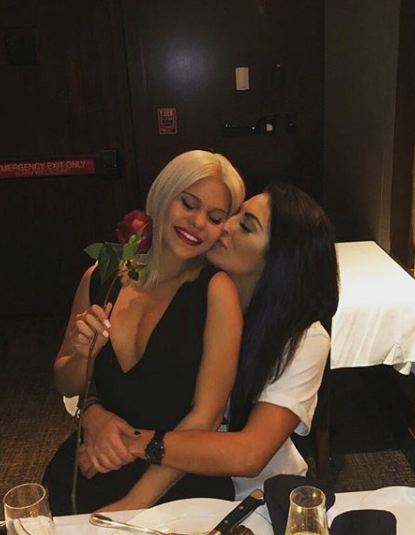 Sonya Deville kisses girlfriend Arianna Johnson on October 2019 (Photo: Sonya Deville's Instagram)
Interestingly, her girlfriend was hesitant at first to make their love life public through the show. However, Soniya convinced her eventually with inspiring intentions. In her own words,
"Then she agreed to do it because I wanted her to do it. I wanted to share her with the world. I didn't want to have to fake something on TV. I didn't want to leave her out, so I'm glad she did it with me.Letting a whole new demographic able tune in and say, 'Wow, I'm gay. She is gay.' I want to make the LGBTQ community feel comfortable and know they have a voice from the WWE now."
The two first made their relationship official on 16th February 2019 through the wrestler's Insta handle. Since then, they have remained very transparent about their dating life. 
The same year, they were spotted spending a beautiful evening together in Jade Mountains, Saint Lucia, on 16th April during the occasion of Arianna's birthday.
Explore:- Where Is Daisy Marquez With Cutest Boyfriend At Age 20? Dating Status Now
Talking about Sonya's previous relationship, she was dating an athlete named Christina Heath in 2015. Their relationship lasted for about two years as in 2018; she started dating another wrestler named Zahra Schreiber.
Family Details, Age & Measurements
As per the official records, Soniya's real name is Daria Berenato, whereas her date of birth is 24th September 1993. She grew up in her hometown of Shamong Township in New Jersey to her parents, whose roots are Italian.
Interestingly, the reality star is the middle child in the family as she has a younger sister and a big sister who shares a lot of similarities to her in terms of appearance.
For those curious about her body features, she maintains an attractive weight of 59 kilograms. Likewise, she stands 5 feet & 7 inches(1.7 meters) in terms of height.
Net Worth Details
Although Soniya's net worth in the exact figure remains unknown, she maintains various sources of income at her disposal. It is apparent that her work at WWE pays her very handsomely as a professional wrestler makes an average salary of about $1 million a year.
For You:- WWE's Newbie Kacy Catanzaro Shows Off Boyfriend, It's Not Bret Steffensen
But, wrestling isn't the only arena where she accumulated impressive figures. In E! reality series Total Divas in 2019, she is one of the primary cast. So, with a significant show lined up in her credit, the chances are high that her net worth will show high figures, perhaps in million once it's released.
However, her affiliation with WWE remains a vital part of her career and finance for the most part.